There were two games scheduled in the National Hockey League last evening, with both ending up with 6-3 scores.  However, the home team came out on the long end in  only one of those contests.  Toronto doubled the count on the New York Rangers at home, while in Montreal the Chicago Black Hawks defeated the Canadiens.
Bower wins first in 11
In Toronto, the Maple Leafs finally won against the Rangers after managing only three ties in their previous six meetings this season.  The game didn't start off well for Toronto, as the Rangers actually led twice in the first period.  Down 2-1, five consecutive goals by Toronto turned the tide and the Leafs won going away.
Toronto goal scorers were Dave Keon, Frank Mahovlich, Tim Horton, Carl Brewer, George Armstrong and Bob Pulford.  Jean Ratelle, Camille Henry and Vic Hadfield connected for New York.
The game was not terribly entertaining, save for some belligerence displayed by each team later in the game.  Bob Pulford and former Leaf Bobby Nevin briefly showed signs of animosity after Nevin checked Red Kelly into the boards, and Bobby Baun and Vic Hadfield had a brief set-to late in the final frame which barely earned them fighting majors.
Toronto goaltender Johnny Bower won his first decision in 11 games and put in a solid effort.  The same couldn't be said for Ranger netminder Jacques Plante, who allowed several stoppable goals.
Hull still hot for Hawks
Bobby Hull and Ken Wharram each fired a pair of goals to give Chicago all the offence they needed against the Canadiens.  Wharram's two tallies came early in the second period with the teams tied at ones, and put Chicago ahead for good.  A pair of youngsters rounded out the Hawks' scoring with Dennis Hull netting his first of the season, and Phil Esposito notching number 12.  Bobby Hull added two assists for a four-point night.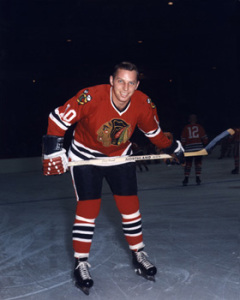 Montreal marksmen were Bobby Rousseau, Dave Balon and Claude Larose.  Canadiens called up Keith McCreary from Hershey to replace the injured Gilles Tremblay and he played left wing on a line with Jean Beliveau and Rousseau.  McCreary earned an assist on Rousseau's goal and the line was Montreal's best all night.  Despite that fact, rumours persist that Canadiens' general manager Sam Pollock will go the trade route to replace Tremblay, who is gone for the season with that badly broken leg.
For Black Hawk goaltender Denis DeJordy, it was his sixth win in succession after taking over for Glenn Hall after Hall had asked for a rest two weeks ago.  Hall is slated to return to the Chicago crease tonight in Boston.
OHA Red Wings blasted by Oshawa
The Hamilton Red Wings aren't exactly fond of the new arena in Oshawa.  That became painfully evident last night as the Hamiltonians dropped an embarassing 9-1 decision to the Generals before 2,136 happy Oshawa hockey fans.
Ron Buchanan, Bill Little and Bill White had two goals apiece for the Gens.  Wayne Cashman, Bill Bannerman, and Dan Sanford, up from the Whitby Dunlops, added singles.  Don Giesebrecht had the only Hamilton marker.
Retired police detective, involved in hockey at all levels for over 50 years. Member of Society for International Hockey Research and presently a video analyst for the leader in advanced hockey analytics (we work exclusively for 2 NHL clubs, and provide advice on an ad hoc basis to many other clients). Currently the Assistant General Manager for the Pelham Pirates of the Greater Ontario Junior Hockey League. Previously owned the Faceoff computer hockey simulation and also provided all player ratings for the EA Sports series of NHL computer games from the late 90's into the mid 2000's.