GRAND RAPIDS, Mich. — Teemu Pulkkinen was a fourth-round draft choice by the Detroit Red Wings in 2010. The Fin played for Jokerit Helsinki in the Finnish Elite League from 2008-2013 before starting with the Griffins at the end of the 2012-13 season.
He led the team in points last year with 59 and is currently leading the team again this year with 28 points in 26 games. He got a taste of the NHL last year as a callup with the Red Wings, playing in three games with no points.
He's got a wicked-hard slap shot the Red Wings surely will enjoy on the point on the power play once Pulkkinen has done his time in the AHL. And as an added bonus, he's right-handed.
Despite getting a taste of the NHL, it's very obvious he isn't in any rush to make it back to the NHL and is simply happy to be playing hockey for a living.
I sat down with Pulkkinen following his team's 7-1 drubbing of the Toronto Marlies on Friday, a game in which Pulkkinen had two goals.
The Hockey Writers: You're leading the team in scoring, got a couple more goals (Friday night). What has been the key to your success this season?
Teemu Pulkkinen: Um, well, nothing special. I play with (Andy) Miele and Cally (Mitch Callahan) — it's a good line, we have good chemistry. We started okay, then we had a really good stretch where we were playing really good, now we are a little bit cold. But tonight, we obviously got a couple of goals.
THW: Are you getting anxious for a call-up from the Red Wings, or are you trying to keep that out of your mind?
TP: I don't care. I just play hockey, I like these guys. It's not my job to think that — I just play hockey.
THW: You got a taste of the NHL last year, what do you think is the biggest difference between the NHL and the AHL?
TP: I didn't play that much (in the NHL). I played like three games, but my ice time was like less than seven minutes. It's hard, It's hard. When you go there, you do have to do your own job, and when you're playing fourth line, you have to just play the fourth line and do your job. But I think it was good. It was good experience; I like it there, I was so excited to be there. It was a nice experience for me.
THW: How much confidence do you have knowing they could use a right-handed shot like you on the point during the power play?
TP: I don't care. They decide who is playing, it's not my job to think that. I just play hockey here and enjoy hockey.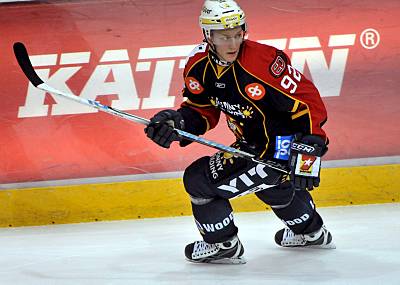 THW: How have you enjoyed the new overtime three on three rules?
TP: It's great. I like to play when there's lots of space out there. It's been nice, we'll see if they are going to keep doing that next year, but for me, I like that.
THW: Any part of your game specifically that you are working on this season?
TP: Just play hard, play hard in every game and play good defense — two-way game. Now, if you want to play in the NHL against players, everyone has to play two ways, it's not like you can just play there if you score goals here. You have to play great defense to get there.
THW: Who did you idolize growing up as a player?
TP: Well, I was watching, of course, goal scorers, we had (Teemu) Selanne for sure. (Alexander) Ovechkin and (Steven) Stamkos and those guys who have a good shot. Those guys I was but, (nobody) too much. I just wanted to be myself.
THW: What got you into hockey in the first place?
TP: Actually, my dad was playing, then I have an older brother, and he started to play first, so that's why I started to play.
Subscribe to our Red Wings stories to get email updates every time a new story is published.
Tom Mitsos is a Detroit Red Wings and Grand Rapids Griffins staff writer for The Hockey Writers. You can follow him on Twitter @tom_mitsos.