The Edmonton Oilers' disappointing season continued this week with an overtime loss in their first game without Dallas Eakins behind the bench. After 33 games, their 20 points ranks them last in the league – fighting for yet another number one pick.
While the team is on the verge of missing the playoffs for the ninth straight season, Oilers management and ownership seems to have had enough with the team's losing ways. But what does that mean for guys like Jordan Eberle and Nail Yakupov? What happens to all the high draft picks the Oilers had over the years – the ones that seemingly haven't fixed the problems within the organization?
Let's not forget that prior to these eight seasons of missing the postseason, the Oilers found their way to the Stanley Cup Finals as an eighth seed – only to lose to the Hurricanes in seven games. But that team – that never-die-attitude that they had – was developed by a team with a veteran presence. It was a team that had seen the playoffs multiple times during the late 90s and early 2000s.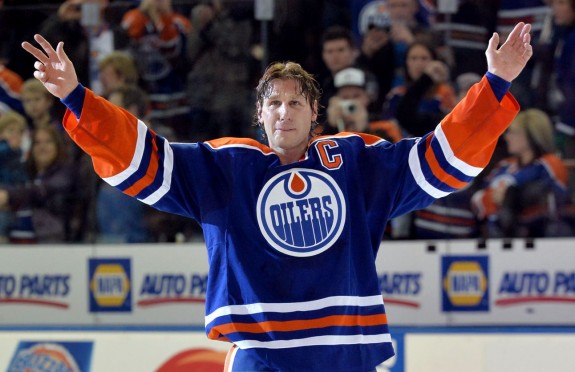 So aside from having a young group, what do the Oilers have to do to find their way back to success? Are they really that far off – or is it something that can be done while maintaining the core of skilled players they've built up through first-round picks?
The Hockey Writers gathered a team of writers from around the hockey world who have covered these Oilers through good and bad. In this Tape2Tape roundtable discussion, they will debate where the Oilers sit with the players they have and how holding onto their youthful core is important in taking the next step.
Included in today's roundtable are two writers from THW, one from Copper & Blue, and one whose covered the team since 2004, now with TSN 1260 Radio. Let's meet the group.
Where does the problem lie with the Oilers organization – or can it be confined to one area?
Allan: I think there are two things worth mentioning. First, Kevin Lowe as GM through spring 2006 did a credible job. In fact, he did a better job than that at the trade deadline that spring. After that, his handling of the Chris Pronger trade (young players and picks in return without finding veteran a replacement for Pronger) and Ryan Smyth's contract snafu conspired to give the team an extremely young look after the trades. They've never recovered from it, icing very young teams in important positions throughout the last decade.
The other problem is owner Daryl Katz, who is running the team like his own personal Lego land. It isn't working but he's surrounded by former Oilers from the glory days and one imagines it's fun on some level for him to re-live his younger years. At some point the marker comes due (his downtown arena is going to require happy patrons) but I've seen no urgency from the owner until this year – firing Eakins in-season.
Shane: At the end of the day the problem lies with the team's accountability. How many times have you seen a coach get fired by a GM only to be re-hired as an advisor, then replace the GM that fired him? To a lesser scale, how many times have we seen an assistant GM do a poor job, get hired and fired for doing a poor job with another organization only to be re-hired and promoted with the team he started with?
What about having a guy continue to be promoted year after year while only making the playoffs four of 16 years during his tenure? These are the things that are happening under owner Daryl Katz nose and they need to stop.
Ryan: I don't think that everything in the organization is completely broken, but when the team fails like it has for as long as it has, it becomes nearly impossible to separate those few things that are working from the many that simply aren't working. I don't blame Eakins entirely for the Oilers record this season, but certainly the coaching is one area that needs to be better. The process of addressing that has started now, but that's just the beginning.
Management needs to be better, pro scouting needs to be better and amateur scouting needs to be better. The big question now becomes, can the people in those roles do a better job than they have been? I doubt we see a top to bottom house cleaning this off-season so I hope they can.
Craig MacTavish says there's blame to go around for Oilers issues: "There's blood all over my hands in this as well."

— Craig Custance (@CraigCustance) December 15, 2014
Brett: In my opinion, the major problem within the Oilers organization is not ownership, management, or coaches. It's the players. Having had five head coaches in the past seven seasons, and with a new coach in Todd Nelson, ownership and management have provided the Oilers' players with a multitude of coaching styles. Pat Quinn was largely successful as a coach in his career, on both the NHL and international stages, yet couldn't find success in Edmonton. Even the recently departed Dallas Eakins had tremendous coaching success, albeit at the AHL level. But he was known primarily for his ability to develop and coach young players – a seemingly perfect fit in Edmonton. That failed to materialize.
It boils down to the players. Yes, the team is young – especially the core. Yet management did a good job this pas offseason adding depth players such as Teddy Purcell, Benoit Pouliot, Mark Fayne, and Nikita Nikitin. However, these additions haven't been enough to produce success on the ice. Given the team's current roster, the Oilers record simply should not be as poor as it is.
Prior to being fired, Eakins revealed that he felt players in the locker room were not embodying a work ethic conducive to NHL success. He felt that certain players, refusing to name names, needed to be motivated most nights in order to give their all at the NHL level. When a team's coach has to motivate his players before games, it becomes clear that the struggles fall on the shoulders of the players. Although it doesn't take a genius to see that Edmonton has one of the weaker rosters in the NHL, Oilers players need to play with a greater level of urgency and desire if they ever hope to get out of the basement in a very strong Western Conference.
Some would argue that the Lowe/MacTavish tandem have worn out their welcome in Edmonton. Why do you agree or disagree with this statement?
Allan: Fans are upset with both and that's understandable. The problem comes from their qualifications, which consist mostly of being in the right place at the right time. Daryl Katz is collecting former Oilers from the 80s with exceptional success, but they don't have to interview for the jobs against other (more) qualified candidates. I'm not sure a good hockey man would come to the Oilers as GM without an iron clad guarantee that Lowe and MacTavish were out of the loop. Even then, it might not be enough.
Shane: Among the Edmonton fans, it's clear Lowe has worn out his welcome and then some. Between having only four playoff appearances in 16 years and declining a Corey Perry for Mike Comrie deal in 2003, it's tough to say what fans are more upset about. The tirade about the paying fan versus the non-paying fan really put him out of favour with the fan base and that was almost two years ago. MacTavish still has some leeway simply because the guy before him (Steve Tambellini) just sat back and did nothing.
MacTavish is making some moves but he needs to make the right ones. He took a risk on Teddy Purcell in the Sam Gagner deal and Benoit Pouliot during free agency to shore up the top nine scoring. It looked good on paper but hasn't exactly panned out. You have to understand this was not an NHL roster before MacTavish got to working on it. It's a much better roster than it was when Tambellini was in charge and the team is still in a lottery race. That just goes to show how bad it's been in Edmonton.
Ryan: When it comes to MacTavish I'm willing to give him some more time to right the ship. He's made some good moves (acquiring David Perron, signing Mark Fayne and Benoit Pouliot) and some bad moves (Andrew Ference and Nikita Nikitin) so far, and I think overall that the team is better – but still a long, long way from good. With Lowe, I don't believe that he's heavily involved in personnel decisions. There are a lot of fans who would disagree with me about that though. So given my interpretation of his role I'm not sure that if he were fired that it would have the effect many think it would, but the reality is, this will be the ninth season in a row that the Oilers have missed the playoffs. At this point how involved he is becomes almost irrelevant because that's just too much failure to justify his keeping his job.
Brett: I believe Kevin Lowe has. I wouldn't, however, be in a rush to relieve MacTavish of his duties. Since MacTavish assumed his role as GM, he's made a number of excellent moves in order to improve the Oilers organization. He removed a stagnant feeling from the roster by trading players like Shawn Horcoff and Ales Hemsky. He also brought in guys like Purcell, Pouliot, Gordon, and Hendricks, while grabbing Mark Fayne, Nikitin, and Andrew Ference on the back end. His choice to man the bench following the firing of Eakins illustrates his commitment to understanding and addressing the weaknesses of his team.
Lowe, however, has endured nothing but failure since assuming his current role. He's also had the unfortunate experience of working with five – soon to be six – head coaches during his tenure. Personally, it would be great to see Mark Messier become the president of hockey operations. Former star NHL players have gone on to have success as team presidents – most recently Brendan Shanahan in Toronto. Messier would not only bring a resume of success, but an understanding of the issues of the players.
Why is or why isn't everyone expendable in Edmonton?
Allan: Hall and Nuge are off limits in my opinion because they are the foundations. You're not going to get full value (witness Tyler Seguin) when there's an issue, and the issue for Hall and Nuge is miles and miles of losing. Tinkering is fine. Trading Jordan Eberle or David Perron or Jeff Petry is fine, but it's important for the Oilers to keep their franchise men.
Shane: It's simple – the Oilers don't know how to right the ship at this moment. There are plenty of Hall rumours circulating that will never come true. Here's where you really have to think about this. The Oilers are full of holes, however, is trading Hall to plug another hole worth the creation of a massive crater in the lineup? Hall is one of the top left wingers in the league. It's not the Rick Nash situation in Columbus – not even close. Hall is on the verge of becoming a megastar, unlike Nash at the time of that trade. Factor in Tyler Seguin blowing up after leaving Boston for Dallas and the Oilers would be fools to cash out on Hall.
RNH is starting to come together but he needs a legit number two center to help platoon the minutes against tougher opponents so the Oilers don't have to constantly line him up against Thornton, Kopitar and Getzlaf in the Pacific Division. That's murderous on the young kid. Of the three it looks like Eberle is the most expendable, but he's the better of the three players they have on the right wing (Eberle, Yakupov, and Purcell). If it's time to move anyone, I would say this is the best time to offload Yakupov and Schultz who are two depreciating assets.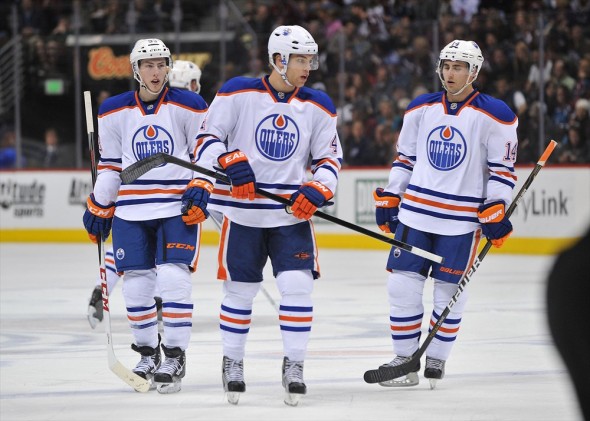 Ryan: Everyone should be expendable. In the case of Hall or Nugent-Hopkins I think the return would have to be substantial – likely more than almost all teams would be willing to give up. So I'd say that they're unlikely to be traded and even less likely to be traded during the season. The problem the Oilers have in making a trade right now is that they're desperate and everybody knows it. I have no doubts that MacTavish can't find a deal that makes sense both today and a couple years down the road. Maybe in late January when a few more teams start to slide out of playoff contention we'll see something, but not today.
Brett: It's hard to believe that everyone in Edmonton is expendable. Young core players certainly are, but it hasn't been revealed yet just who those players are. Jordan Eberle would be the most likely candidate, in my opinion, however such a deal wouldn't come until the offseason or even the NHL Draft because his true value at this time has been skewed by the poor play of his team.
Taylor Hall's name has come up in trade rumours recently, especially since it was reported that he was allegedly one of the players in the team's locker room who was unmotivated. He could be traded during the season as he's been consistently successful as an NHL left winger and is considered one of the top players at his position. However, it would have to be a deal that would land the Oilers significant pieces moving forward.
Edmonton seemed to start their rebuild prior to the Calgary Flames, yet the Flames seem to be a step ahead in the process. What does Edmonton have to do to catch up?
Allan: I don't think Edmonton is behind, although the current standings suggest Calgary is ahead of the flop. By the time we get to the river, we'll see how things stand. I'm not buying the Flames current record as gospel and I don't think Edmonton's reflects their abilities either. It's a marathon, not a sprint and the underlying numbers tell a somewhat different story. Calgary could jump Edmonton, but I don't think it's a lock.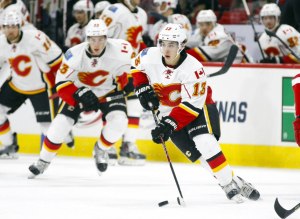 Shane: Edmonton needs to learn how to draft outside the first round. The Oilers have been burned throughout the rebuild, let alone franchise history, as being terrible at the draft table. It doesn't matter who's been in charge whether it was Barry Fraser, Kevin Prendergast or Stu MacGregor. The Oilers have missed far too often in the rounds that count. Players making a difference in Calgary this season are Lance Bouma (78th – 2008), TJ Brodie (114th – 2008), and John Gaudreau (104th – 2011) – all picks outside of the first round. Who have the Oilers grabbed in that time? Martin Marincin (46th – 2010) and he's a frequent scratch. When the Oilers figure out how to draft outside the first round, they'll start making up some ground on the Flames.
Ryan: Edmonton needs to worry about Edmonton, nothing more. The Flames record this season is very nice, even with the recent six game losing streak, but that team isn't as close to as good as their record would have you believe. For a couple months everything went right from them, and good for them. Winning is fun, but they're not a good hockey team and I have my doubts that their rebuild is actually any further ahead than that of the Oilers. If there's one thing about the Flames rebuild that I really like, it's that they haven't gotten rid of every capable NHL player on their roster in an attempt to be terrible. If the Oilers had done the same I believe that they'd be in a better place today, but without a time machine there isn't much that we can do about that.
Brett: The Oilers simply cannot catch the Flames. Where Calgary followed the typical proven model of building from the back forward, the Oilers built from front to back. After years of drafting forwards with their first overall picks, the Oilers remain extremely thin on skill and experience on the blue line and in net.
If the Oilers have any hopes of catching up with the Flames in terms of their rebuild, it will require an immediate turnaround in Edmonton. Star players such as Hall and Eberle simply have to be dealt in order to acquire the help necessary in net and on the blue line to win hockey games at the NHL level.
Years of poor drafting have led the Oilers to their current state and only trading away some of those drafted players can help them begin to build a solid all-around team with strengths in all areas of the game.
Afterthoughts…
Allan: I'd say that despite appearances there remains a lot that is good about this team. It's extremely dangerous for Edmonton to offload men like Jeff Petry, Nail Yakupov and others between now and the end of the season. Craig MacTavish has added some reasonable pieces (Boyd Gordon, Mark Fayne, Benoit Pouliot via free agency and David Perron on the trade route) but the Oilers' management as currently populated could get fleeced in a big way between January and June. Look for teams like Los Angeles, Toronto, San Jose, Boston, Chicago, Montreal and all three New York teams to rob them blind.
Shane: Jeff Petry and Justin Schultz will be up for new deals this summer (UFA and RFA respectively) and it wouldn't surprise me to see one or even both shipped out of Edmonton before seasons end. The Oilers need a top pairing defenceman desperately and packaging both as pieces in a bigger deal could help the team land said defenceman, but then again who is available?
Todd Nelson is either going to knock this opportunity out of the park or struggle similarly to his predecessor in Dallas Eakins. It's unfortunate that the Oilers couldn't have brought Nelson up to coach along with Ralph Krueger a few seasons ago before Krueger was unceremoniously ushered out of Edmonton for reasons we still don't have a clear cut answer for. Do I think Nelson is the right guy for the job to turn this around long term? All I know is he's a good AHL coach and he's familiar with the players. Still, it wouldn't hurt to bring in a bonafide NHL veteran behind the bench.
"Todd is a very smart guy… He knows how to get the most out of players." @ebs_14, played half season for Nelson in OKC during lockout

— Edmonton Oilers (@EdmontonOilers) December 16, 2014
Ryan: This organization needs some new voices. Todd Nelson seems like a good guy, and he might be a good coach, but a thorough search for a new coach needs to take place this spring. If it turns out that Nelson is the best candidate that's fine, but he can't just be given the job just because he's already part of the organization. That's been going on for too long and clearly it's not working.
Brett: Although I support MacTavish's desire to gain a better understanding of his team by returning to the bench for a short period of time, there should be no need for a transition coach if you deem Todd Nelson ready to be an NHL head coach. If the Oilers organization feel that Todd Nelson is in fact the best man for the job, why would you not show your confidence in him by immediately putting him in the saddle as the head coach?
For the most part, this panel agrees that the Oilers can't just trade away the assets they have. Instead, they have to continue to build through the draft, signing of free agents and smart trading.
While Eakins may have found himself on the short end of the inevitable stick, the fact is, that the team just wasn't winning under his system. So whether it's trading away a young core player or making changes within the rest of the organization, one thing is for sure. The Edmonton Oilers are still in rebuilding and still a few seasons away from really figuring it out.
Be sure to follow all of our panel members on Twitter by clicking their links above.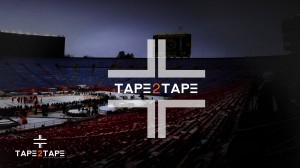 Have some thoughts about this week's column, let me know at @AndrewGForbes or @Tape2TapeTHW on Twitter.
Tape2Tape is a column looking at some of the biggest stories from around the world of hockey. Agree or disagree, writer Andrew Forbes would love to hear what you have to say.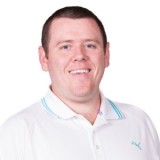 Andrew is in his 8th year reporting for The Hockey Writers covering the Toronto Maple Leafs. He began his broadcasting with CBC's Hockey Night in Canada team as well as being part of their coverage of the 2014 Winter Olympic Games in Sochi. He's the former play-by-play voice of the London Jr. Knights for Rogers TV and currently hosts the Sticks in the 6ix podcast. You can follow him on Twitter at @AndrewGForbes.