Tonight, the Carolina Hurricanes face off against the New York Rangers for the first time this season, which means it's time for the first reference to the Staal brothers this year. Since Eric's Entry Draft in 2003, one couldn't mention a Staal brother without throwing an off-hand reference to another. It reached a point at the 2006 Entry Draft, where Jordan was taken by the Pittsburgh Penguins, that the hockey trio (or quartet, if one were to include Jared) became one entity in some "Lord of the Flies"-esque fashion.
Of course, after Jared was drafted by the Phoenix Coyotes in 2008, a campaign began to "Reunite the Staals." Though only jokingly stated at first, former Carolina general manager Jim Rutherford appeared to want to accomplish that goal. He acquired Jared in 2010, and Jordan in 2012. After Jordan's acquisition, rumors abounded about Marc's desire to play with his brothers in Carolina. Though Marc has never given any indication about desiring such a thing, that didn't stop the Carolina franchise from sending a message to him in an April game against the New York Rangers.
The Hurricanes called up Jared Staal from the minors, seemingly for the sole purpose of having the three brothers play against the "outcast" brothers' team. Marc was injured at the time, so the quartet has yet to play in one professional game together, but the call-up and the subsequent hype surrounding the game re-ignited rumors about attempts to unite the family.
A Sales Pitch That Missed Its Target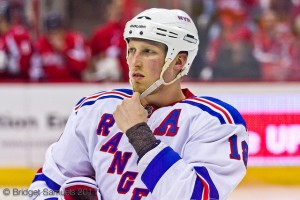 Marc Staal is playing in the final year of his current contract with the Rangers, which means this will likely be the last, best chance for Carolina to grab the defenseman if they so desired. Being an upcoming free agent, of course, the decision falls to Marc alone, and thus far, Marc has given little indication that he wants to leave "The Big Apple."
In an interview with the News and Observer, Eric indicated that a reunion was unlikely. "I know he's in negotiations with the Rangers," Eric said. "He likes it there. He wants to be there. He's made that clear, made that clear to them as well. Obviously anything can happen, but we haven't really been in his ear as far as 'Wait another year' or anything like that."
Eric added that it may have been easier for Marc to move on from the Rangers, had the team won the Stanley Cup last year, rather than falling to Los Angeles.
"For him to leave there it would probably feel, like it would for me or for Jordan, like you have some unfinished business. He's come close. They're a consistent contender every year and I know he likes that.
That last statement may the end of any thought of re-uniting the brothers. If consistent playoff appearances are a desire of Marc's, he won't find it in Carolina, who have missed the playoffs seven out of the past eight years. There's very little Carolina can offer him that New York cannot. New York can match (or surpass) any monetary offer, and both teams would likely offer similar ice time, so it would ultimately come down to Marc's desire to play with his brothers versus his desire to play for a contender.
Flipping the Script
Though the odds of Marc playing for the Hurricanes are apparently slim, the odds that the brothers may be united on another team have gone up. With the team in the basement this year, and in desperate need of a rebuild, there is a chance that general manager Ron Francis may decide to cut ties with Eric and Jordan. It would allow him to build the team around a core of his own design, as well as clear a large chunk of salary off the books.

Very few teams could take on the salary of both Eric and Jordan, and with the no-trade clause in both contracts, they hold the final decision on where they end up. The Rangers currently have less than $1 million in available cap space, meaning the only chance they have to grab the two is to do some serious book-cooking. The Toronto Maple Leafs have been rumored to have interest in Eric Staal, while also being rumored to be pursuing various defensemen around the league, but they too face a shortage of cap space.
It is possible that Marc signs with another team with more available cap space, like the Nashville Predators, then that team makes a trade for Eric and Jordan. With Laviolette at the helm, there is some familiarity with Eric, and most defensemen would be chomping at the bit to play for the Predators. But a deal like that seems like something more out of a video game than an actual NHL deal.
Chances are, Eric and Jordan will remain in Carolina, while Marc re-signs in New York. It's not the fairy tale ending that has relentlessly followed the hockey family since they first stepped onto NHL ice, but with Marc's desires appearing to fall in direct conflict with the state the Hurricanes are in, it seems like the most likely result. Whatever the outcome, the long-standing rumor will finally be put to rest this offseason.
Jonathan Gardner currently lives in Raleigh, NC and covers the Carolina Hurricanes.