After winning three of their first 15 games of the season, the Detroit Red Wings have been on a tear that continued this weekend with two consecutive wins. Last night, the Wings used a third-period rally to upend the Montreal Canadiens 4-2 at the Olympia in Detroit in one of three National Hockey League games. The victory gives Detroit 16 wins in their last 20 games and moved them into a second-place tie with Montreal in the National Hockey League standings.
The other two games saw Toronto drop a 5-3 decision to the Black Hawks at Chicago and the Boston Bruins surprise the New York Rangers 3-1 at New York.
Crozier Great Again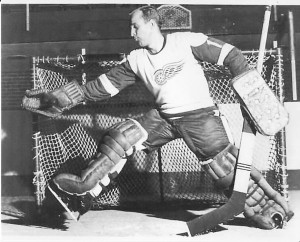 For the second night in a row, Detroit goalie Roger Crozier was instrumental in enabling his club to garner two points. Crozier's acrobatic performance, which included 40 saves, was just too much for the Canadiens to overcome. Montreal played its best game in Detroit this season, and at times dominated play. However, Crozier made the key saves at the most crucial times to frustrate the Habs time and again. His play over the first half of the season certainly has earned him top consideration for the mid-season all-star team.
Canadiens started quickly and led 2-1 at the end of the first. Gilles Tremblay got things going at 1:14 when he flipped a shot over a sprawling Crozier from a setup by Henri Richard. Ron Murphy tied it for Detroit just over 10 minutes later with his fourth goal in three games. He beat Habs netminder Charley Hodge with a hard 30-footer.
Dick Duff restored the Montreal one-goal margin only 25 seconds later when he combined with Bobby Rousseau and Leon Rochefort, who came in for the game from Quebec of the American League. That would end the Montreal scoring in this one.
Barkley Wings Best
Detroit tied things up when defenseman Doug Barkley scored at 3:39 of the middle frame. Barkley's low, screaming drive seemed to handcuff Hodge who was partially screened, but it would have been a difficult save to make even with a clear view.
Barkley has really come into his own this season, and is being mentioned as a Hart Trophy candidate as the league's most valuable player. He was easily Detroit's best player last night.
The third period opened with Wings' Paul Henderson scoring what proved to be the game-winning goal just 87 seconds in. The young, speedy Henderson has earned a reputation for scoring timely goals and this one was no less important than any other he has made this season.
This was Henderson's sixth game-winner this year, and gives him a total of 12 overall. He tapped home a loose puck after winger Floyd Smith had rapped one off the post from about 30 feet.
Norm Ullman potted the insurance goal about six minutes later. Once again it was the veteran Smith who was responsible. He sent a pass in front of the Montreal net where Ullman's quick release caught Hodge before he could move.
Montreal was without three regulars. Centres Jean Beliveau and Ralph Backstrom were out with groin and knee injuries while winger Claude Larose hurt his hip against Boston Saturday night.
Costly Win for Hawks, Pilote Hurt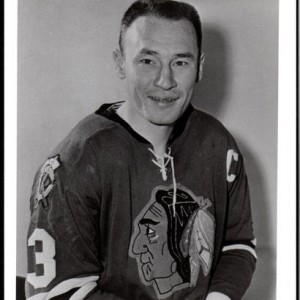 The Chicago Black Hawks increased their lead to three points over the second-place Montreal Canadiens and Detroit Red Wings with a 5-3 win over the Maple Leafs before 20,000 wildly enthusiastic fans at a raucous Chicago Stadium. The game was the most entertaining to be seen in Chicago this year – a hard-fought contest with a bit of everything.
The win was a costly one for Chicago as they lost all-star defenseman Pierre Pilote for four to five weeks with a badly broken thumb. Pilote said he broke the digit during a scuffle with Toronto's Kent Douglas when he landed a punch on the top of the Leaf defenseman's head.
The big difference in this game was the goaltending of Chicago's Glenn Hall. Hall was magnificent in the third period when the Leafs mounted a furious comeback. Toronto poured 14 shots at Hall over the final 20 minutes but were only able to get one puck past him, and he had no chance on that play. It was a blistering slap shot by Frank Mahovlich that very nearly went through the twine behind Hall, who was probably lucky it didn't hit him.
Hull Notches 32nd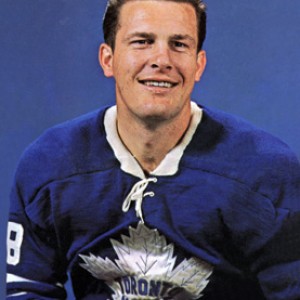 Chicago took an early 2-0 lead on goals in the first period by Red Hay, his 10th, and Bobby Hull, who netted number 32. Red Kelly's goal late in the period for Toronto halved the lead to 2-1. Kelly made a pretty play to tip in a Bob Pulford backhander.
The second period was a wild one that whipped the fans into a frenzy as both teams skated and hit with reckless abandon. Things broke open just before the half-way point of the middle frame when Douglas and Pilote tangled.
Douglas dumped Pilote heavily at the Toronto blue line, the second such hit he had laid on Pilote in the game. Pilote retaliated by spearing Douglas in the midsection and the fight was on. Each player received double minors in a curious call, one of many, by referee Frank Udvari.
That seemed to incense players on both teams. Hull flattened Eddie Shack with a good hit, and Eddie the Entertainer responded by skating the length of the ice to belt Doug Jarrett before jamming Hull into the boards. Everyone seemed to get into the act at that point. Brit Selby elbowed Matt Ravlich squarely on the jaw, Peter Stemkowski boarded Stan Mikita, Shack whacked Hull once again and Bob Pulford nailed anything in a red sweater that moved.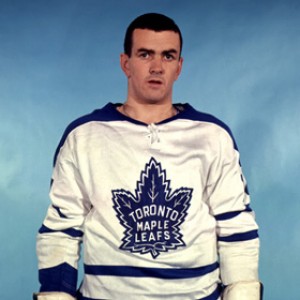 Even Dave Keon earned a penalty, his second of the season.
The teams managed to find time to score three times during the middle session, with the Hawks netting two of them. Len Lunde and Doug Mohns counted for Chicago with a goal by Pulford sandwiched between.
Mahovlich's goal early in the third brought the Leafs to within 4-2, but Hall's magic kept Chicago ahead until Eric Nesterenko deposited the puck into an unguarded Leaf cage with only 12 seconds left on the clock. Leaf goalie Terry Sawchuk had been lifted for an extra skater with just less than a minute to play.
Bounty on Green Uncollected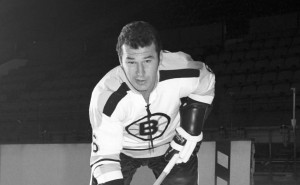 Last week New York Rangers president William Jennings went on record saying that he was placing a bounty on the head of Boston Bruins defenseman Ted Green. The two teams met last night at Madison Square Garden in New York City and Jenning's Rangers showed absolutely no interest on collecting whatever bonus might be attached to taking on Green. The Blueshirts  played possibly their tamest game of the season as the Bruins skated to a 3-1 win.
For the Bruins, who are solidly entrenched in the National Hockey League basement, it was only their second victory in the last 15 games. It was a devastating loss for the Rangers, and puts any playoff aspirations they may have gravely in doubt.
Goalie Bernie Parent was the star for Boston, making 24 saves, including nine in the first period when the Rangers held the edge in play.
Pit Martin, Murray Oliver and Dean Prentice connected for the Boston goals. Johnny McKenzie was the only Ranger able to beat Parent.
Cesare Maniago was the New York goaltender and played well.
Green played a rather innocuous game for the Bruins. He earned only one penalty, a minor for high-sticking on Ranger forward Ted Taylor in the first period. Taylor wasn't hurt. Green did respond to the taunts of the Madison Square Garden "Gallery Gods" with some rather inappropriate hand and stick gestures.
The only Ranger to come close to Green during the game was winger Vic Hadfield, who nailed Green with a solid check to the boards in the middle stanza. Green didn't retaliate and the play continued without incident.
Ranger Moves Coming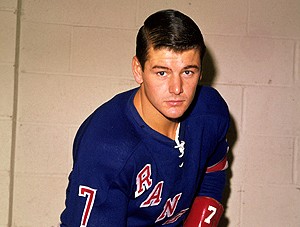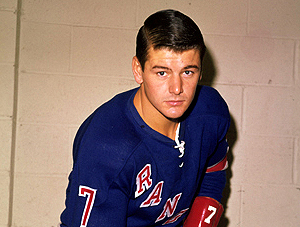 With his Rangers losing to the Bruins, general manager Emile Francis is all but conceding that his club won't be participating in the playoffs for yet another season. With an eye to the future, Francis says the team is contemplating a number of personnel moves. The most significant issue Francis must deal with involved the club's star right-winger Rod Gilbert.
Francis is trying to decide whether to have Gilbert undergo back surgery immediately. Such an operation would sideline the classy forward for the rest of the season. In fact, he would be out of action for at least six months. Francis admires what Gilbert has managed to accomplish thus far in his NHL career.
"That boy has undergone a helluva hardship. It's amazing he's gone as far as he has."
Gilbert suffered a broken back for the second time in his young life last summer. Doctors fitted him with a special brace which allows him to play, but the apparatus curtails his effectiveness. Surgery may fully correct the problem and enable the 24-year-old to realize his full potential. Gilbert is open to the idea.
I'm willing to continue playing. But if the management thinks it would be better to have the operation now, I'll go along with that.
Having the surgery now would allow Gilbert to report to training camp in September fully healed and ready to go.
Francis also says that the Rangers are actively involved in trade talks with several teams and he is hoping something can develop shortly. It's know that New York and Boston have talked, and with all the dissension in Boston coming to light, it's possible the Bruins will be looking to shed themselves of players they may view as trouble-makers. It's thought that Reggie Fleming may have worn out his welcome in Boston and would be a fit with New York.
Another move that the Rangers might consider to improve their overall team toughness would be to promote hard-rock defenseman Bob Plager, who is with Minnesota Rangers of the Central Professional Hockey League.
Gordie Takes Boys Off Team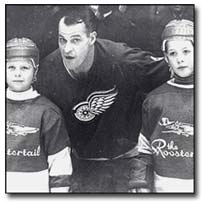 Detroit Red Wings superstar Gordie Howe has withdrawn his two sons Mark, 10 and Marty, 11, from a Detroit area pee wee hockey team.
The boys play for a team called the Roostertails, considered an elite Detroit team. Gordie ordered the boys off the team in support of another lad who was recently dropped from the team.
Gordie feels that the team, especially the coaching staff, places far too much emphasis on winning and ignores the value of giving the kids a chance to play. He and his wife Colleen don't want their boys corrupted by a win-at-all-cost attitude at such a tender age.
The Roostertails are slated to appear at the Quebec International Pee Wee Hockey Tournament next month. The tourney is a major showcase for boys in the pee wee age group and the Howe brothers were expected to draw huge crowds at the Quebec Coliseum.