Toronto Maple Leafs goaltender Terry Sawchuk finally tasted defeat last night, as he was on the short end of a 6-3 pasting by the New York Rangers before a crowd of 15,925 at Madison Square Garden in New York.
Plante superb for Rangers
Although the score was not close, the actual game play in this one was more even than the final tally indicates.  Toronto fired 47 shots at Ranger netminder Jacques Plante but could only beat him three times.  Plante displayed the form that won him multiple Vezina trophies during his halcyon days with the Montreal Canadiens.  The Rangers extended their unbeaten streak against Toronto to four games, and moved to within three points of first place.
Phil Goyette and Don Marshall paced the Ranger attack with two goals apiece.  Earl Ingarfield and former Leaf Bob Nevin also beat Sawchuk, who made 38 saves on the night. George Armstrong, Jim Pappin and Allan Stanley replied for the Leafs.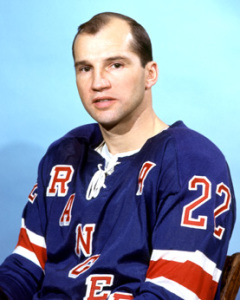 As for the players involved in last February's big trade between these two teams, the new Rangers were standouts.  Rod Seiling and Nevin were very impressive going both ways for the Rangers, while Andy Bathgate and Don McKenney did not play particularly well for Toronto. Another former Leaf who went to New York in the deal, Dick Duff, garnered two assists.
Leaf defenceman Tim Horton had a very forgettable evening.  He was on the ice for five of the Rangers goal, and spent much of the final frame nailed to the bench.
Toronto travel woes
After the game, the Leafs rushed to JFK airport for their flight to Chicago for tonight's contest against the Black Hawks.  There they were confronted by a rain and windstorm which grounded their plane for the next three hours.  When they finally managed to get away from New York, they arrived safely in Chicago only to discover that their luggage had been transferred to a later plane.  So, the team waited at O'Hare for their bags.  By the time they finally got everything squared away and got to bed it was nearly 7 a.m. And of course, a well-rested Chicago team is here awaiting tonight's game.
AHL Action
There were three AHL contests last night.  In Pittsburgh, the Hornets beat the Buffalo Bisons 4-1, Springfield pounded Providence 8-3 while last-place Cleveland surprised second-place Hershey by holding the Bears to a 2-2 tie.
The Hornets received goals from four different players en route to their win over Buffalo.  Duke Harris, Murray Hall, Irv Spencer and Bob Dillabough were the Pittsburgh goal-getters.  Ray Cullen was the Bison who foiled Hank Bassen's shutout bid for the home side.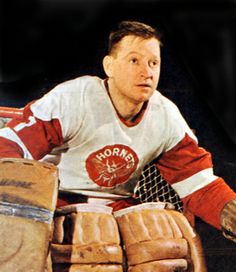 Brian Smith was the big gun for the Indians with a pair of goals against the Reds.  Other Springfield scorers were Dennis Olson, Pete Shearer, Roger Cote, Mike Labadie and Jimmy Anderson.  Serge Boudreault, George Ranieri and Jeannot Gilbert replied for Providence.
Cleveland scored two third-period goals to gain their draw with Hershey.  Freddie Glover and Ron Atwell found the range for the Barons.  Gene Ubriaco and Myron Stankiewicz had the Hershey goals.
Marlies maul Kitchener
In the only OHA Junior A game Toronto had no troubled with Kitchener, rocking the Rangers 6-2.  The OHA's leading scorer Paul Laurent tallied less than a minute into the first period for the Marlies and they never looked back. Other Marlboro marksmen were Jerry Meehan, Wayne Carleton, Wayne Mosdell, Jim Davidson and Al Osborne.  Peter Brennan and Jack McCreary scored for Kitchener.
Retired police detective, involved in hockey at all levels for over 50 years. Member of Society for International Hockey Research and presently a video analyst for the leader in advanced hockey analytics (we work exclusively for 2 NHL clubs, and provide advice on an ad hoc basis to many other clients). Currently the Assistant General Manager for the Pelham Pirates of the Greater Ontario Junior Hockey League. Previously owned the Faceoff computer hockey simulation and also provided all player ratings for the EA Sports series of NHL computer games from the late 90's into the mid 2000's.