Most teams are just over 20 games played and we've already seen some crazy happenings in goal. Goaltending coaches Dwayne Roloson (Anaheim) and Arturs Irbe (Buffalo) suited up for their respective teams in emergency backup situations, while Cory Schneider, in his first season as the New Jersey Devils' bona-fide starter, has already broken a Martin Brodeur record (20 consecutive games started). Let's not forget that rookie Michael Hutchinson (Winnipeg) is currently a powerful force in the NHL, posting a 4-1-1 record with a 1.50 GAA and a .947 save percentage.
Focusing in St. Louis, the bizarre circumstances in net extend to last season. With Jaroslav Halak and Brian Elliott playing a 1A-1B role since the 2011-12 season, Halak was traded in a five-player deal to the Buffalo Sabres to acquire perennial No. 1 netminder, Ryan Miller. After an unsuccessful playoff run, the Blues opted to let Miller walk and give the starting job to Elliott to open the 2014-15 season, as the two sides agreed to a three-year, $7.5 million contract extension.
With rookie and top prospect Jake Allen as his backup, Elliott started four of the first five games and eight of the first 11 contests. However, Allen proved to be more than capable of stealing starts from Elliott and the split moved to a slim 4:3 split in favor of Elliott since Nov. 13.
No matter how you approach it, the goaltending has been a strength for the Blues through the season, as both Allen and Elliott rank in the top 15 of GAA and save percentage. Through Tuesday's action, the Blues team ranked No. 1 in the League in goals-against per game (2.00).
Tuesday's 3-2 shootout loss to the Ottawa Senators brought the first mid-game goalie change of the season. It was not due to poor play, though.
After stopping all 16 shots he faced, Elliott found himself on the bottom of a scrum in his crease. With players wrestling around him and poking at a seemingly loose puck, Elliott was able to keep the puck out of the net but was unable to play a moment longer. He left the game with a lower-body injury and did not return.
Allen stopped 15 of 17 shots in his relief appearance, but the focus shifted to the future in goal for the St. Louis team. Head coach Ken Hitchcock gave little insight into his goaltender's health after the game.
Barring a quick return for Elliott, the Blues will look to Allen to take over the majority of the starts going forward. Behind Allen on the depth chart is the AHL's Chicago Wolves split-starter, Jordan Binnington, who has not yet received a call-up to the NHL in his young career.
This sparked conversation on whether the club would look outside its current players under contract. There is a veteran professional goaltender currently sharing starts with Binnington in Chicago while a future Hall-of-Fame goaltender is currently unemployed.
Depending on the severity of Elliott's injury, the next few days could prove to be interesting for the Blues.
Alright, #stlblues nation: IF Elliott is out for awhile, do you give Binnington his chance or make a pitch to Brodeur? #FaceOffShow

— Jeff Ponder (@jponder94) November 26, 2014
Jordan Binnington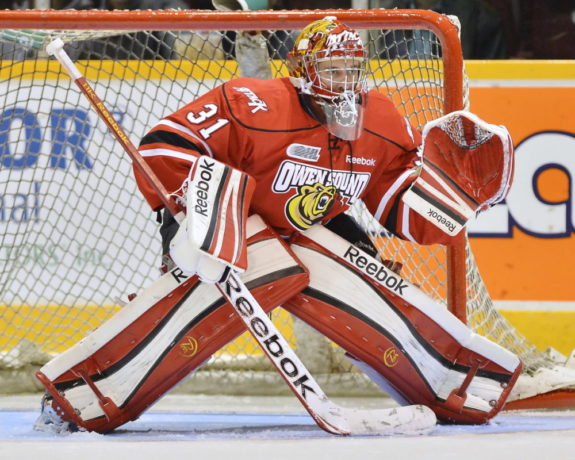 The cheapest alternative for the Blues is to stick with the franchise's third-round selection, 88th overall, in the 2011 NHL Entry Draft. Binnington, 21, has had success at every level, including being named the OHL Goaltender of the Year in 2012-13 and stopping 27 of 31 shots in two appearances as Malcolm Subban's backup at the 2013 World Junior Championships.
Binnington, who would earn $642,500 at the NHL level, appeared in one preseason game for the Blues recently, stopping 10 of 11 shots in the third period in a 4-2 loss to the Dallas Stars on Sept. 27. He's amassed a 6-2-0 record this season for Chicago, posting a 1.89 GAA, .925 save percentage and one shutout.
The coaching staff's heaviest concern would be inexperience. The tandem of Allen and Binnington would have just 25 NHL appearances between them; a number that would far exceed the current least-experienced tandem, which rests at 194 appearances (Braden Holtby and Justin Peters, Washington).
There's only one way to truly test your team depth at key positions, though. If the Blues, who are currently tied with the Nashville Predators for the Central Division lead, feel Allen can handle the heat, this would be the best option for the organization.
Fellow THW writer Mike Poepping feels that Binnington would likely serve as the team's best option as the backup:
"Binnington's success hasn't attracted too much attention from Blues fans yet," he said. "Binnington is like a Kevin Shattenkirk; a silent warrior who goes about his business and puts up excellent numbers in the process. He's plays a very structured game, similar to the way Roberto Luongo used to man the net, but can also come up big in moments of desperation when he's forced to rely on his athleticism. These are the traits of a solid goalie and it means great things for the Blues. If Binnington is called up, he will be the best option for St. Louis at this time, but only because he is mature for his age and seems almost ready to make that NHL jump. Also, his cheap cap hit could potentially allow the team to find that one missing piece later in the season."
Matt Climie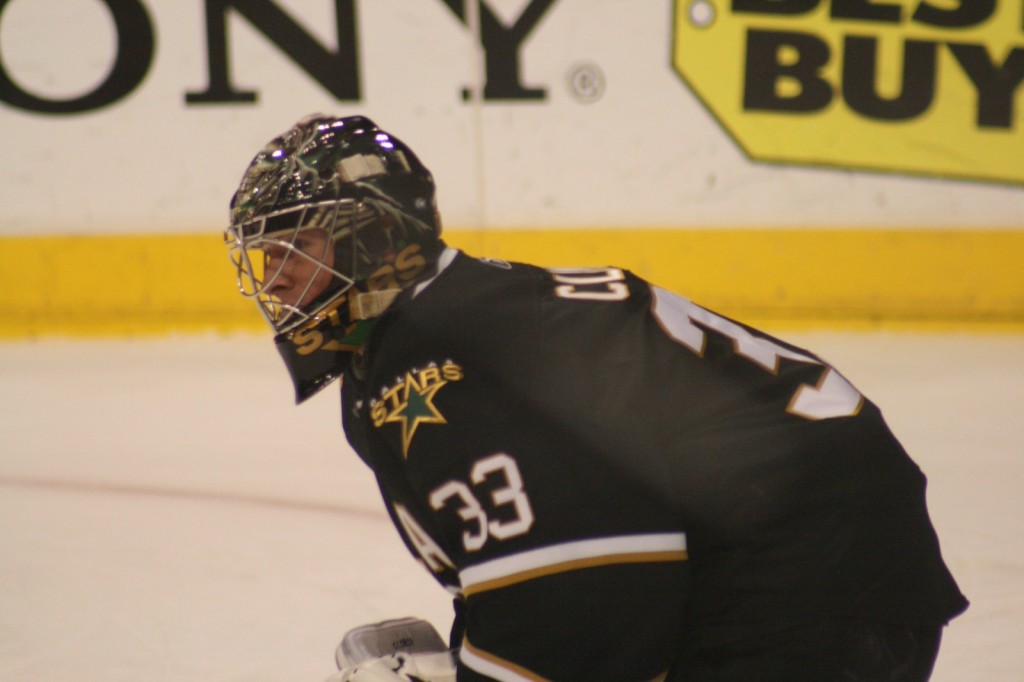 The undrafted goaltender worked his way into NHL teams' radar after four successful years with Bemidji State University from 2004-05 to 2007-08, which included a College Hockey America (CHA) tournament title and a tournament MVP honor, as well as setting records for the school that included single season shutouts, career shutouts and wins at the Division I level. He signed an amateur tryout agreement with the Dallas Stars organization for the final 12 games of the 2007-08 season and truly began his professional career the following season. That would be a whirlwind of a season for the young goaltender, as he appeared in games for ECHL Idaho and AHL Houston, while also making his NHL debut against the Blues on April 4.
After another season in Dallas, Climie signed with the Phoenix Coyotes organization to open the 2010-11 campaign and was AHL San Antonio's starting netminder. He posted a 26-22-3 record, to go along with a 2.64 GAA and a .913 save percentage, along with making his fifth appearance in an NHL game on Dec. 20. He signed the following season with the Vancouver Canucks and, eventually, became the go-to guy for Vancouver's then-AHL affiliate, Chicago. He appeared in 53 games for the team in 2012-13, the final season of a Vancouver-Chicago partnership, posting a 24-25-3 record to go along with a 2.42 GAA and .921 save percentage. Last season, he served as Allen's backup and appeared in just 23 games.
The positive for the Blues is that Allen and Climie already have a working relationship. The now-31-year-old goaltender does have limited NHL experience, most of it while serving as the backup in injury situations. This would be a circumstance in which he would feel comfortable, while Allen would be able to focus on his game with a solid AHL veteran serving as his backup.
However, a similar obstacle that would be faced with Binnington would arise with Climie: a lack of true NHL experience. If the Blues feel that a seasoned, professional veteran, like Climie, could overcome this quicker than Binnington, this would still serve as a cheap alternative to bringing in an NHL goalie from outside the organization.
Climie would have to sign an NHL contract as he is currently under an exclusive AHL agreement. His last NHL contract, signed with Vancouver in 2011-12, paid him $525,000 at the NHL level.
Martin Brodeur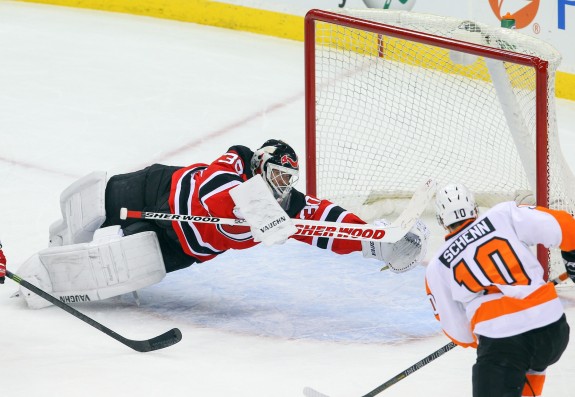 Brodeur currently holds a laundry list of NHL records, including most career regular season wins (688), most regular season shutouts (124) and most postseason shutouts (24). Despite this, he is still looking for an NHL job. Brodeur, 42, saw his contract expire with the Devils and does not plan to announce retirement. He is holding up hope that an NHL team will still require his services sometime this season.
"I'd love to be on a competitive team, that's for sure," the three-time Stanley Cup champion recently told the New York Post. "If I'm not going to play a lot I'd like to have a chance to win every time I jump between the pipes. There are places I really don't want to go, but there are other places I wouldn't mind going. There will be a couple nice fits out there if it happens."
Brodeur, who holds the NHL record of games played by a goaltender (1,259), would serve as a prime backup to the young Allen. His wisdom would provide more than enough security for Allen to shine in the starting role with possible spot starts going to the crafty veteran.
Nonetheless, spot starts are where Poepping takes issue with a Brodeur signing.
"Brodeur's stand-up sort of hybrid style is not conducive to the Blues' style of defense," he said. "Often Blues' netminders are asked to go post-to-post and back again to stop weak-side opportunities, while the subsequent rebound offerings with long stretches of no action in between can be problematic for Brodeur due to two reasons. First, his lateral movement has really decreased over the past several seasons and his age is starting to show (which is miraculous that it took this long to see), so he would have trouble staying in position in the tight scrambles. With the Blues history of questionable battles in front of their own net, disaster could be afoot. Second, being the extreme veteran he his, he may have trouble with long breaks between shots. This is not because of a lack of focus, but because his aging body won't be able to stay as fresh and limber through those stretches as much as Binnington's would."
Salary would also be an issue. To open the season, the Blues filled just 22 roster spots of an allowed 23, freeing up some cap space since the team had a light October schedule. This is an example of how the Blues are extremely cap conscious and will do what it takes to keep salary numbers down.
Although Brodeur won't be expensive by NHL standards, he will likely be seeking more than Climie or Binnington. Depending on Elliott's status, it may not be in the Blues' cards to commit to a short-term fix in net with two options skating in Chicago.
However, if Elliott's injury is severe, Brodeur could be a key addition to keep the Blues atop the Central Division standings.
I am a former NHL media member and reporter for the St. Louis Blues, working for various media outlets. Currently, I am an NHL News Writer and Editor for The Hockey Writers. I live in St. Louis and work as a freelance copywriter in numerous industries.