With the Toronto Maple Leafs languishing just two points out of last place in the National Hockey League standings, president Stafford Smythe outlined his strategy to right the ship and return the blue and white to contention.
What's Wrong With the Leafs?
Smythe spoke to members of the Toronto press while sitting in a New York city airport and answered the obvious Leaf question before it could be asked.
Before you ask the question, I'll tell you what's wrong with our hockey team. We haven't got enough National Hockey League players. The three years we won the Stanley Cup we had nothing but NHL players on the roster. If we had waived one, he would have been claimed.

Carl Brewer

We went to training camp with the strongest defence in the league, but that changed when Carl Brewer retired. You wouldn't trade Brewer for Marcel Pronovost, would you? Well, we were fortunate to have Marcel to try and fill the hole left by Brewer.

"If Carl had stayed with the team, we'd have been all set at the blue line instead of scrambling.
Punch Won't Be Fired
Smythe quashed a rumour that manager-coach Punch Imlach would be relieved of his general manager duties. What he did say about Imlach's workload next year was significant just the same.
We plan to help Imlach from the top (the Leaf hockey committee) this season and next year we'll re-align our setup. Imlach will only have to worry about the club.

Joe Crozier will handle a Rochester camp, Ray Miron the Tulsa camp and Buck Houle the Victoria set-up. Buck ran his own camp this fall.

I'm on Imlach to do better than he is doing. But he is not going to be fired.
Smythe went on to place the blame for the team's poor start squarely on himself, saying he gave Imlach too much work to do. He said that because he worked so hard, Imlach wasn't mentally sharp with his decision-making and should have kept Peter Stemkowski and Eddie Shack instead of farming them to Rochester.
Smythe made a surprise trip to Boston on Sunday, fuelling speculation that Imlach would be dismissed if the Leafs lost to the Bruins. Many observers believe that Smythe himself wants the general manager portfolio, retaining a man who would handle only the coaching duties.
Punch: No Interest In Players Over 27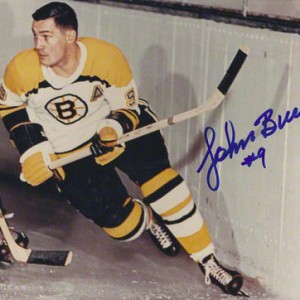 For his part, Imlach refused to comment on Smythe's plan to cut his workload. He said that with next season a long way off, his main concern is getting this group into the playoffs. He also said that the organization has young players who will eventually become bona fide big leaguers. He said they are trying to buy time with veterans and fringe players until the kids are ready to step up.
Regarding trades, Imlach says that he isn't interested in any player over the age of 27. He spoke of a three-year rebuilding program and said players on the far side of 30 would be too old to help his team when the youngsters are ready to contend. He also said he could have had John Bucyk from Boston last season, but this year he is no longer interested in the veteran left winger.
Leafs Veto Lindsay Return
As required by National Hockey League regulations, the Detroit Red Wings on the weekend sent telegrams to the other five clubs asking for permission to reinstate Terrible Ted Lindsay to active playing status. The plan to bring Lindsay back came to an abrupt halt when Stafford Smythe replied that no such permission would be forthcoming from the Maple Leafs.
Red Wings general manager-coach Sid Abel said that Toronto's rejection ended Linday's comeback hopes:
I doubt we'll ask them to reconsider. We tried and they said no and I think that's the end of the matter.
Lindsay shocked the hockey world by ending a four-year retirement from hockey last season. He played in 60 games for the Wings, scoring 14 goals and providing valuable leadership for Detroit's young players. He was understandably disappointed.
It didn't take them long to forget the Red Kelly deal, did it? The Detroit club treated Leafs pretty good on that one and Kelly was suspended at the time, too.
Lindsay was referring to the 1960 transaction by which Toronto acquired Kelly from the Red Wings, paying the relatively paltry price of defenseman Marc Reaume. Kelly had been traded to the Rangers by the Red Wings but refused to report to New York and was placed under suspension. Toronto stepped up, received permission to speak to Kelly and convinced him to join the Leafs if a deal could be worked out. Kelly switched from defense to the forward line and has been one of Toronto's most valuable players ever since.
Johnson Follows Wings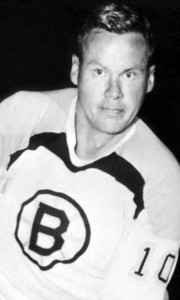 Former NHL defenseman Tom Johnson, who retired from hockey before the start of this season, now works in the front office for the Boston Bruins. For the past two weeks, he has been practically living with the Red Wings, following the team from game to game, and taking in their Pittsburgh Hornets farm team's AHL games when Detroit is idle.
Johnson's job is to report back to general manager Hap Emms on Detroit players who interest the Bruins. The two clubs are said to be close to a major deal.
The Red Wings are interested in Boston captain Leo Boivin to shore up a weak defense unit. With only Hank Bassen to back up goalie Roger Crozier, Detroit could also use a goaltender, likely veteran Ed Johnston. The Bruins are said to be watching the Wings' Floyd Smith, Billy Harris and Pit Martin.
Notes: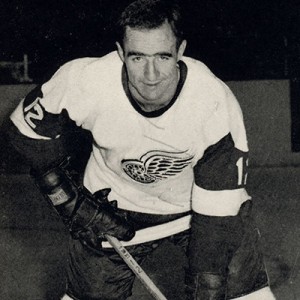 Bill Gadsby of the Detroit Red Wings played his 1,200th NHL game Sunday night. He previously played for both New York and Chicago.
Red Wings had four new faces in the lineup Sunday. They called up veterans Warren Godfrey and Val Fonteyne, along with young defensemen Bert Marshall and 19-year-old Gary Doak. Marshall in particular was solid on the Wings blue line.
The Red Wings have begun plans to organize their own national television network. Lincoln Cavalieri, business manager for the Olympia, says that they are packaging an hour-long show featuring home-game highlights and player interviews. Some 180 television stations across the U.S. have been contacted and over half that number have indicated they have interest in such a package.
The Rangers have lost the services of forward Doug Robinson for up to two weeks after he had surgery yesterday to repair a broken cheekbone.
Bobby Hull and Bobby Rousseau are tied for first in NHL scoring with 18 points. Hull leads the league in goals with 12. Glenn Hall is the top goaltender with a 2.22 goals-against average.
Quebec Aces hold the top four spots in the AHL scoring race. Leon Rochefort leads with 21 points, followed by Gordon Labossiere, Keke Mortson and Ed Hoekstra. Rochester's Gary Smith leads the goalies with a 2.03 average.
Art Jones of the Portland Buckaroos continues to lead the WHL scoring race, one point ahead of Vancouver's Billy McNeill. The Buckaroos' Don Head is the league's top netminder with an average of 2.22.
Retired police detective, involved in hockey at all levels for over 50 years. Member of Society for International Hockey Research and presently a video analyst for the leader in advanced hockey analytics (we work exclusively for 2 NHL clubs, and provide advice on an ad hoc basis to many other clients). Currently the Assistant General Manager for the Pelham Pirates of the Greater Ontario Junior Hockey League. Previously owned the Faceoff computer hockey simulation and also provided all player ratings for the EA Sports series of NHL computer games from the late 90's into the mid 2000's.