While most of the NHL coaches we have talked about in this series are firmly ensconced in their positions, such is not the case with New York Rangers bench boss Red Sullivan. Rumours were rampant throughout last season and over the summer that Sullivan, after two-and-a-half seasons at the helm, was on the way out the door.
Started With Bruins
George James (Red) Sullivan was born in Peterborough, Ontario on Christmas Eve, 1929. He played Junior B in his native city before moving up to the Junior A ranks with the St. Catharines TeePees in 1947-48. Thirteen games into the 1949-50 season the Boston Bruins, who owned his rights, brought him up to the big club. He played three games with the Bruins, showing enough to merit a posting with Hershey of the American Hockey League.
Sullivan's first full NHL season was in 1951-52. He played 67 games for Boston, scoring 12 goals and adding a like number of assists. He started the next season slowly and found himself back in the AHL with Hershey.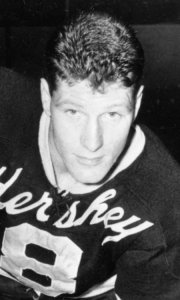 The next year in Hershey, 1953-54 was when Sullivan blossomed as a prolific scorer. He led the AHL in scoring with 30 goals and a league-leading 89 assists for 119 points. He was also named the winner of the Les Cunningham Trophy as AHL MVP.
Trade to Rangers His Big Break
Sullivan's big AHL year attracted the interest of the Chicago Black Hawks. Chicago purchased his contract from Boston just before training camp began in 1954. The likeable red-head played two seasons in the Windy City before being sent to the Rangers in a much-ballyhooed trade for Wally Hergesheimer in June of 1956.
Sullivan spent the next five seasons on Broadway as one of the Rangers' most popular players. He enjoyed his most productive NHL season in 1958-59 when he netted 21 goals and 42 assists for 63 points while playing in every one of the Rangers 70 games.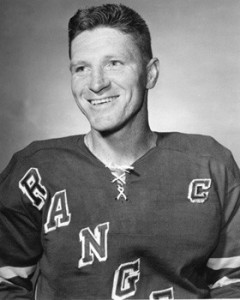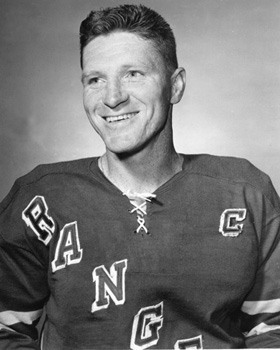 Sullivan was named captain of the Rangers in the 1957-58 season, a post he held until his New York playing career ended after the 1960-61 season. He played two more minor league seasons as playing-coach of the New York farm teams at Kitchener-Waterloo (EPHL) and Baltimore (AHL).
In late December of 1962 the Rangers were so happy with his work at Baltimore they moved him up to coach the varsity team, replacing Muzz Patrick. In his three seasons behind the Ranger bench, Sullivan has a record of 53 wins, 93 losses and 30 ties.
Combative Nature Cost Him
Red Sullivan was known as a dynamic and combative player, one who could get under the skin of opponents. His aggressive attitude, which often saw him become physically involved with even opposing goalkeepers, nearly cost him his life.
During the 1956-57 season, Sullivan's first in New York, Red seemed to take great pleasure in tormenting Montreal Canadiens goaltender Jacques Plante. Montreal's great defenseman Doug Harvey, no shrinking violet himself, warned Sullivan to keep his distance where Plante was concerned.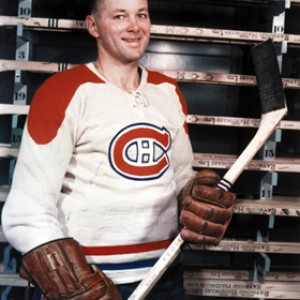 Sullivan, true to his nature, ignored Harvey's warning, with dire consequences. Harvey calmly inserted his hockey stick deep into Sullivan's abdomen, rupturing his spleen. Sullivan was rushed to hospital and at one point was in such grave condition that a priest was summoned to give the player his last rites. Sullivan did recover completely and in fact went on to play the next four seasons without missing a game.
How long Sullivan lasts as coach of the Rangers is a question that will undoubtedly be answered by the Rangers' performance. With a rebuilding team and a relatively new general manager who did not choose this coach, it would seem that unless the Rangers set the league on fire early, Sullivan will be on a very short leash.
Miron: Americans Like Violence
Ray Miron, general manager of the Tulsa Oilers of the Central Professional Hockey League (a Toronto farm club) says that they have sold $80,000 worth of advanced tickets. Miron summed up his opinion of why sales have been brisk:
"Football is the king game in the States, probably because of its violence. But the Oklahoma fans are enthusiastic for hockey because it couples a similar violence with speed."
The Oilers had a good first season in Tulsa and are looking to build on the solid fan base they developed last year.
Training Camp Notes
Rangers Rod Gilbert has been sent to a New York hospital for observation of a back injury suffered in Monday's workouts.
Eddie Shack is a one-man wrecking crew in Toronto's camp. So far he is responsible for injuries to Wally Boyer, Stan Smrke and rookie goalie Dave Kelly.
Carl Brewer and Bob Pulford were late for practice yesterday, after allegedly sleeping in. They have been demoted to the Tulsa training group. Brewer says the hotel forgot to make their wake-up call.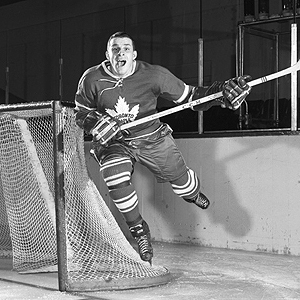 Brewer's brother Jack is in Toronto's camp and will likely end up with Knoxville of the EHL.
Most impressive amateur for Toronto so far is 22-year-old defenseman Ron Ward, a Cornwall, Ontario native.
Terry Reardon, general manager of Baltimore Clippers of the AHL, says he doesn't believe that Jacques Plante will remain retired. He thinks Plante will end up with Quebec of the AHL.
Retired police detective, involved in hockey at all levels for over 50 years. Member of Society for International Hockey Research and presently a video analyst for the leader in advanced hockey analytics (we work exclusively for 2 NHL clubs, and provide advice on an ad hoc basis to many other clients). Currently the Assistant General Manager for the Pelham Pirates of the Greater Ontario Junior Hockey League. Previously owned the Faceoff computer hockey simulation and also provided all player ratings for the EA Sports series of NHL computer games from the late 90's into the mid 2000's.