Christopher Ralph is a hockey writer with a focus on prospects and the entry draft, as well as the Leafs' correspondent here at THW.
"Full Potential" Prospect Profile: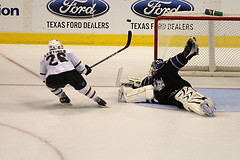 Please "Click Here" for "Notes Up Front" and the "Legend" for various topics covered below, as well as a running live updated NHL 2009 Draft rankings.
55. Kenny Ryan
Position: RW
Shoots: Right
Height: 6-0
Weight: 204 lbs
Birthdate: 1991-07-10
Hometown: Franklin Village, Michigan
One-Timer: His childhood hockey idol was Darren McCarty because "he played with so much energy and grit", which tells you something about Ryan's work ethic. NHL Central Scouting's Gary Eggleston stated "Ryan is a solid skater who is strong on his skates, has good balance and his hard to knock off his feet. Has good overall speed and works hard in all zones. He is strong in the corners, is aware of defensive responsibilities and backchecks well. Ryan plays a rugged two-way game." Ryan has good anticipation of how the play will develop. He is definitely more of a shooter than playmaker.
NHL Player(s) Comparison: Jere Lehtinen
Scouting Combine Performance:
THN's Ryan Kennedy stated: "With the benefit of USA Hockey's weight training, the NTDP kids did big things at the combine and Ryan was in the mix in several different categories. The Boston College commit had a great year in Ann Arbor, too, putting up 41 points in 53 games."
Gare Joyce noted Ryan was one of only seven who received the high grade for both upper and lower body development.
International Tournaments: Ryan had 4 goals and 1 assist in 7 games for Team USA at the WJC-U18 in their gold medal winning performance.
ETA = 3 years
Risk-Reward Analysis: Risk = 3/5   Reward = 4/5
NHL Potential: 2nd or 3rd line 2-way forward
Fantasy Hockey Potential: Offensive = 7.5/10   Defensive = 7.5/10
Other Rankings:
ISS:  59
CSB: 56-NA
TSN:  Honourable Mention
THN: 66
Video Links:
httpv://www.youtube.com/watch?v=v7BFx83_hl4
This document is the intellectual property of Christopher Ralph and cannot be used or duplicated in anyway without expressed written consent. Any use of this document without the expressed written consent of Christopher Ralph will result in public exposure and legal prosecution.