We're a quarter of the way through the season. That gives us a chance to step back from the action and analyze the performance of NHL teams and players thus far. Here are six takeaways from the Buffalo Sabres 2015-16 campaign.
The Sabres Might Have a Franchise Goalie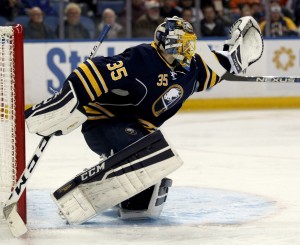 There's a good possibility the Sabres might have their long-term solution in goal already in tow, but it's not who you'd imagine it to be from the start of the season. After Robin Lehner went down with a high ankle sprain, it opened the door for Linus Ullmark. Despite still getting accustomed to the North American game after playing professionally in Sweden, Ullmark has played well in goal. The 22-year-old netminder will only get better with time.
Still Can't Find Scoring Touch
What plagued the Sabres the last two seasons – when they scored at a record breaking low – has continued to be the team's Achilles' heel. The Sabres are scoring just 2.05 goals per game, ranking them 27th in NHL scoring. They been generating chances but have been having problems cashing in. It's not all bad on the offensive front. Until recently, their power play has been much improved from a year ago.
Possession Has Greatly Improved
A major reason why they've been generating more scoring chances is because they've greatly improved their puck possession. After getting out shot nearly every game last season, the Sabres have a positive shot differential of 1.3, tying them for 10th. When looking at advanced stats, the Sabres rank 17th in Corsi For Percentage (49.1%) and 20th in Fenwick For Percentage (48.8%). While these numbers aren't overwhelmingly positive it is a far cry from their basement-dwelling placement from a season ago. Part of this is due to having better players, but much of this is owed to head coach Dan Bylsma's structured system.
Jack Eichel Promising, But Still a Work in Progress
The arrival of Jack Eichel was a much welcomed sight for the suffering Buffalo Sabres fans. He's shown some real flashes of brilliance, such as this highlight reel goal against the Columbus Blue Jackets.
However he is still learning to play at the NHL level and needs to find consistency in his game. Coming into the season, a number of experts projected him to be the Calder Trophy winner because of his mature physical prowess. However, the production hasn't come at the pace some expected. He's certainly been on the right track, and everyone just needs to be patient with his development.
Rasmus Ristolainen is Becoming a Number One Defenseman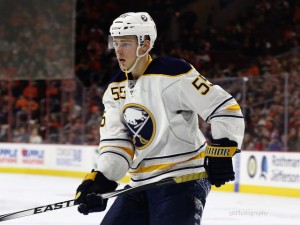 Proof that it's best to be patient can be found in Rasmus Ristolainen's game. With Zack Bogosian being hurt for most of the season, the 21-year-old Finn has stepped up his game. He's logged a lot of minutes against the oppositions best line and has answered the challenge. Many are comparing his development to that of Tampa Bay Lightning defenseman Victor Hedman. Ristolainen has all the tools to be a Norris contender, including skating and scoring prowess in addition to his defensive game.
Veterans Have Been Underwhelming
While we've seen a lot of young players step up, we can't say the same for some of their veteran counterparts. Particularly, Matt Moulson and Tyler Ennis have been underperforming. Their slow start as top six forwards can partially be attributed to the team's scoring woes. Ennis is a four-time 20-goal scorer and Moulson is a former 30-goal scorer so more is to be expected of them. "I'd say he's pressing too much. You can't make those [special] plays in every situation and in every point you touch the puck," said Bylsma. "He's just got to simplify his game. He is a special player who can make those plays, but he can't be trying to do it every time he touches the puck."
There's still plenty of hockey to be played this season, so the jury is still out on this year's Sabres team. What are your thoughts on the season thus far?
As an American based in Amsterdam, Joe provides a unique hockey insight, bringing a global perspective to the game. Joe has several years of experience covering the game on both a domestic and international level, including being credentialed for multiple World and World Junior Championships.