Going into the 2015-16 season, all hopes were set on Buffalo Sabres goalie Robin Lehner to take hold of the crease. However, once the goaltender – who was traded along with David Legwand for the 21st pick in the 2015 draft – went down with a high ankle sprain, the door was swung wide open for another Swedish netminder. Linus Ullmark has barged in and taken stranglehold of the blue paint for not just the short-term, but for the foreseeable future.
Young & Experienced
Although Ullmark is just 22 years old and has played eight games between the AHL and NHL, he's no stranger to the pro game. He began playing with MODO in the Swedish Hockey League at age 19 and had a lot of success, including an exceptional 2013-14 season where he posted a .931 save percentage and a 2.08 goals-against average.
http://gty.im/495362130
However, making the transition to the North American game hasn't come easy for the young goalie. His 2015-16 campaign got off to a slow start as he was recovering from a double hip surgery he underwent earlier in the year.
Not good news; should be ok. RT @aalexnil@SabresProspects Double hip operation for Ullmark. 4-6 months of rehab. http://t.co/d7rj9wJfR4 …

— Kris Baker (@SabresProspects) April 14, 2015
The procedure is done more as a preventative measure rather than to fix an ailment and is said to have a high success rate. Roughly translated from a Swedish interview, Ullmark remarked, "It is what it is. Maybe it's better to do it now while I'm young and it's easier to rehabilitate rather than when you are 35 years old. It is after all a surgery that is done as a preventive measure and it will never get better if I do not have the operation."
A Strong Start
The recovery from surgery hasn't hindered Ullmark one bit. After playing just three games in the AHL, Ullmark was called up to the Buffalo Sabres and soon given an opportunity to start. Despite still getting accustomed to the North American game, Ullmark has already proved this now his net.
Ullmark has stopped 56 of 58 in the last two games. That's a .966. It's his net now. #Sabres

— Mike Harrington (@BNHarrington) November 2, 2015
In five starts with the Sabres, Ullmark is 3-2 with a 2.56 goals against average and .918 save percentage. Keep in mind, these numbers are a bit inflated because of being pulled after giving up three goals in the first period against the Tampa Bay Lightning during what was a very poor overall team effort.
Here it is, Linus Ullmark's minion mask. So awesome @Icebeardude@WGRZpic.twitter.com/Ix5jEzKMio

— Heather Prusak (@haprusak) October 25, 2015
Ullmark is quickly becoming a fan favorite – in some part because of his Minions mask – teammates and head coach Dan Bylsma.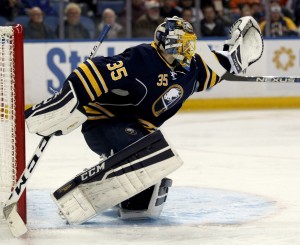 Byslma has praised the Swede, describing him as having a "cool, calm demeanor in net."  After the Sabres 3-2 victory over the Vancouver Canuck in which Ullmark stopped 35 of 37 shots, Bylsma provided more accolades for his young goaltender.
"He made some tremendous saves. Probably the best player on the ice for us."
Although it's a small sample size, Ullmark is quickly showing he could be the franchise goalie the Sabres have been looking for since Ryan Miller's departure. In what some might consider a passing of the torch, Miller was the very goalie he defeated while facing off against the Canucks.
As an American based in Amsterdam, Joe provides a unique hockey insight, bringing a global perspective to the game. Joe has several years of experience covering the game on both a domestic and international level, including being credentialed for multiple World and World Junior Championships.