Every year in the NHL, there are a dark horse players that come out of nowhere to post very impressive offensive numbers. Last year, Ondrej Palat and Reilly Smith scored 59 and 51 points respectively. Both had put up some good numbers in juniors and the minor leagues, but that level of production was not predicted by anyone.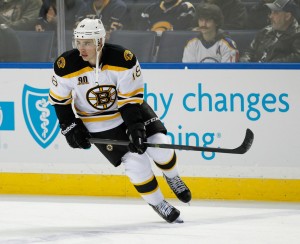 Predicting next year's unlikely breakout candidate is not easy, but I would bet that one of these guys will be the Palat/Smith of 2014-15. In order to be considered a dark horse, a player must not have scored more than 30 points in any NHL season, must not have played more than two seasons in the NHL (playing at least half a team's games), or been a top 25 draft pick. In fact, only one of the below players was even a first round pick.
Picking top draft picks to break out in the NHL is easy. Picking the right dark horse isn't. They are divided into two categories, the established (or semi-established) NHL players, and the deep sleepers with less than 40 total NHL games, which will be featured in a second article in the coming days.
The Semi-Established Dark Horses
Tyler Toffoli (LA Kings, drafted 47th overall 2010): At every level in Toffoli's career, he has been an elite point producer. He led the Greater Toronto Midget Minor Hockey League with 174 points at age 15, led the OHL in points with 108 in 2010-11, was second in the OHL in points in 2011-12, and has been a near point-per-game player in the AHL over the last two seasons.
However, he is just earning his chance to make the Kings full time. Dean Lombardi is known for being patient with his prospects, and it appears the Kings are about to reap the rewards. Toffoli has rounded out his game away from the puck in the AHL, and showed that he was ready for full-time duty in the 2013-34 NHL playoffs. A member of "That 70s Line", Toffoli had 14 points in 26 playoff games, and helped his linemate Jeff Carter finish second in the playoffs in goals. A veteran of 72 NHL games, Toffoli has 34 career points. It would not be a surprise to see him best that total next season alone.
Sami Vatanen (Anaheim Ducks, drafted 106th overall in 2009): When Vatanen was 20 years old playing in Finland, he was second in the entire league in points by a defenseman, and led defensemen in points-per-game. Vatanen's offensive skills, vision, and skating abilities from the backend are unquestionable. However, the one question about his game translating to the NHL regarded his size.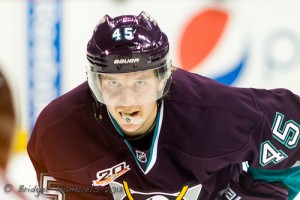 In his rookie AHL season, Vatanen proved his size was no issue at all. He put up 45 points, the 5th among defensemen in the AHL. Last season, he scored 21 points in 48 games in the NHL for the Ducks, and with consistent power play minutes this season, he will exceed that total. Vatanen was equally impressive at the Olympics, where he added 5 assists in 6 games.
Patrick Maroon (Anaheim Ducks, drafted 161st overall in 2007): Originally drafted in 2007, Maroon just established himself as a regular NHL player this past season. He possesses great size at 6'3″, 229 lbs, and has soft hands for a man that large. He is especially dangerous right in front of the net where he uses his large frame to establish position, bang home rebounds, and put tip-ins past opposing netminders.
Maroon was a very established AHL scorer, where he had 278 points in 353 career games. Last year, his first year in the NHL, he had 29 points in 62 games. Combine his physical edge, size, and good hands, and you have a power forward in the making.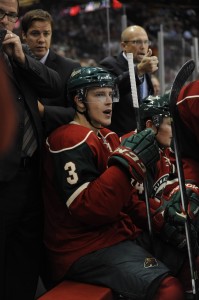 Charlie Coyle (Minnesota Wild, drafted 28th overall in 2010): Standing at 6'3″, 222 lbs, Charlie Coyle has the size and hands to be a very effective forward at the NHL level. Next year, it's a virtual lock that Coyle will be playing alongside two of Vanek, Parise, Koivu, or Granlund. He would make for the perfect complementary forward alongside those four. His size allows him to play the cycle game effectively and shield the puck from defenders.
Coyle managed 30 points over 70 regular season games last year, but stepped his game up in the playoffs where he scored 7 points in 13 games. Another year of maturing and an ideal setup in terms of linemates means Coyle is poised for a breakout season.
Boone Jenner (Columbus Blue Jackets, drafted 37th overall in 2011): Boone Jenner's is a coach's dream player. He brings every attribute that a coach could want, and has no weaknesses to his game. He has good size (6'2″, 208), is a strong two-way player, is a leader, plays with a physical edge (led rookie forwards in hits last year) and has good offensive instincts on top of it all. He is the perfect player to play alongside two offensively talented linemates, and do all the little things to make them better.
Jenner was another player who finished the regular season with a solid stat line (29 points in 72 games), but kicked things up a notch in the playoffs, where he had 5 points in 6 games and was one of the Blue Jackets' best players. Look for him to pick up where he left off next season.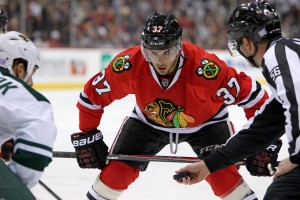 Brandon Pirri (Florida Panthers, drafted 59th overall in 2010): For seemingly years now, Chicago Blackhawks fans have been clamoring for a 2nd line center to get Michal Handzus out of that role. In Brandon Pirri, they may have had the perfect one and gave him away for a 3rd and 5th round draft pick. Despite being an elite point producer in the AHL over the last 3 years, the 2012-13 AHL leading scorer was never given a true shot to prove himself on the Blackhawks. He played 35 games for the Blackhawks over parts of four seasons before being dealt to Florida.
Dale Tallon, current Panthers GM, was the one that drafted Pirri in the 2nd round in 2009, and knew he had acquired a hidden gem. Pirri finally got his chance in Florida and seized it, scoring 14 points in 21 games. With Aleksander Barkov, Nick Bjugstad, Pirri, Vincent Trocheck, and Drew Shore in the organization, the Panthers have some of the best young center depth in the NHL.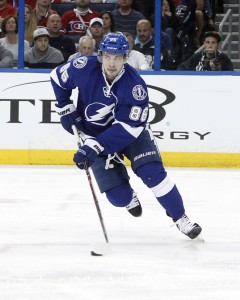 Nikita Kucherov (Tampa Bay Lightning, drafted 58th overall in 2011):  Kucherov's rookie season in the AHL last year lasted just 17 games. It wasn't because of injury or a demotion, it was because he lit the league on fire and the Lightning had to recall him. In those 17 games, Kucherov potted 24 points and led the league in points when he was recalled.
A speedy winger with dazzling offensive talents, Kucherov put up a very respectable 18 points in 52 games with the Lightning upon being recalled. Kucherov's talents were never in question. However, questions arose in his draft year about his willingness to play a North American style, and also come to play to the NHL. That's why he lasted until the second round, despite scoring 21 points in 7 games in the U18 WJC.