With a Busy Summer In Full Swing, What Are Some of the Early Storylines Heading Into Capitals Training Camp?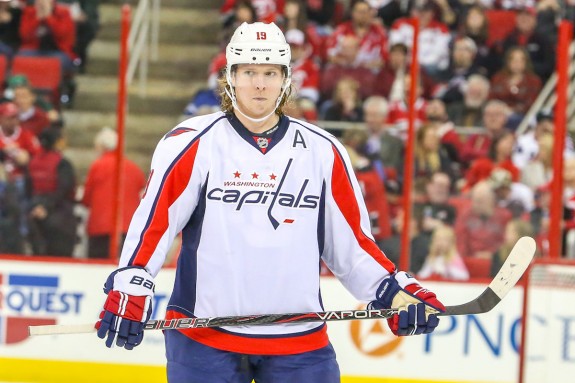 It has been one of the more memorable offseasons the Capitals have had in a few years.  There is a new coach behind the bench, a new general manager in the front office, and some new faces on the roster.
A majority of the adjustments to the Capitals roster are now completed and Capitals fans have a good idea of what the roster will look like for the upcoming season.  On paper, the Capitals have an improved club over last season.  With a revamped defensive core and stability at the forward and goaltending positions, this group is poised to get back into the postseason hunt.
Now there are still plenty of question-marks with this roster heading in to Capitals Training Camp.  This article will preview some of the things that Capitals fans may shown concern over.  What are some of the challenges potentially facing the Capitals heading into their upcoming training camp?
Second Line Centre

With the departure of Mikhail Grabovski to the New York Islanders, the Capitals have a big forward hole to fill in training camp.  Who will be the new Capitals second line centre to start the season?  There has been a revolving door of players over the years who have tried to fill this hole: Jason Arnott, Mike Ribeiro, Brendan Morrison, Sergei Federov, Mikhail Grabovski, Tomas Fleischmann.  Some of the players mentioned performed well, but they ended up not being long term solutions for the organization.
So who can fill the spot now?  The Capitals have guys like Brooks Laich and Marcus Johansson who have played centre for the Capitals before, but they are best suited to play wing.  Evgeny Kuznetsov played some centre while he was in the KHL, but he has yet to play it in the NHL.  Eric Fehr made the transition from wing to centre last season and did a phenomenal job, and he found a lot of chemistry with Jason Chimera and Joel Ward on the third line.  Jay Beagle is best suited to play on the Capitals fourth line as he has not performed well in the Capitals top six.
It is possible the Capitals could look to the outside for some help and could still make a move via trade.  The Capitals have always tried to fill needs in house first before they look to the outside, so look for Evgeny Kuznetsov to get a look at centre before the Capitals make any potential roster moves.  Brooks Laich would probably be the safest option to fill the hole, but his health is a big concern coming into the season.
Alex Ovechkin: Left Wing or Right Wing?
How will head coach Barry Trotz deploy Alex Ovechkin in his attack?  Ovechkin has played most of his career at left wing, but he became a dominant right wing under former coach Adam Oates.
Ovechkin is probably most comfortable at the left wing position.  He tends to cut across the middle of the ice a lot more when he is at that position.  He has shown the ability to score goals at both flanks of the ice, so it does not matter which side he plays.
No matter which side Ovechkin plays on, it has an impact on the other lines too.  If Ovechkin goes back to the left side, could Tom Wilson get a look on the top line?  If Ovechkin stays on the right side, could Brooks Laich get a look on the top line?  It does make a little bit of a difference, but Barry Trotz has the smarts to find the solution for his top star.
Defensive Pairings
With the additions of Brooks Orpik and Matt Niskanen over the summer, the Capitals finally have some NHL level depth on their blueline.  With these additions, the Capitals have options for all of their defense pairings.  Brooks Orpik will carry a bulk of the defensive zone minutes, while Matt Niskanen can be used in most situations.
How will Barry Trotz utilize his revamped blueline he has in Washington?  Here is an early projection on what the defensive pairings could look like:
Karl Alzner – John Carlson
Brooks Orpik – Matt Niskanen
Dmitry Orlov – Mike Green
Brooks Orpik is familiar with John Carlson already since they were former Olympic teammates, so Orpik could easily slide up and down the defenisve pairings.  Orpik and Niskanen were both teammates in Pittsburgh, so they could feasibly begin the season together as a pair in Washington.  Niskanen will see more offensive zone starts and he will see more powerplay time than Orpik will.  Mike Green could slide up and down and could play alongside Karl Alzner or Brooks Orpik.
The Capitals have lots of options for their personnel on the backend and they have a good amount of depth incase injuries start to pile up.  It will be fun to watch what the Capitals can do with a quality NHL blueline, something they have lacked for many years.
Mike Green: Tradable Asset?
With the additions of Orpik and Niskanen to the blueline, what is the future of Mike Green?  He is in a contract year and will be an unrestricted free agent next summer.
Could the Capitals make a blockbuster move and flip Mike Green for a top forward?  This rumor has been discussed by many people and it could be a feasible option, but Mike Green is a part of the Capitals plan for now.
Interest for Mike Green will be very high at the NHL Trade Deadline and the Capitals management will have a big choice to make.  Mike Green is a very valuable asset that any team would love to have, and he should be able to bring a significant return via trade.  It will be interesting to see how Mike Green is used under Barry Trotz' system, but hopefully Mike Green is given the freedom to skate up the ice so he can be creative in the offensive zone.
Holtby's Time To Shine
Braden Holtby is the future of the Washington Capitals and now knows he is "the guy."  Holtby had an abysmal season in 2013-2014, but Capitals management still believes in him.
Holtby will now be under the direction of Mitch Korn, who is one of the most well respected goaltending coaches around the NHL.  Korn has worked with goalies like Dominik Hasek, Tomas Vokoun, Pekka Rinne, and Martin Biron.  Korn's resume is very impressive, so Holtby will have the best of the best to work with.
Holtby is in a contract year and his next contract will be determined on how he plays this season.  If he plays well and lights out every night, he will earn himself a nice long term deal.  If he has another season like 2013-2014, he will have to settle for another short term deal.  Holtby has shown flashes of greatness in the past, but has shown that he can be very vulnerable in net.  He should have a bounceback season and he should propel the Capitals back into playoff contention.  He has a better defensive core in front of him this season which should limit the amount of shots he faces on a nightly basis.  A bulk of the Capitals success in the regular season will be dictated by Holtby's performance in the net.
Thanks for tuning in!