After being overlooked for a couple of drafts, earlier this June Nikita Tryamkin was eventually drafted in the NHL, by the Vancouver Canucks. In this translated interview, originally appearing on the Russian outlet Just Media and written by Evgenya Telennaya, the blue liner spoke about the NHL draft, revealed what teams were interested in him during the selections, and shared his emotions about the recent rookie camp.
– When did you know that they wanted to see you at the NHL draft and how did you prepare for it?
– I didn't prepare much specifically for the draft, I just went to America to practice. Of course I was thinking to the draft too, but I was mainly working to get on shape for next season. I went there and I had some interviews with a number of teams. And then the draft, I got picked, it was good. I knew that nine teams were interested in me.
– Did you prefer any of those teams?
– Considering my age, the most important thing to me was just to get drafted. I was happy to be drafted by Vancouver, and time will tell how things will turn up.
– After the first two draft were you scared not to get drafted?
– After two rounds I started feeling some panic, I was scared they wouldn't draft me and I should simply get back home. I didn't count on the first round, they draft younger guys there. But then started the third round, the 66th pick were the Canucks, 68th – Tampa Bay, and the 70th – the Rangers. I knew that some of these teams were going to draft me.
– How did you like the draft ceremony?
– It's a true hockey party, twenty thousand people go to the arena just to see these guys, who are still unknown. They get to you, they ask your name, where do you play, and ask for autographs.
– How fluent you are in English language?
– I don't get lost, but I still don't understand too much. I can say some simple phrases. I was lucky that at the Canucks camp the guys warmly welcomed me, they helped a lot and explained what they wanted with gestures.
– How was the training camp?
– I was there for 8 days. We did some cross country, went at the river, had some tests. They also explained us how to practice in the gym, how to eat. Then in Vancouver they tried to give us something from the team's spirit. They split us in five teams, we cooked together, we prepared a buffet, then they got us in a competition where we had to climb up to 2000 meters.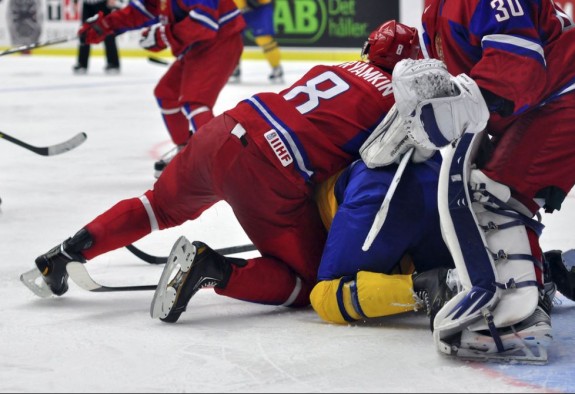 – What did impress you the most?
– You can go to Vancouver's head coach and tell him "Hi, my name's Nikita and I want to play for your team" and start talking about life. Or you can simply go to the guys and say "I'm like this, let's be friends." At home [in Russia] it's not like that, it's a bit different. I discovered many new things in those eight days.
– How do you prepare for the NHL now? Are you studying English language?
– You need to know English language anyway, not only to play in the NHL. Of course I think about playing there, but I still have two years of contract with Avtomobilist. I don't look thus far yet. I even told the Canucks' GM that I can't promise him that I'll become a world champion. I could become a national team level player in one season, or I can also become an average player. Of course, I'll work hard on myself, but I need also to judge things fairly. More concretly, we can talk more about this in a couple of years.
– Did you manage to rest this summer?
– I'll get to rest once I'm on a pension. (Laughs.) I don't regret I spent that time in the USA, it gave me a lot.
– Did you follow the recent FIFA World Cup?
– Yes, of course. In the USA the games were on day time, thus I watched in Russia the final game only. It has been a great tournament, with many good teams. Too bad Russia did not perform well, but it's better to have such bad performance now, than at home [in 2018].
– Do you read what fans write about you on the internet?
– No, I do not and I think it's not necessary. I care about the games' results, who scored. I don't read comments.
– Do you talk with your fans?
– Of course, when they approach you after the game, you can't say them "I can't." Photos, autographs, those things are really important to them, as well as playing in front of a full crowd is important to us. It was good that last year every game was sold out. It's great when they announce your name on the first line and the crowd is very loud. But when there are a lot of defeats, true fans still keep on supporting the team.
– Sometimes they criticize you for not needed penalties and emotional play. Are you working on this?
– In North America they told me to be even angrier, to play very hard. I explained them that I prefer playing more safely, rather than fly around and look stupid. If there is a good moment when I can meet an opponent playing hard, I'll do it, but I do not want just to fly around and do a bad play. After all if you just want to impress and as a result have a bad play and hurt the team, it means more time on the bench, and less ice time. Of course there are always a lot of emotions, especially in the final minutes of close games, but you need to hold on.
– Was it hard to you to pass from junior to senior hockey?
– During my first season in the MHL, they called me to skate with the senior team during the pre-season, and the year after I was already playing for Avtomobilist in the fourth line, I was happy and felt my progress. But when the season actually started, I spent the first six games on the stands. I've never been scratched, it was hard, I wanted to play. So I asked them to get back to the junior team, and they sent me there. I played 16 games and scored 13 points, so they called me and said "Today you're not going to play. You'll play tomorrow, for the senior team." In 10 games my ice time rose from 4 minutes to 27 minutes. I must thank my coach Igor Ulanov for the trust. I think that young players need to play to gain confidence.
Subscribe to my email newsletter to receive updates about my articles. Thank you!