Monday morning, the NHL announced its 'Three Stars' for the week of Dec. 13-20. Along with Semyon Varlamov and T.J. Oshie, Minnesota Wild captain Mikko Koivu was named third star for his impressive performance throughout three games last week. Koivu scored three goals and added five assists, for a total of eight points – enough to tie with Oshie for the most points scored in the week.
Now, all Minnesota Wild fans are probably aware that Koivu is having an outstanding year. The 32-year-old leads his team with 29 points, and he has been hugely responsible for the Wild continuing to win games, despite their tough schedule.
While you're likely aware of Koivu's stats and skills – and the impressive season he's having so far – here are nine things you probably didn't know about the NHL's Third Star of the Week:
1. Before Hockey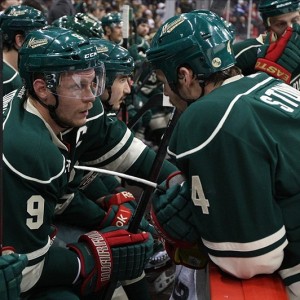 Before being drafted by the Minnesota Wild in the 2001 NHL Entry Draft, and making hockey his career, Koivu's first job as a kid was an ice cream scooper.
2. On Television
Minnesota's captain lists "Wedding Crashers" as his favorite movie, and "Friends" as his favorite television show.
3. Superheroes
Koivu's favorite superhero is Superman.
Former Wild player Zenon Konopka, however, lists Mikko Koivu as his favorite superhero.
4. Stacking Cups
The 32-year-old native of Turku, Finland is a talented hockey player. He won a gold medal with the Finnish National Team in 2011; he's a two-time Olympic medalist; and he has played in over 600 NHL games. He's also the "Stacking Cups Challenge Winner."
Koivu's hockey skills are impressive. His cup-stacking skills, on the other hand, are not. Luckily for the Minnesota Wild, the captain is better at playing hockey than he is at stacking cups.
5. Forever Wild
In 2001, the Minnesota Wild drafted Koivu sixth overall. Since then, he has played with no other NHL team but Minnesota.
"He is now one of two players (Niklas Backstrom is the other) who have experienced the Wild through both owners (Bob Naegele and Craig Leipold), both general managers (Doug Risebrough and Chuck Fletcher) and all three coaches (Lemaire, Todd Richards and Mike Yeo),"  – via Michael Russo, StarTribune
Currently, Koivu is in his eleventh season with the Wild. He has played in 712 games with the Wild, with over 152 different teammates coming and going throughout his time in Minnesota.
6. Military Man
In the offseason after the 2010-11 season, Koivu joined the Finnish Army at Lahti Sports School, in Lahti, Finland, for six months.
All Finnish-born men are required to serve at least six months in the military, but Koivu's service didn't have any impact on his time spent with the Wild.
7. A Suite Guy
The Wild's captain – along with teammate Niklas Backstrom and former Minnesota Wild player Nick Schultz – owns a suite at the Xcel Energy Center that he donates to children with serious medical conditions.
8. Koivu Off the Ice
Off the ice, Koivu and his wife, Helena, have two children: a daughter, Sofie, and son, Kasper.
9. If not Hockey
Koivu says badminton and soccer are his favorite sports other than hockey. He also played soccer in addition to hockey when he was growing up in Finland.
Now you know nine more things about the Minnesota Wild captain and the NHL's Third Star of the Week.