The NHL rumor mill has begun to churn.
Although we have yet to turn the calendar and welcome in 2016, speculation has already begun regarding the future homes of numerous stars, in particular those who are pending Unrestricted Free Agents (UFA) and are set to become Free Agents come July 1st.
With such a strong potential free agent class, in reality this should come as no surprise.
Truthfully, it is hard to remember a year in which such a large number of highly talented, yet young players hit the open market. Not only are there numerous quality players set to test the waters, but the majority of which are comprised of the likes of current team captains, former first overall draft selections, and even Olympic Gold Medalists.
In the past weeks, we have all become well aware of the situation surrounding Tampa Bay Lightning star Steven Stamkos, a situation created in full by his pending free agency. However, Stamkos is, in fact, just one of a number of incredibly skilled players poised to find a new home.
The top five pending UFAs are listed below, in no particular order:
A Stanley Cup champion, Olympic Gold Medalist, four-time All-Star and current Captain of the Carolina Hurricanes, Eric Staal's impressive resume speaks for itself, indicating his incredibly successful career to date.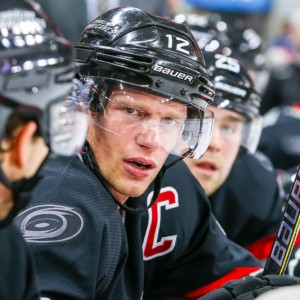 At 6 foot 4, 205 pounds, Staal is the ideal size for an NHL center-ice man, and has long dominated his opponents with his size and skill, making him an incredibly valuable asset.
However, over the past six seasons, Staal has endured a consistent regression in his offensive production. Of course, it is worth pointing out that the Hurricanes as a whole have struggled, yet as the team's leader, Staal has received a large brunt of the blame, some of which earned. As a result, Staal has been the subject of persistent trade rumors in recent years, yet has not been moved.
At an annual cap hit of $8.25 Million, Staal, especially in recent years, has failed to live up to his significant pay. If he wishes to re-sign in Carolina, he will undoubtedly have to swallow a significant pay cut. However, if he does test the Free Agent market, he could remain an invaluable addition to teams in search of a first line center.
A two-time Maurice Richard Trophy winner, World Junior Gold Medalist and three-time All-Star, Stamkos is currently the team Captain of the Tampa Bay Lightning and one of the NHL's top young talents.
Known for his prolific goal scoring prowess, Stamkos has tallied seasons of 51 and 60 goals, and has done so by the young age of 25. At 6 feet, 190 pounds, Stamkos is of average NHL size, yet despite primarily playing center, has recently been moved to the wing with the Lightning.
Stamkos' play has regressed slightly over the past two seasons, undoubtedly due to the recovery from a broken leg, yet he still remains one of the NHL's most valuable, and dangerous, players.
Much has been made about Stamkos' potential return to his home town of Toronto, and if this was to happen, it would take a contract of both substantial term and money to reign in the superstar. With a current cap hit of $7.5 Million, Stamkos would surely demand a raise, and would be quite right in doing so. However, the situation must be right, as heading to a re-building team may not make sense for Stamkos at this point in his career.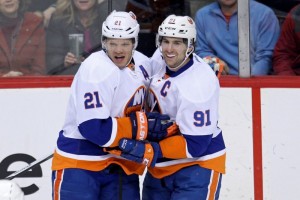 A first round draft pick by the New York Islanders in 2006, seventh overall, Kyle Okposo does not have the exceptional individual accomplishments of others on this list, however he remains amongst the most valuable and sought after. A two-time 20 goal scorer, Okposo is an extremely valuable piece of the New York Islanders roster, providing terrific depth scoring behind John Tavares.
At 6 feet, 220 pounds, Okposo is a physical force and prototypical power forward who successfully combines both size and skill into his complete NHL game.
In terms of his career projection, Okposo has been a model of consistency, while his offensive production has been on a slow yet steady rise over the past few seasons. Despite a career points per game rate of 0.69, Okposo has been producing at a 0.8-0.9 rate over his last few seasons, a mark which seemingly continues to rise.
With a current cap hit of just $2.8 Million, Okposo appears set for a substantial increase in pay, whether it comes with the Islanders or not. As a proven power forward of significant skill, Okposo could certainly demand a long-term contract, as his services will be well sought after.
In his tenth season with the Los Angeles Kings, Kopitar has already led his team to two Stanley Cup Championships and is a three-time All-Star. The Kings' first round draft pick, 11th overall in 2005, Kopitar is quite arguably one of the best two-way forwards in the NHL today.
A consistent offensive performer throughout his career with a points per game rate of 0.88, it is Kopitar's play in his own end which makes him so valuable. As a solid faceoff man, Kopitar has tremendous possession stats who prioritizes his responsibilities in the Kings' end of the ice.
With a current cap hit of $6.8 Million, Kopitar will surely receive a raise considering his strong and consistent play throughout his career. Fortunately for the Kings, Kopitar emphasized his desire to remain in Los Angeles long-term, indicating that he could accept a 'home town discount' if it means finishing his career with the Kings.
If the two sides do however fail to come to an agreement, there is little doubt that Kopitar would receive a great number of offers from interested teams willing to pay top dollar for his services.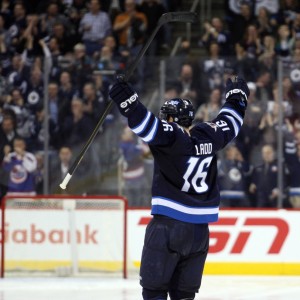 As a two-time Stanley Cup Champion and current team captain of the Winnipeg Jets, rugged forward Andrew Ladd is of incredible value in today's NHL, notably so due to his ability to play a heavy, yet offensively productive game.
A former first round pick, fourth overall by the Carolina Hurricanes in 2004, Ladd also spent time with the Chicago Blackhawks before finding a home in Winnipeg.
Currently carrying a $4.4 Million cap hit on his expiring five-year contract, Ladd, like almost all on this list, is set for a raise. Yet, according to a report by the Winnipeg Free Press, Ladd has asked the Jets for a six-year deal worth upwards of $41 Million, a massive deal which would provide him a minimum yearly salary of $6.8 Million or greater.
On a Jets team which must re-sign Dustin Byfuglien, Jacob Trouba, Mark Scheifele, Adam Lowry and Michael Hutchinson in coming years, providing Ladd with the money he desires could force the veteran to test free agency. If this were to occur, it is likely that a number of teams would step to the plate, yet Ladd's level of desire to remain in Winnipeg remains to be determined.
Honorable Mentions:
Dustin Byfuglien
Radim Vrbata
David Backes
Jiri Hudler
Keith Yandle
Cam Ward
Loui Eriksson
Kris Russell