You may remember back in mid-November, the Flyers were quickly dropping through the standings like dead-weight. In fact, there was a 14 game span from the end of October through the middle of November where the Flyers were an abysmal 2-7-5.
Things looked extremely bleak in the City of Brotherly Love. Until things started clicking.
Since that awful stretch, the Flyers have gone 9-3-3 and have been getting scoring from almost every single line.
Monday night's big win over one of the league's best, St. Louis Blues, saw the Flyers' fourth line combine for four points, including a spectacular assist off the stick of Ryan White for the game winner.
The fourth line isn't the only group of players who have stepped it up lately. The newly formed line of Voracek, Simmonds, and Couturier has been the Flyers' best line over the past few games. Over the past four games, Couturier has four points, Simmonds has three, and Voracek has been lighting up the score sheet with six.
Not only is it good to get those guys on the right foot, but it takes some of the pressure off the captain, who was basically the only source of offense for the Flyers at one point. Giroux is pointless in his last four, and the Flyers have still gone 3-0-1.
Of course, team play sometimes extends past just putting up points. Unlike previous years, the Flyers seem to be buying in not only to each other, but their coach as well.
Mason says the guys responded to Hakstol's speech after 1st intermission, said team "remained calm"

— Kyle P (@Kyle_Phillippi) December 22, 2015
The Flyers have a coach that can get a response out of them, keep them playing as a pack, and keep their heads in the game.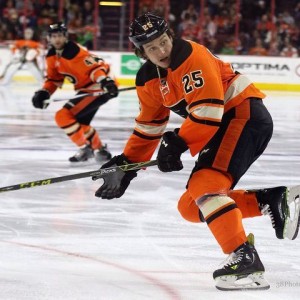 The Flyers were visibly frustrated by the officiating in this game, especially after the second goal by St. Louis. That can be a recipe for disaster, but for the Flyers it wasn't. Hakstol kept the troops cool and they put forth a great team effort to win.
The other aspect of team play is sticking up for teammates, and there has been no shortage of that this season. Nearly anytime a questionable hit has been delivered on a Flyers player this season, the team has responded.  Wayne Simmonds has done it on multiple occasions and Luke Schenn has even put in his two cents.
It may have taken the team as a whole to buy into the system of Dave Hakstol. But with the addition of Shayne Gostisbehere, Mark Streit's imminent return, and the team putting forth their best group effort, this season may not end up as bad as everyone thought.
Don't look now, but the Flyers are two points out of a playoff spot and climbing the ladder very fast.