The Montreal Canadiens were eliminated from the playoffs last night, the last remaining Canadian-based team in this years' postseason. No doubt that when the Lightning scored to go-up 3-0, writers everywhere had their hand on the send button, ready to publish their stories about how the Habs were "Canada's last hope for a Cup", and "Canada's Cup-less drought lives on". Tweets began flowing regarding the fact that a team from Canada hasn't won the Cup since 1993. It's a really big deal apparently. And it really left me baffled.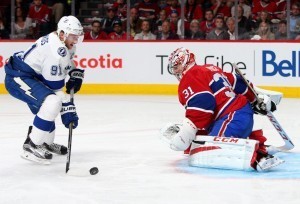 I was born and raised in Canada. I currently live and work in Canada. I love this country and am very proud to wear its colors. But you may be interested to know that my favorite hockey team is based in an American city. I've cheered for this team since I was six years old. And as a child, it didn't matter at all where my team played its home games. All that mattered to me were my favorite players. Some were Canadian, some were American and some were European. I just wanted to see my team win, and if they didn't, I never hitched my wagon to another team simply because they reside in the same country as I do. And I'd imagine I'm not alone.
You may also be interested to know that many hockey fans in Canada don't like the Montreal Canadiens. They weren't cheering for them in their series vs. Tampa, and probably wouldn't have cheered for them if they were competing for the Cup. Now I do know a lot of Canadian hockey fans want to see a Canadian team win the Stanley Cup, because they're proud of anything to do with their country. And that's perfectly fine. It's their right to cheer for whomever they want. I also know it's good for the economy of a city when they make it far into the playoffs and win the Stanley Cup. I understand that side of it. But really, at the end of the day, why does it matter in which city the Cup banner is raised?
I must be missing something, because this seems to be a really big deal to some people. If a team from Canada wins the Cup, does it mean Canada is better at hockey? Well, no. Not at all. If you want to know which country is the most talented at hockey, you have to look at International competition, specifically the Olympics, in which the best players from each country compete against each other. Canada has won Gold at the last two Olympic games. If there was any doubt they were the best after 2010, they proved it in 2014. The actual players playing the game represent their country, not the logo and city on their club jersey.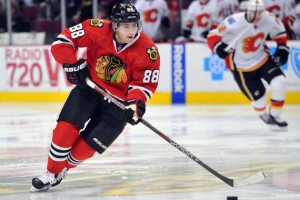 For fun, let's take a look at the list of Art Ross Trophy winners (the player who finishes the season with the most points in the league). Since 1990 (that's 25 seasons), a Canadian-born player has won the Art Ross 14 times. Now let's look at the list of Hart Trophy winners (voted the league's most valuable player). In that same span of 25 seasons, a Canadian-born player has won the league MVP 14 times. (Brett Hull won the Hart in 1991. He was born Canada but has represented the USA in International play because of dual-citizenship, so do with that as you will).
I'm not trying to beat up on American players, so please don't take it there. We are so fortunate to watch some absolute stars wear the stars and stripes, like Patrick Kane, Johnny Gaudreau, and Jonathan Quick. And the USA has some fantastic young players, judging by their recent success at the under-18 World Championships and the World Juniors. They have beaten Canada many times in various tournaments over the years. But, when you take a glance at the top-30 and top-50 scoring list in the NHL, you see a whole lot of Canadian-born players. It's not me being biased or creating a narrative. It's just fact. This season, the top three point-getters in the NHL were all Canadian-born.
I guess there must be some kind of joy in watching Canadian teams be eliminated from the playoffs and fail to win a Cup, because we always say it's "our game", and have all that advertising drama. And maybe it takes away some of the sting of Canada's dominance at the sport for so many years in so many ways. I guess it comes with a sense of accomplishment to see an American-based team win the Cup, but I honestly have no idea why. I just wish someone could explain it to me, because I have yet to see a legitimate reason as to why this matters. It makes for a great story, though, doesn't it? And this time of year, with so few teams left competing, writers may be struggling for content, and this narrative gets a lot of attention.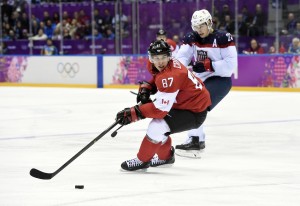 There are 30 teams in the NHL. Seven of them are from Canada. That gives Canadian teams a 23% chance at winning. Not really great odds. The Los Angeles Kings won the Stanley Cup last year. Their active roster contained 12 Canadian-born players. Their opponent, the New York Rangers, had 11. The Chicago Blackhawks won in 2013 and they had nine players from Canada, while their opponents, the Boston Bruins, had 11. That's a whole lot of Canadian content. And as a fan from the country, I love nothing more than to see the success of the guys born in the same place as me. In fact, if I have no horse in the race, I tend to cheer for the team with more Canadian-born players, because that to me is what really matters. I want to see as many players as possible bringing that Cup to their hometowns throughout Canada.
Canada has a huge pool of hockey talent, and that talent is spread evenly throughout the league. Some of the countries very best players happen to play for teams based in American cities. For many people who aren't from Canada, their favorite team is good because of Canadian players. And as I said, I personally cheer for an American-based team anyway, as do many other hockey fans here in Canada. So it doesn't matter one bit to people like me. I wouldn't want the Canadian stars on my favorite team to go anywhere else!
The fact that a Canadian-based team hasn't won the Cup in a while is seen as a detriment to the country. It's seen as a failure. But last time I checked, the most important indicator of which country is superior at hockey (Olympic Gold) currently resides in Canada. Sorry, eh.
Marcy, a former hockey player, is a hockey correspondent on CTV News and TSN radio. She began her career as a Sports Journalist in 2009 and has been part of The Hockey Writers since 2010, where she is currently a senior writer and editor.