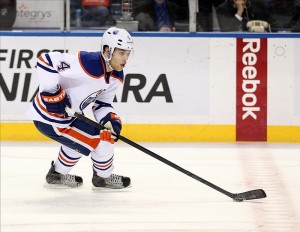 The NHL season was scheduled to start last week, but with the ongoing CBA negotiations, the start of game action has been put on hold. While many players have already been playing in Europe for the past month, some have elected to stay at home and simply practice. But a few lucky ones get to participate in real game action that's not very far from home.
For some of the Oilers young stars, the American Hockey League is their current home. Attendance and fanfare for the league has been up from previous seasons thanks to the lack of NHL action, and having a new NHLers in the mix doesn't hurt either.
The Edmonton Oilers AHL affiliate is based in Oklahoma City, and currently have a record of 1-1 on the season. The Barons are enjoying the additions of NHL regulars Jordan Eberle, Ryan Nugent-Hopkins, Magnus Paajarvi and newly signed Justin Schultz, players that likely wouldn't be on the team had the NHL started on time. There has been a lot of hype surrounding the Barons thanks to their NHL additions, despite both Eberle and Nugent-Hopkins being held pointless in their first two contests.
The Barons may soon be welcoming another new face, as Oilers star Taylor Hall was medically cleared to practice today, and will report to OKC immediately. He probably won't see any game action for another two weeks as he continues to rehab his injured shoulder, but his road to recovery is going according to plan. Hall had been skating lightly with the Edmonton Oil Kings of the WHL before today's announcement.
Hall still needs to sign an AHL contract to officially be part of the roster, therefore he is actually free to sign in Europe if he chooses. But reports suggest that Hall wants to stay in North America and play with his teammates in OKC. Because Hall is still in his entry-level contract with the Oilers, he and his agent will have to negotiate insurance into his AHL contract if the lock-out isn't resolved before he's cleared to play. If Hall does suit up for the Barons at some point, it will be the first time he plays in the AHL. Hall went straight from junior to the NHL after he was drafted first overall in 2010.
The Barons currently sit in 8th place in the Western Conference, with a seven-game road trip on the horizon. They play San Antonio on Friday, then have two games against the Monsters in Lake Erie. With a new proposal put forth by the NHL today, one wonders how much longer the AHL can enjoy some help from above.