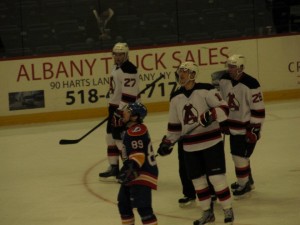 A year ago the name Cory Conacher had a slightly different ring to it. A talented player, no doubt, but a young player looking to establish himself in the professional ranks doesn't come with much fanfare. As it turned out, all he needed was a chance.
Conacher, who posted a league best 39 goals and took home rookie of the year and MVP honors a season ago, started off the new campaign in similar fashion.
He scored a goal and added a pair of assists, all in the third period, helping Syracuse erase a 4-1 deficit before falling 6-5 in a shootout in Rochester.
He followed that performance with a goal and an assist in the Crunch's 4-3 home opening victory Saturday.
A five point weekend may seem like a walk in the park for Conacher, but his efforts were definitely noticed. On Monday, he was named AHL player of the week.
"There's a lot of competition in the league (this year)," Conacher said Monday. "I think I picked up some good bounces this weekend. That helped."
It also helps to play with talented linemates, which Conacher has in Tyler Johnson and Ondrej Palat. The trio, who skated together last season as well, continued their impressive play. Johnson netted three goals over the weekend while Palat chipped in with three assists.
"It's fun to play with those guys. We know where each other are all the time, and that's a big help for my success," Conacher said. "Me and Tyler play very similar roles. We're smaller guys and like to play in the dirty areas. Palat, he's a player we expect to go hard. He's a guy who can make big hits."
Getting off to a quick start is as always important, especially for a young player looking to prove last season was not a flash in the pan. While Conacher may yet have much to prove, Tampa Bay management is certainly happy with his success to date.
"We knew that the talent and the competitiveness were there," Lightning assistant general manager Julien BriseBois said. "He proved that last season, but now we're looking to see if he can maintain that same level of play with a degree of consistency."
In recognition of his latest achievement, Conacher will be presented with an etched crystal award prior to an upcoming Crunch home game. Adding to the trophy case isn't a bad weekend at the office.