Jim Neveau, Blackhawks Beat Reporter
Author's Note: This is part two of a two part series (part one can be found here) detailing the plans the Blackhawks are putting into place for the 2009 off-season. While the first piece was a nuts and bolts discussion of contracts and cap figures, this piece will detail what I think the team needs to do this off-season. I humbly submit, for the approval of Dale Tallon, my five-point plan for what the Blackhawks need to do in the off-season to hoist the Stanley Cup in June of 2010.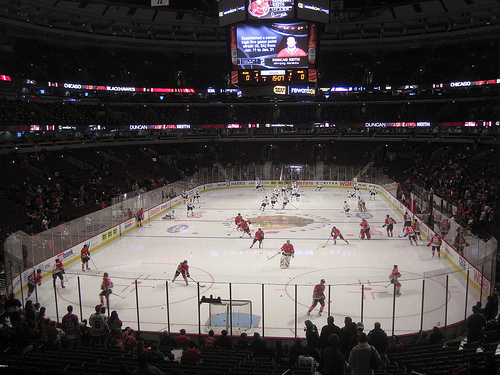 Item Number One: Don't Cave and Give Martin Havlat a Big New Expensive Contract.
To help me back up this item on the list is a contract that was actually doled out in baseball after the 2008 season.
Pitcher AJ Burnett, then of the Toronto Blue Jays, was looked upon as a perenially underachieving, injury-plagued liability when he was in the Great White North. Then, in 2008, he stormed out and had a great season, helping the Jays immensely and giving them a great counterpoint to staff ace Roy Halladay.
To reward Burnett, the Yankees doled out a huge contract for his services, much to the chagrin of some of their fans and to the amusement of most baseball fans. This season, he certainly has not lived up to that contract, and the fans in New York are already ruing the day that he was signed to such a mega-bucks deal.
Martin Havlat's ordeal is similar to the one just laid out for Burnett. He has been an injury risk since the day he joined the Blackhawks back in 2006, and only this year, a contract year no less, did he finally put together a great offensive season.  Jonathan Toews and Patrick Kane both flourished with the freedom that Havlat's skill afforded them, and we should be grateful to Havlat for that.
In reality, however, one must realize that players historically have monster years in contract seasons, only to completely stink up the joint once they are given their new monster bank rolls the next year. My prediction for Havlat is that he will ask for in the ballpark of six to seven million dollars a season, and that simply isn't something that the Blackhawks should be willing to do.
My advice to Dale and the Hawks: keep your offer around where it has been, in the four to four and a half million range per season, and if Havlat doesn't want to take that, then go ahead and let him go.
Even if he burns you somewhere else in the league, at least we'll have the cap space to make accommodating moves.
Item Number Two: Don't Even THINK About Re-signing Nikolai Khabibulin
There are people in the city of Chicago who are wringing their hands at the notion of the keys to the net to the buzz saw of pain that is Cristobal Huet.
Granted, Huet had some spectacularly bad moments during this season, including multiple drubbings at the hands of the hated Detroit Red Wings. He did, however, have some really good moments during the season as well, including in a 2-1 Game 5 loss to the Wings in Hockeytown that saw him stop virtually everything that came his direction.
With all of that being said, however, the simple fact is that the Hawks cannot under any circumstances justify spending any money on Mr. Khabibulin. Granted, he is definitely still capable of carrying a team on his back during the long and arduous postseason, but with the situation the Hawks find themselves in currently, they cannot justify shelling out even more money to keep Khabby in Chicago.
For the sake of argument, if the Hawks re-signed Khabibulin to a $6 million contract, they would be paying their goaltenders a combined $12.5 million. Compare this to Detroit's goalies Osgood and  Conklin. Combined, they barely take home over $1 million. This savings in net is what enables them to stack their skill positions and blue line, and they have the rings and success to prove the validity of their system.
The Hawks would be better suited to simply have either Corey Crawford or Antti Niemi as the back-up next season, and to give Huet the starting goaltender spot. Odds are he will be better if he can get into a rhythm, instead of constantly having to share crease space with another goaltender.
Item Number Three: Now Is the Time to Sign the Young Guns to Extensions
Jonathan Toews and Patrick Kane are two of the brightest young stars in the entire NHL. They have revitalized hockey in the city, and they are also capable of throwing the team onto their backs when others are struggling. Hell, Toews was elected captain as a 20-year old second year player, so these guys must certainly see something in the center.
With both of these guys coming up on a contract year that will see them both become restricted free agents at year's end, now is the time to lock them into extensions that will see them stay in Chicago for a good long time. Both of these guys should command a similar dollar and year amount in their contracts. Offer each of them contracts of four to five years, at $4.5 million a season and see if they take it. This would take them into their prime years (ages 26-27), and would provide some welcome cap relief for the next several years.
Another guy who definitely warrants consideration for a contract extension is defenseman Duncan Keith. If anybody on the team can be classified as underrated, it's this guy. He is a masterful penalty killer, and a deft passer to boot. When coupled with the extremely physical Brent Seabrook, they make one of the best tandems in the Western Conference.
Keith deserves some financial love as well, and the asking price probably won't be too high. He is a team-oriented guy, and it would surprise me to see bidding get above four million a season for the next four years. I think Duncan would happily take that kind of money, especially if doing so would ensure the team would contend in the future.
Item Number Four: Explore the Possibility of Trading Dustin Byfuglien and Brent Sopel
The term "cap casualty" is a term often bandied about in sports, simply because it implies that a move is based solely on financial concerns, and not concerns about performance.
While Dustin Byfuglien would certainly fit as a casualty of the cap (he is due to make $3 million a season for the next three years), the God's honest truth is that he isn't as important to this team as he is cracked up to be.
He is looked at to be a guy for the Hawks like Tomas Holmstrom is for the Red Wings: a guy who can create traffic in front of the net, be an effective skater, and also be able to stir the pot of emotions on the other bench. Byfuglien tends to ignore certain facets of that model too often, and when he handles the puck, it is advised to not look directly at the horror that unfolds on the ice.
It is with a lot of reservation that I say this, but the Blackhawks should at least explore the option of trading Mr. Byfuglien. Likely, a few teams will take a courtesy glance at him, but no one will likely want to get saddled with a contract that will detract from their ability to be cap-flexible in case it goes down after next season.
Finally, there is no reason in the world that the trade HAS to happen either. If the team doesn't feel like it is getting fair market value for a player of Buff's capabilities, then keep the guy. Dustin seems like enough of a professional to realize that trade talks are nothing personal, and that it's simply a prudent business move to explore the possibility. Hell, we may even get lucky and get Big Buff to play with the same passion for revenge that I'm sure drove Khabibulin this season.
In Sopel's case, it is simply a matter of too many guys crowding his way to the ice. With guys like Niklas Hjalmarrson, Matt Walker, and possibly Aaron Johnson blocking the way, it doesn't make sense to keep him around.
Item Number Five: Keep Moves Simple, and Cheap Preferably
I'm not a fan of the idea of a Chicago team skimping on salaries, but in the Hawks' case, I'll make an exception.
After last off-season's spending binge that saw Brian Campbell and Huet don the Indian-head sweater, it will likely be an uneventful summer for the Hawks in doling out money to free agents other than their own. Most acquisitions will likely be pretty low-key, which is exactly the way the team should do things.
For the sake of everything the team is trying to build, they need to NOT blow a bunch of money on some other over-priced free agent. The likelihood of this is very small, but I don't want Tallon to get into the mindset of "well, we are one big free agent away from a Cup championship". It is a trap that a lot of GM's fall into in sports, and here's hoping that Tallon isn't one of them.
As a franchise, the Blackhawks have come a long way in only two seasons. They have gone from doormats and also-rans to a team loaded for bear with young talent, and the tenacity it takes to contend for a Cup.
Obviously they are still a few pieces short of being capable of winning the Cup, but if they enact my proposals, they will certainly be well-equipped to get some good free agents, bring up some younger talent, and ultimately grab for the brass ring next summer.