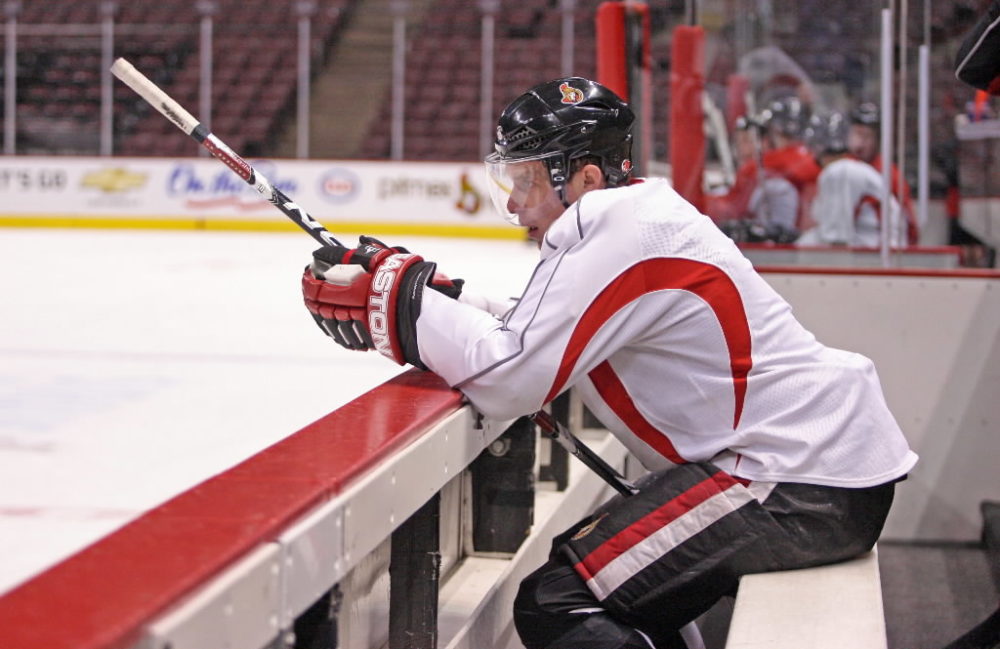 After 181 goals, 317 games, and four seasons, Dany Heatley wants out of his relationship with the Ottawa Senators.
The star winger's agent, JP Barry, confirmed that he is working with Sens' GM Bryan Murray to find the Calgarian sniper a new home.
Heatley is allegedly unhappy with the new system implemented by rookie coach Cory Clouston, one that has diminished his ice time and relegated him to the second power play unit. According to sources from both TSN and the Ottawa Sun, Heatley approached Bryan Murray with his concerns following the season, but both sides decided it would be best for him to take some time to cool his heels at the World Championships in Switzerland before doing anything drastic. With the tournament now a distant memory, it appears as though Heatley still harbours the same commitment issues and is on the prowl in search of new tail.
While there is obviously cause for concern here, there are both pros and cons to this situation.
Many analysts felt the club needed to shed one of their big salaries at forward in order to remain competitive in the long run. With nearly $20 million in cap space committed to Heatley and his linemates Jason Spezza and Daniel Alfredsson, the club has almost 40% of its cap-space tied up in three forwards.
Dealing Heatley, if done properly, will either yield a group of players who can give the Senators more depth, if not as much top-end talent, or the cap space to spend a large chunk of salary somewhere else like, say, the blue line. This breakup could be the kind of tough decision that is necessary for the Senators to avoid a prolonged, Tampa-Bay-like slump.
Moreover, Heatley was never accused of being a top-end two-way player during his time in the Nation's Capital. Compared to Marian Hossa, the man former GM John Muckler gave up to get Heatley, he is a step slow, lacking in physical aggression, and lacklustre in his defensive play. With the salary cap rumoured to be on the downswing, the Senators may not want to be so committed to a player who was often unable to give his team a lift when they were down this season. Perhaps history will show Heatley's contract to be a bad one, and the Senators have a golden opportunity to thrust off a burdensome yoke.
However, there is also the very real concern that Ottawa will be giving up the best talent in any potential trade. Ottawa will not be getting value back in any one player, and if they do, it certainly won't come with the kind of pure finishing ability Heatley has. The painful truth is Ottawa will be giving up one of the league's best pure finishers without receiving one in return. For a team that had trouble scoring goals at the best of times last season, Heatley's departure could be a deal knell.
Furthermore, due to Heatley's no movement clause, his salary, and the fact his desire to leave has been made so glaringly public, Bryan Murray has precious little leverage when speaking with other teams. The art of negotiation is all about leverage, and unless a bidding war comprised of teams clamoring to take on $37.5 million in salary commitments materializes, Murray will be limited in his ability to play hardball successfully.
Whether this situation turns into a haul of Yashin-sized proportions, the beginning of a prolonged rebuild, or (as is most likely) something in between, remains to be seen. Simply put, GM Bryan Murray is not in an enviable position, nor are the fans of the franchise, for whom the risk of an extended playoff drought just got all the more real.