The Cash Line in Ottawa will be in desire of a fresh H it appears. Dany Heatley   recently expressed his wishes to be traded by the Senators. The trio of himself, Daniel Alfredsson and Jason Spezza will cease to exist leaving a mighty gap and disrupting one of the game's most dominant lines. With five seasons remaining on a six-year, $45 million contract, money is certainly not the issue.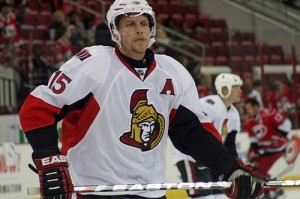 As Atlanta's second overall pick in the 2000 Entry Draft, the Thrashers shipped him off to the Nation's Capital in the summer of 2005. In return, Marian Hossa was acquired in a superstar-for-superstar swap which included Greg de Vries as the third-wheel.
Is it unusual to assume that players glance at how effective their counterpart from a deal has been with their new team? Taking a look here and there doesn't hurt if you have the time.
Both men would become offensive powerhouses for their squads (Hossa would pile up 192 points in his first two seasons and Heatley 208 points). While Ottawa was consistently reaching the playoffs, Atlanta could only muster up one berth during Hossa's three-year stay.
Swept by the New York Rangers in 2007, the series was perhaps best remembered for Sean Avery getting under Ilya Kovalchuk's skin. That same postseason, the Senators were Stanley Cup Finalists dismantled thoroughly in five games courtesy of the Anaheim Ducks.
Pittsburgh decided to fancy up their roster by dealing for Hossa at the 2008 trade deadline. Despite a trip to the Final and 26 points in 20 games, he and the Penguins fell short to the Detroit Red Wings.
Shortly afterwards during the free agency period, he opted to go for less money by turning down multiple-year offers and joining Detroit. The veteran power forward is a single victory away from obtaining his dream. Just as close lies devastating defeat for the second time should Pittsburgh prevail.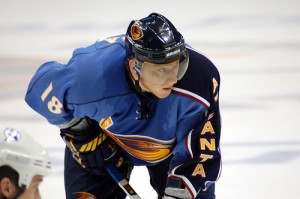 As for Heatley and the Senators, they were embarrassed in the first round by the Penguins last season and competed similarly throughout 2008/2009's majority resulting in an early summer vacation. Viewing the recent playoff success of his predecessor in Ottawa and successor in Atlanta could be what has spurred the West Germany native to move on.
A handful of teams would embrace having his confounding shot and proficient passing. More than capable of emulating a third 50-goal, 50-assist quantum, Heatley turned in 72 points from what has to be considered an awful year.
Ottawa became more tenacious following Cory Clouston's arrival as head coach in February. His passion and tactics gave the Senators momentum to compete harder. The results improved but were a tiny consolation for Heatley.
This is someone that a team could build itself around in the long-run. Any squad with the cap space for the five years on his contract will certainly have a peek at the possibility of his arrival.
Apparently, it's the Western Conference he would prefer representing. Known for its physicality more than the East, Heatley's use of the body could surface productively with time making him ever more whole.
The no-trade clause gives Heatley somewhat of a voice in the decision. Fact of the matter is Hossa could be on the market in July too.
Would a Stanley Cup for Hossa conclude his visit to Hockey Town? Would another loss urge him to stay or pack up? Could joining the Ottawa Senators for a second stint be an option? Is the letter H in Cash Line going to represent Hossa?
Los Angeles has found a surplus of young players in their early 20's. Could Heatley be the veteran they have been searching for? How about Edmonton or Phoenix for that matter? Is he unhappy or just simply realizing the big picture as Hossa did a year ago?
Nothing is out of the realm of possibility just yet.