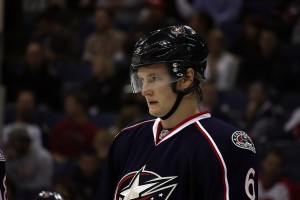 As Wednesday dawned in Toronto, Blue Jackets'  defenseman Anton Stralman had to feel like a Stranger in a Strange Land.  The 23 year old Swede had toiled in relative obscurity over two partial seasons in Toronto, and was swapped to Columbus from Calgary before ever wielding a stick in anger for the Flames.  Yet, here he was, back in Toronto, most assuredly a few hours away from the biggest pay raise in his life, and the subject of considerable interest  among those who closely monitor the vagaries of the NHL salary arbitration process.
All was not, however, unabated anticipation.  Sure, his 34 points last season led the CBJ blue line corps and ranked 7th on the squad.  On the other hand, his +/- ranking of -17 led the team in defensive futility.  He was overmatched at times in his own zone, and though others shared the blame, he clearly has lots to learn as an NHL defenseman.  Those shortcomings were sure to be highlighted during an arbitration hearing.
In terms of dollars, Stralman and his agent. Marc Levine,  could point to the Chicago Blackhawks $3.5 million per season signing of Niklas Hjalmarsson, another 23 year old Swedish defenseman without Stralman's offensive production.  A plethora of other young, offensively-inclined blue liners signed in the neighborhood of $2.5 million per year.  Those "comparables" would signal a huge bump for Stralman, who earned $700,000 last year in Columbus.
However, Blue Jackets' GM Scott Howson was not without solid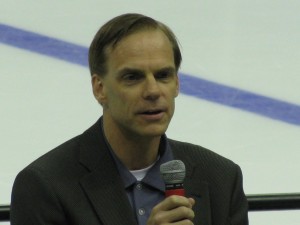 arguments  himself.  He could assert, with convincing authority, that the Hjalmarsson signing was not exactly an arms-length transaction, being the result of a strategically interposed offer sheet from the San Jose Sharks, designed to exploit the Blackhawks' perilous cap situation.  He would also be expected to point out that Stralman would not have seen the large TOI numbers elsewhere, or even with a Columbus squad fielding a full complement of healthy defenders.
As the days waned and arbitration approached, the anxiety among the Columbus fan base was palpable.   Already known to be in the market for puck moving defensemen, Columbus was viewed as being ill-able to afford the loss of Stralman.  Still, Howson had requested only a one year award from the arbitrator, raising the specter that he was fully prepared to walk away if necessary.  That had to give Stralman's camp a moment of pause, as the theoretical value of an arbitration award goes out the window in a slow free agent market in August.
The ramp up to Wednesday was straight out of a law school trial advocacy class.  Both sides expressed confidence, re-affirmed their state of readiness, and acknowledged the ubiquitous "substantial differences", rumored to be in the neighborhood of $1 million.  Slightly ominous references to the need for "significant movement" were echoed by both sides.  However, the entire process was done without rancor or recrimination, even as a scheduled Tuesday evening negotiation session was canceled.
Watching Scott Howson approach arbitration is somewhat akin to watching a Grand Master describe a game of chess.  His voice never rises above a slightly assertive whisper, and recites his position in a conversational, almost casual tone.  To the uninitiated, it would appear that he could care less as to the result.  The unitiated would be making a big mistake.
Scott Howson does absolutely nothing without forethought and premeditation.  He was widely lauded for landing Stralman, using his unfailingly keen eye for underutilized talent. He had engineered a complete renovation of the Blue Jackets roster, after withstanding some awful contracts left over from the prior regime.  Still, he had never taken a case to arbitration as Blue Jacket GM.  Would this be the hill where he would finally make his stand?
As the parties convened this morning, a final stab at negotiations were undertaken, and arbitration was avoided.  Stralman agreed to a $1.95 million, one-year contract, significantly less than the $2.4 – $2.6 million range many had predicted.
Asked about how things had proeeded so quickly this morning, after weeks and weeks of standoff, Howson nonchalantly replied:
"I made sure he knew this was part of the business and that whatever was going to be said in that room, we still like him as a player. But the danger in going through it is, it gets very personal. . . It helped to have the player there this morning, to look him in the eye. It helps you get a deal done."
If Matlock were a GM, he would be Scott Howson.  Howson hit the bullseye with this statement.  It is quite one thing to negotiate through agents and lawyers, quite another to do it face to face.  With no disrespect to Levine intended, he has had and will have tons of clients.  While he undoubtedly exerts best efforts for all of his clients and puts their interest first, he simply can't feel the intensely personal involvement of the client himself.  Anton Stralman has only one career, and uncertainty is far scarier to him than to his agent.   All at once, Wednesday became very real for the young man.  "A bird in the hand" means a lot when it is your hand.
So, Howson maintains his "perfect" record of not forcing players to arbitration, while getting a deal that is good for all sides.  Stralman gets a big raise, and a year to show his worth.  The Blue Jackets keep a source of offensive and power play production, and can be assured that Stralman will put forth best efforts in his one year audition.  Howson has short term predictability, which can give him a bit more latitude in his ongoing search for blue line enhancements.
The signing gives the Jackets a full complement of 23 signed players (including Nikita Filatov), at a total cap hit of just about $55 million.  That leaves just over $4 million in cap space, likely reserved for long term signings of Jakub Voracek and Steve Mason, who emerge from their entry level deals at season's end.  Assuming Mason returns to form and Voracek shows continued progress, that $4 million will disappear quickly.  For that reason, any targeted upgrades, either to the center slot or the blue line, will most assuredly come by trade.
Perhaps most impressive is Howson's ability to produced deals like this, without generating animosity or acrimony.  His statements, backed up by his conduct, show that he is sincerely interested in maintaining the sense of community in the locker room.  His off-season coaching search was typically meticulous, and focused nearly as much on the creation of chemistry as it did on on-ice performance.  Howson,  President Mike Priest and the rest of the organization are clearly intent on charting a new direction, providing guidance for the young players while allowing them to flourish and utilize their unique talents.   They understand that last season's regression was due at least as much to failures of communication as it was to failures of execution.  The administration steadfastly refuses to see this happen again.
Other teams, and indeed other sports, could take a lesson from this salary negotiation.  The two sides had a significant, but honest, difference of opinion, and both sides utilized the process without sacrificing their principles.  They articulated the merits and risks of the potential outcomes, and did it all in a civil manner that leaves no lasting scars.  Heck, we could all take a lesson from that.