When Rangers GM Glen Sather swapped dead-weight with Flames GM Darryl Sutter last February, the attention of most fans and analysts went to the three major — and I use that term lightly — components of the deal.
For the Rangers, Sather was able to unload the latest two installments of his failed free agency drama series he's been producing and directing since 2000, shipping Christopher Higgins and Ales Kotalik across the border.
Sutter, on the other hand, was finally able to rid himself of the oft-traded, $5.25 million mistake, Olli Jokinen.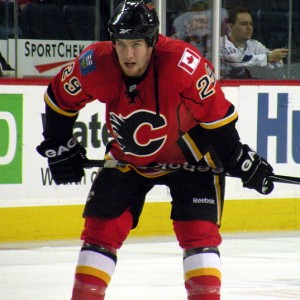 With such high-end talent being shipped to different teams (I know, sarcasm is tough to detect in print), it was easy for most to allow Brandon Prust to be lost in the shuffle.
Much like his former teammate Jokinen, Prust had been no stranger to switching mailing addresses in recent years.
The pre-deadline deal with the Rangers marked the third time in two seasons that Prust would change teams. Ironically, Prust was involved in the deal that initially sent Jokinen to the Flames.
Fast forward a quarter of the way through this season, and Prust is undoubtedly the most-valuable piece of the trade that went down 10 months prior.
From the first game of the season, up to last night's 3-1 loss against Pittsburgh, it's been impossible not to notice Prust while he's on the ice.
Every shift the gritty winger is making something happen. Whether he's delivering — and finishing — a check, forechecking, blocking shots or dropping the mitts, Prust is noticeable.
All his even-strength play aside, the most important element he's added to his game this season has been his ability on the penalty kill.
Prust, along with the pleasant emergence of Brian Boyle, has been a staple on the Blueshirts' penalty kill.
Coming into this season, Prust averaged about eight seconds of PK work per game in years past. This season, the London, Ontario, native is getting nearly a minute and a half of work per game defending against the opponent's man advantage.
With the added responsibility of being a penalty killer, Prust has also noticed a huge, well-deserved spike in his overall minutes. He is skating just under 13 minutes a game, a huge upgrade from the six-to-nine minutes per game he had been playing previously in his career.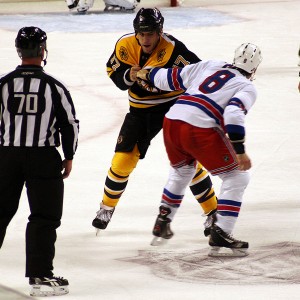 When he first came to the Rangers, Prust seemed like he would just play another Avery-esque role on Broadway, earn fourth-line minutes and probably be scratched most nights.
His game has taken a complete transformation.
Although his 76 penalty minutes are second only to Sean Avery's 89 for the team lead, Prust is by no means a liability while he's on the ice. Fifty of Prust's minutes spent in the sin bin have came via fighting. He's only taken eight minor penalties on the season, which is a clear indication of the discipline he has been playing with thus far in the season.
Prust's emergence as a penalty killer has not only helped him capture an added role on the team, it's also helped the Rangers progress through the injuries of captain Chris Drury and Vinny Prospal.
With Prospal sidelined indefinitely while recovering from knee surgery and Drury only playing nine minutes this season due to a twice-broken finger, Prust's help on the PK has been a welcomed gift.
It will be interesting to see who will lose their regular shift when both Drury and Prospal return from their injuries, but one player that most likely won't have to worry is the former throw-in from the Jokinen trade.