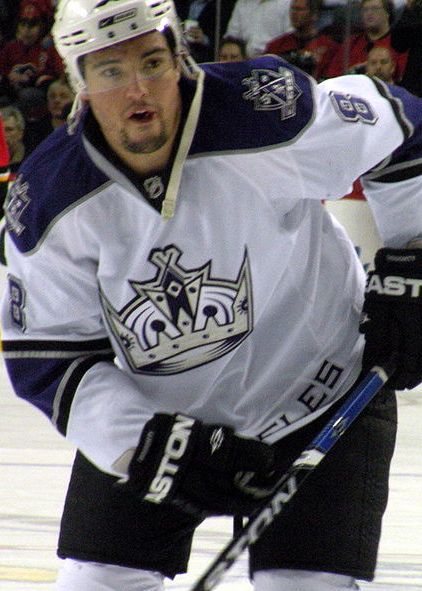 ANAHEIM, CA — If it's not one thing, it's another for the Los Angeles Kings these days.
After losing five of their previous six games heading into their game against the Chicago Blackhawks on November 27, the general theme of those games for the Kings was too many blown defensive zone coverages, not playing physical in front of their own net and plenty of turnovers all over the ice.
Fast forward two games and the Kings have now lost seven out of their last eight, with a 2-1 loss to Chicago and a 2-0 loss to the Anaheim Ducks at the Honda Center in Anaheim on November 29.
The Kings picked up their play in their own zone in the two defeats, cutting down on the blatant blunders and being more physical in front of their own net. But scoring just once in two games is not going to result in wins.
Against the Blackhawks, the Kings rarely threatened, failing to get bodies or pucks to the front of the net much at all. They were unable to score until they got a five-on-three power play late in the third period.
By then, it was too little, too late.
The Kings showed a bit of improvement in the offensive zone against the Ducks, but got nothing to show for it, thanks, in part, to strong play by Anaheim netminder Jonas Hiller.
"It was a good 60 minutes [against Anaheim]," said head coach Terry Murray. "We played well enough to win the game, we're just not scoring goals. There's nothing happening [in terms of] the end result with the goal scoring."
"I thought we checked well, we had good puck movement," added Murray. "We turned the puck over a little in the second period on some breakouts and they came back at us, but, overall, the attitude of the checking was good tonight. The opportunities were there. We're just not capitalizing."
Right wing and team captain Dustin Brown sat in the dressing room following the loss at Anaheim, visibly disillusioned.
"It was probably the best 60 minutes we've played during this so-called slump," Brown lamented. "They got a power play goal, and a goal off a turnover. We had a lot of chances, and they had a good goalie tonight."
"When you're in a slump, that's sometimes how it goes," Brown added. "There's games like this where you deserve a better fate. They played a pretty good game once they got [the lead], but when we got our chances, Hiller bailed them out."
Murray said that his team is snake-bit right now, pointing to Hiller's spectacular glove save on a point-blank scoring chance by Kings center Anze Kopitar late in the game.
"It reminded me of the playoffs last year with [Vancouver Canucks goaltender Roberto] Luongo's save on [Kings left wing] Ryan Smyth—shooting it into the glove," said Murray. "That's the way it goes. But you've got to keep going. You can't let that discourage you. You just have to keep battling away at it and it's going to turn around."
"When you get those kinds of opportunities, the next time could be the one that will kick the door open a little bit for us, and we can start to be a better hockey club again in the offensive part of the game," added Murray.
But it is not just being snake-bit. Indeed, the Kings need to get more traffic in front and more shots on goal, and they need to make better decisions on the ice.
"There were a couple of rebounds lying there where I thought we could've had a tap-in play their goal, but overall, it was pretty heavy play," Murray noted. "There was some good checking, good going to the net, a lot of shot mentality. I thought, in the third period, everybody was a shooter. There were some great saves by the other guy."
"There's been games in this slump where we've played hard, but that hasn't been a consistent thing," said Brown. "Tonight [at Anaheim], we were consistently taking the body and rubbing guys out, which we need to do to be successful."
"There was a lot of crashing [the Anaheim net]," added Brown. "We bumped Hiller a few times tonight, and that's what we need more of on a consistent basis. We had a lot of screens and tips, but we still need to get more pucks to the net. A lot of our chances were off of broken plays in front of the net. We need [to make] more [plays in front of the net] on a consistent basis."
Defenseman Drew Doughty shared a similar view from the blue line.
"We definitely worked on getting pucks to the net," he said following the game at Anaheim. "We were throwing a lot of stuff, a lot of junk, to the net. We were getting second chances, but I think we can do a lot better at getting bodies in front. Hiller saw too many of those pucks, and he's one of the best goalies in the league. When he's seeing pucks, he's going to [make saves]. When we go into the next game, we need to get [more] bodies in front."
"We came out as hard as we've come out in any game that we've had as of late," he added. "Tonight, I thought we played alright. We played one of our best games in the last six or seven. But, again, we didn't win. We need to be winning. It's no good playing a good game if you're not winning. We need to find a way to get into those dirty areas, get more goals, and I think we'll win."
A big reason for the Kings' current problems has been the drop-off in play by Doughty and defenseman Jack Johnson, whose recent games have been more noticeable for glaring giveaways, bad passes and poor decision-making than anything else.
"They need to be better," Murray said about Doughty and Johnson following the loss at Anaheim, where both struggled. "Everybody's battling a little bit, a little bit of fumbling with the puck, maybe a little nervous play with the puck at times."
"We need those guys—the only way you get out of anything is with your best players taking charge, and we need them to be our best players, the two kids on the back end, Doughty and Jack, we need them to be A-plus every night, and certainly right now," Murray emphasized. "I thought they had a slow start, and then they got a little bit better as the game went along. We need those guys to be better for sure."
"The overall team game is pretty good. There's lot of good things happening, we're building, I think, every game, just to break through. I think it's a matter of getting the next opportunity, so I'm not going to fool with the line combinations right now. I'm starting to see some good chemistry develop."
But 24 hours later, it appears that Murray saw something different after watching video of the Anaheim game, as the Kings practiced with new line combinations on November 30, breaking up the second line—their most productive—that featured Jarret Stoll centering Smyth on left wing and Justin Williams on right wing, among other changes.
Could the changes give the Kings offense a much-needed spark? Perhaps. The bigger question is whether or not it will provide the necessary chemistry and production needed to get them into the playoffs and beyond the first round.
The answer: not likely. But the season is still rather young and anything can happen, so stay tuned. As the saying goes, it's going to be a bumpy ride.
Gann Matsuda is a native of the Los Angeles area who grew up playing roller hockey in the local schoolyard and has been following the Los Angeles Kings since 1973, when he was still a little kid.
Matsuda is the publisher of the popular site, Frozen Royalty, covering the Kings and the NHL. He has been writing about the Kings since 1986, and has been credentialed by the Kings since 1997.
In February 2009, Matsuda became a member of the Professional Hockey Writers Association.