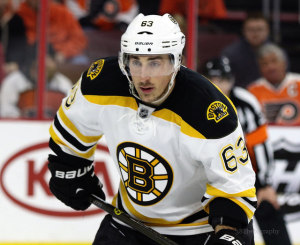 Wednesday Night Rivalry is a gimmick. So are running diaries.
Let's make this Bruins vs Rangers game interesting. My ex-roommate and big time Rangers fan, Greg, is coming over to watch the game.
Greg thinks this is an important game because the Rangers have a lot of wins, but they don't have wins against quality teams. A win against a team like the Bruins, according to Greg, would be big. The problem is that the Bruins have one regulation loss in their last 14 games.
So here's what we'll do: some commentary based around goals and plays and a better look at Rangers team in a similar situation as the Bruins.
Check back for updates:
19:20, 1st: Of course Brad Marchand is the first Bruin to get rocked. Dan Girardi lays out Marchand as a premature retribution for 63's slewfoot on Derrick Brassard a few weeks ago.
14:25, 1st: Just convinced Greg that Kevan Miller's first name is pronounced Ke-VON. We'll keep that going for the remainder of the evening.
14:10, 1st: Rick Nash scores a nice goal after going around a very-out-of-position Adam McQuaid. Cheers from one person in this room. It happens to be the only other person not doing a running diary of the Bruins game. Greg instantly tosses on his Mats Zuccarello jersey. I remind him that the Rangers scored without it on. This isn't a running diary about clothes, or traditions, or incredibly bad superstitions. 1-0, Rangers.
8:18, 1st: A good two-on-one with Kevin Hayes and Carl Hagelin but nothing comes of it thanks to Tuukka Rask. Another shift of blown coverage from the Bruins' defense.
6:23, 1st: A wide open Milan Lucic beats Cam Talbot top-shelf. We both notice that Tanner Glass is out of position and apparently this is a common thing. 1-1.
4:31, 1st: Second consecutive game that Patrice Bergeron scores a highlight reel goal. Nice pass from Loui Eriksson who puts it perfectly on Bergeron's stick. These two are developing a nice bit of chemistry together. 2-1, Bruins.
1:42, 1st: Asked Greg the Rangers greatest need come the trade deadline and he answered a bottom six center. He says they get killed on face-offs. He also said he would trade anyone for Tanner Glass. He didn't seem interested in Jordan Caron.
15:43, 2nd: David Pastrnak had some nice moves streaking into the Rangers zone but ultimately can't get a shot off on Talbot. This is becoming a pattern. Pastrnak seems to be doing a little bit too much to make plays happen. Obviously the 18-year old is still learning, but his game could be simplified.
13:19, 2nd: After a seriously good shift by the Bruins' 4th line, McQuaid and Dennis Seidenberg get brutally beat around in their own zone and allow the Rangers to tie it. Credit Chris Kreider for starting that play, but it was Brassard who put it home. 2-2.
7:07, 2nd: This seems like the type of game that the Bruins lose. They're being out-shot, the Rangers are winning battles, and the Bruins can't seem to break out of their own end. The Bruins have capitalized on the few chances that they have had, but it's not enough. These are the types of battles that the Bruins need to step up during. This is how the Bruins should be separating themselves from the pack to become an elite team in the Eastern Conference once again.
4:39, 2nd: Decent start and middle to that power play for the Bruins, but not a good ending. The Bruins tested Talbot but the Rangers goalie stood strong and was able to keep the Rangers in it.
3:03, 2nd: The New York Rangers have the worst goal song in the NHL. Derek Stepan gets around Dougie Hamilton and tips one past Tuukka Rask. 3-2, Rangers.
16:47, 3rd: At this point, it's a good step forward that the Bruins were able to keep the Rangers off the scoreboard during their power play. But now it's the Rangers keeping the Bruins off of the board for theirs.
13:03, 3rd: Marchand is getting knocked around by the Rangers tonight. New York has done a good job keeping up the physical presence and knocking the Bruins off of their game.
8:09, 3rd: It took eight minutes left in the third for the first "where has this team been all night?" thought. The Bruins just had a monster shift in the Rangers zone with a newly created line of Lucic, Campbell, and Cunningham (uh). Tons of pressure that gave the Rangers a hard time to clear the puck out of the zone.
5:16, 3rd: I've been bullish on the Bruins all game, but at 5:16 at the 3rd, I think the Bruins are going to tie this game. Greg, however, does not.
0:00. 3rd: At least we know the Rangers can't score with an empty net, right? Bruins lose and everyone at Madison Square Garden is forced to listen to new Coldplay which is the worst Coldplay.