For a coach that has guided the New York Rangers to a Stanley Cup Final, two Eastern Conference Finals, a President's Trophy-winning regular season, a pair of 100-point campaigns, and the best points percentage in franchise history (.630) over his first three years with the organization, Alain Vigneault surprisingly has his detractors among the Blueshirt fan base.
The displeasure is partly rooted in the fact that Vigneault's Rangers have yet to win the Stanley Cup, though it should be noted that seven other coaches, including former Cup winners John Muckler and Glen Sather, also failed to guide the Blueshirts to a championship in the past 22 years.
What really irks a rather large segment of the Blueshirt Faithful is the perception that Vigneault neither values nor properly develops young players. This sentiment has become more widespread over the past two seasons with Vigneault's handling of defenseman Dylan McIlrath.
Developing Dylan
It seems pretty obvious that Vigneault is not sold on McIlrath as an every-game top six defenseman in the National Hockey League. Whether it's because the coach questions his skating ability, his decision-making, play in his own end, puck-handling skills, or all of the above,  there's no debating that Vigneault sees major limitations in McIlrath's game.
In fact, there's a good chance that he would have chosen veteran Raphael Diaz over McIlrath a year ago if the 24-year-old hadn't required waivers to be sent back to Hartford.
So does this have more to do with Vigneault's inability to develop a younge player or the fact that he has a former first-round pick on his roster that he believes should not be an NHL regular?
A large segment of the fan base believes that it's a personal issue for Vigneault, on top of a lack of interest and ability to bring McIlrath along as a player. Vigneault has coached in nearly 1,400 career NHL games including the postseason and has had a largely successful career, albeit one without a ring. He does not have anything personal against McIlrath, a player he repeatedly has praised for his work ethic, physical conditioning, and effort.
The bottom line is that Vigneault wants to win and does not believe McIlrath offers the team the best chance to do that and has him ranked eighth on the team's depth chart on the blue line.
Agree or disagree with Vigneault's assessments, a head coach's job is to make these decisions, as well as to properly instruct and guide the players on the roster.
The Kids Are All Right
McIlrath is not the only youngster on Vigneault's rosters since arriving in New York. He helped bring along forwards Chris Kreider and J.T. Miller, in particular, guiding them through significant growing pains along the way.
Clearly, the coach has done something right when it comes to those two. There was some tough love, especially when dealing with a less-then-mature Miller back in the 2013-14 and 2014-15 seasons when the 2011 first-rounder was on the New York to Hartford shuttle. Kreider, too, had a steep learning curve when it came to channeling his emotions, harnessing his impressive skill set, and learning to a play a consistent two-way game.
While neither Miller nor Kreider is a finished product, it is clear that Vigneault has done a good job developing the pair into two important players on the roster. The 25-year-old Kreider is off to a roaring start this season with three goals and seven points over the first four games, following a pair of 21-goal campaigns; while the 23-year-old Miller earned the coach's trust a year ago and produced a 22-goal season while appearing in all 82 games.
Jesper Fast, the 25-year-old Swede, has also become a key player in Vigneault's rotation up front. Vigneault saw something he could trust almost right away with Fast, who has a high hockey I.Q. to go along with a tremendous work ethic. While not a force offensively like Kreider and Miller, Fast has become an important member of the Rangers, and has made major strides under the watch of Vigneault.
There are several other important players under the age of 25 on the current roster in Jimmy Vesey, Pavel Buchnevich, Mika Zibanejad, Kevin Hayes, Brady Skjei and Adam Clendening. How Vigneault helps develop these young professionals will add further clarity to his success or failure as head coach of the Rangers.
Well, Not All of Them
Not every young player on Vigneault's watch in New York has been a success story. Notably defensemen Michael Del Zotto and John Moore did not thrive under Vigneault and were subsequently traded away.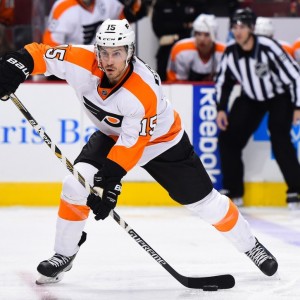 On the surface one would think that both puck-moving defensemen should have thrived in Vigneault's up-tempo attacking system. However Del Zotto was in the midst of a two-year decline after his ten-goal, 41-point season in 2011-12 and failed miserably under Vigneault before being traded to Nashville for the more dependable defender Kevin Klein.
Did Vigneault fail Del Zotto or was the player simply in a bad way personally and professionally, as he has discussed since the trade? In Vigneault's defense, the Predators let Del Zotto walk after only 25 games in 2013-14. On the other hand, Del Zotto has become a reliable presence on the Philadelphia Flyers blueline, when healthy.
In the case of Moore, he never moved past the role of bottom-pair defenseman with the Rangers, despite playing in a career-high 74 games in 2013-14. Suspensions hurt his confidence and progress, and there's no question that Vigneault did not like Moore's play in the defensive zone. As a result Moore became part of a package to land Keith Yandle at the 2015 NHL Trade Deadline. Like Del Zotto, Moore was not re-signed by Arizona and is now a regular in New Jersey.
Did Vigneault fail Michael Del Zotto and/or John Moore? And is he failing Dylan McIlrath? Or does the final accountability lie with each individual player?
Let the debate continue on Broadway.
---
Complete Rangers Coverage From THW
---
Jim Cerny has covered the National Hockey League for more than two decades. He has handled play by play duties for the New York Islanders, hosted the NHL Live talk show, been a hockey writer for The New York Times, and spent the previous nine years as the Digital Content Producer for the New York Rangers offical team web sites and social media accounts.