Former Sens forward signs with KHL's Atlant Mytishchi
By Terrance Gavan – Ottawa Senators
Well, what can you say about Alex Kovalev that he hasn't already said?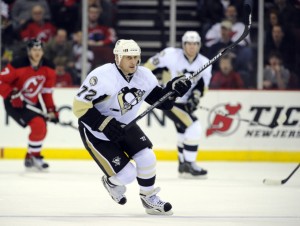 Kovalev, who came to the Ottawa Senators back in 2009 from Montreal – when Ottawa brass was still banking that Kovie could fill the rather large Tackaberries of the departed Dany Heatley – is a riddle wrapped in a mystery inside an enigma.
Now 38, Kovalev felt obliged to remind the Ottawa press corps – via an unambiguous screed published by Yahoo Sports – that they won't have Alex Kovalev to kick around anymore.
He's followed the lead of another troubled ex-Senator, Ray Emery, and is taking his still substantial talents and his aging body toRussia, the Kontinental Hockey League (KHL) and team Atlant Mytischi.
We remember fondly, all that promise and all that sweet flow Kovalev brought to a long and successful career in theNHL. [1302 games, 428 goals, 598 assists – 1024 points] And all those games where Alex delivered a veritable trick-trunk of David Copperfield hijinks to arenas.
Yes, Kovalev could be magic. But all that prestidigitation was too often juxtaposed against games where he seemed to disappear into a cluster of lackluster.
That merry-go-round career of Alex Kovalev followed a paradigm of many stars turned journeymen. He defied classification. And Kovalev left a lot of bewildered general managers, owners and coaches in his wake. From New York Rangers to Pittsburgh, back to the Rangers, to Montreal, then Ottawa and finally late last season, in his NHL denouement, back to the Penguins.
His arrival in Russia was, hmm, not without its "moments."
Kovalev, perhaps channeling his inner Stevie Williams leapt into an impromptu rant while chatting with Russian interviewer Pavel Lysenkov from Sovetsky Sport.
Among other things Alex said that Ottawa sports writers bring less than due diligence to the job.
"They (the press) don't watch hockey at all," said Kovalev in the rambling screed. "When they fly with the team and go through the (security) at an airport, their bags are filled with beer."
We're shocked. Has newspaper per diem sunk so low that sportswriters are toting their own bottles of Canadian on the road? In a satchel?
It's an incredulous claim; but it's a great exit line.
Kovalev also had some frank comments re the Sens' former coach Cory Clouston. He said that in two years with Clouston he "couldn't understand the ideas" of the since-departed Ottawa coach.
The interview in its entirety is up on Yahoo Sports this week with translation by Dmitry Chesnokov.
Some of the highlights from that Yahoo Sports translated interview follow.
Sovetsky Sport: You have a reputation of showing up one night but disappearing the next. Is this a fair characterization?

Kovalev: One journalist wrote it when I was still playing inNew York, and then it all started. There are such reporters, who don't watch hockey, don't understand it — but they will still say that Kovalev doesn't give his all. That he plays whenever he wants. They are short on their own opinion.

Sovetsky Sport: Did theACL injury to your left knee in the spring of 2010 get in the way of having a good start to the 2011 season?

Kovalev: I came back two months early. I didn't want to miss games. I felt good. But at first I had a hard time getting in game shape. This is physiology — injuries like that aren't easily healed. There is a fear of overloading the leg. Especially because it was my secondACL tear.

Sovetsky Sport: Sergei Gonchar threw his hands in the air when I asked what style of gameOttawa plays. What do you say to that question?

Kovalev: In two seasons I still couldn't understand the ideas of our coach Cory Clouston. It seemed that he scoffed at some players.

Sovetsky Sport: What do you mean?

Kovalev: You have to treat players kindly. If you leave someone on the bench you should explain why it happened. This is coach's job. But when a player is benched and doesn't understand what is happening, he becomes lost.

Sovetsky Sport: You were then traded to the Penguins. Why didn't it work out there?

Kovalev: Everything was fine. I had played for Pittsburgh before. The atmosphere doesn't change there, but my style didn't fit with the game coach Dan Bylsma was implementing. There is nothing else to explain it with.

Sovetsky Sport: What do you remember from your years in theNHL?

Kovalev: A lot has happened — there were falls and rises. . . . Sometimes you sit down and play back your career in your head. In principle, I am happy. And the fact I am criticized. There are different journalists. My opinion ofOttawa journalists is that they don't watch hockey at all. When they fly with the team and go through the (metal detector) at an airport, their bags are filled with beer. You realize right away what these people do when they write about theNHL. Let them make up nonsense about me. But I am happy with what I have done. I have played not for myself but for the team and fans. Teammates have never said a bad word about me. Fans are happy. I am approached on the street inMontreal, New York and told one thing: 'Don't take the bad to your head. We always support and love you. You're the best.' Words like that warm your soul.

Sovetsky Sport: I can see that you are fed up with Canadian media.

Kovalev: I am annoyed when people write (nonsense). Figuratively speaking, to earn half a hundred dollars they are ready to make up some garbage.

Sovetsky Sport: I have heard you don't read any sports media. Is this true?

Kovalev: Only sometimes. If you're interested in an athlete or you know the journalist who wrote something and who you trust. And inOttawa they liked to channel their anger on hockey players. Regardless of how you played, they will certainly dump dirt on you and the team.
Bottom line? Kovalev ends his stint in the NHL, probably for good.
The legacy he leaves?
Befuddling. This is a player that at one time inspired comparisons to some of the greats.
Deserved or not Kovalev carried a rep for inconsistency for the latter half of his career.
Kovalev says he doesn't understand it. And he's especially ticked at the Ottawa press corps because he says they were especially hard on him.
He doesn't get it.
Simple really.
Senators and their fans thought they were getting Dany Heatley.
And they got? Alex Kovalev.
Riddle. Mystery. Enigma.
Marvelous magician.
"Now you see him… and, now you don't."
Overtime: From Ottawa Citizen: The Hockey News unveiled its selections for the last place teams in each conference on Monday, and the Senators and Oilers were the unlucky selections.
The Senators are pegged for 15th place in the Eastern Conference by the magazine after finishing 13th in the conference last season.
Senators.com reports "Call it another significant step forward for Daniel Alfredsson.
The Ottawa Senators captain hit the ice at the Bell Sensplex earlier today, skating for the first time since undergoing back surgery in June. It's a milestone moment as Alfredsson points toward a 16th season in a Senators jersey."
Ottawa Citizen: More on Captain Alfie from writer Martin Cleary.