Last week, while back home in Moscow, Washington Capitals captain Alex Ovechkin made headlines saying he wanted to play for Moscow Dynamo when his NHL career came to an end. However, for those who have watched his career from when he first arrived in Washington in 2005, this isn't really a new development.
In 2008, when the Capitals signed Ovechkin to his 13-year, $124 million contract extension, which expires after this coming season, most observers figured while deal could mark the end of his NHL career, it probably wouldn't end his professional career.
The star, who just turned 35 in September, has never been shy about wanting to finish his career in his homeland (and ended up playing 31 games with Dynamo during the 2012-13 NHL lockout). So, for at least the first half of that contract, it seemed that at contract's end he'd say farewell to the NHL and return to Russia to play his last professional days.
However, his career has proved a lot more durable in the second half of his contract than many expected, which will likely alter the presumed plan.
Championship Drive
Certainly, one of the major accomplishments of Ovechkin's career was achieved in 2018 when he finally hoisted the Stanley Cup. But, with the Capitals seemingly loading up for another run this season and the hiring of a win-now coach in Peter Laviolette, it may not be the only time Ovechkin has another long run in the postseason.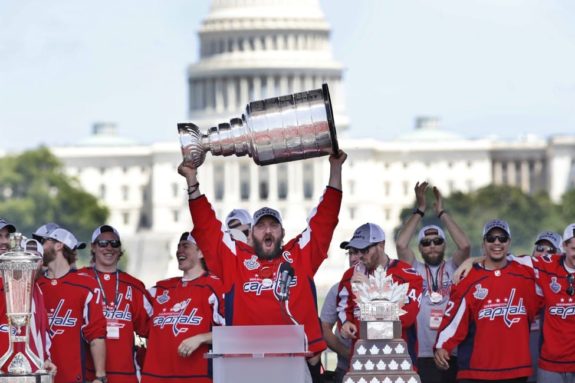 Washington's realistic window could have a couple more years before the team has to head into rebuild, and that likely means parting ways with some of the other veterans as they reach the point where their dollar value outstretches their play on ice.
When Ovechkin's original extension was signed in 2008, it seemed the Capitals would be paying more overall for his services in the front half of the deal and would be compensating him for the leaner years at the back of the deal, but that never materialized in the first dozen years. The leanest production came in the middle of the contract when he struggled to play under Dale Hunter's defensive style, but the deal has been well in line with others signed since and his continued production despite his age.
Ovechkin scored 48 goals in 68 games before play was halted last season, and the sniper has either won or tied for the Maurice Richard Trophy in the last three seasons, all while making less than at least a dozen other NHL players last season. 
Clearly, the organization believes the Capitals are still capable of making a deep run in the playoffs at least this upcoming season with the signing of Henrik Lundqvist to a one-year, $1.5 million contract.
Chasing Gretzky
Ovechkin is chasing Wayne Gretzky's all-time goals record of 894 goals, but his success will largely depend how much longer he can be productive.
Once one of hockey's unbreakable marks, Ovechkin's consistency has made him at least a passing threat to reach it. Gretzky certainly front-loaded his totals with some of the best hockey that anyone has ever seen, but by the time he turned 35, he only had three more full seasons, in which he only scored 57 total goals.
Ovechkin's game has been changing over his career with fewer goals scored off the rush now and more reliance on set plays. An Ovechkin end-to-end goal that you saw early in his career is now more likely to be a shot from "The Office," from the top of the face-off circle. His game has adapted and he still has proven to be a dangerous goal scorer without some of the flair he showed early in his career.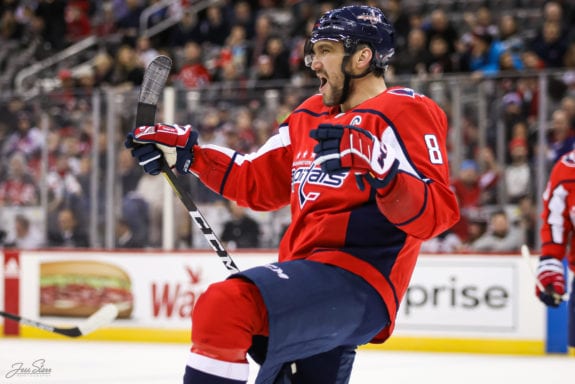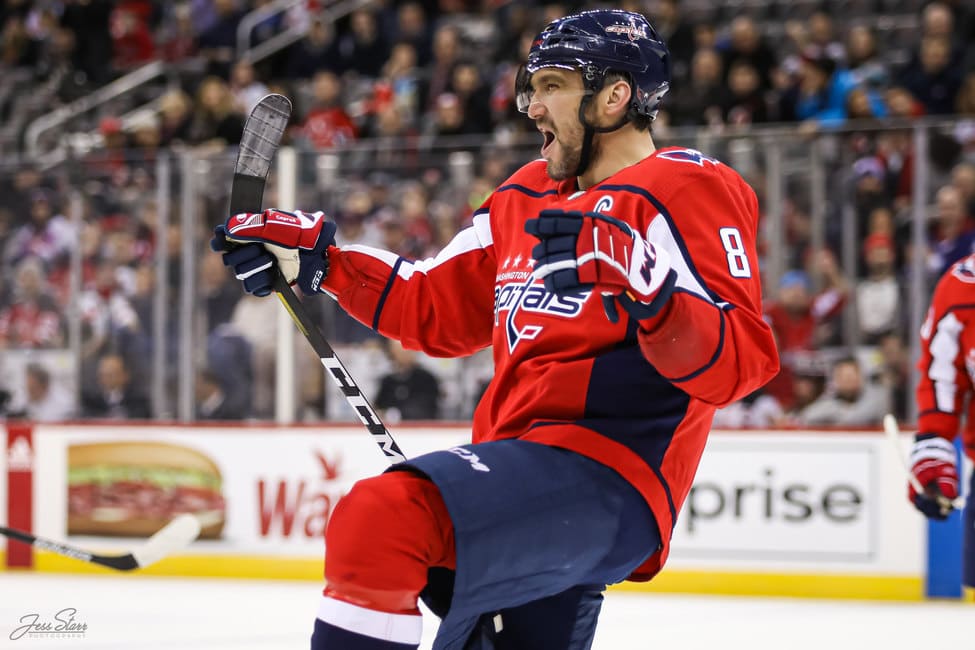 With the 2019-20 season cut short and a 2020-21 truncated season likely on deck, it may cost Ovechkin a chance to truly chase Gretzky, as he may lose 48 or so cancelled games off his NHL career total. That's not to mention the scrapped 2004-05 season when he could have come over to North America a year earlier with NHL stability, and the 2012-13 lockout that took 34 games off the season.
But on the flip side, the time off certainly won't hurt a player who has had some hard miles during his 1,152 regular season games, playing a physical style that is bound to wear anyone down — even a self-proclaimed Russian machine.
Ovechkin's workload in the calendar year 2020 was about half of his normal amount due to the COVID-19 pause and delayed start to the 2020-21 season. Unlike the 2012-13 lockout, he isn't skating with Dynamo during the layoff, and the short season sparked one of his most productive stretches of his career, with over half — 367 regular season tallies — coming after the puck dropped on the 48-game 2012-13 season, the last time he won the Hart Trophy.
Ovechkin will enter this season 188 goals shy of tying Gretzky, so if you presume he can put together the equivalent of 38 goals per season, a five-year run would do the trick. Or, at last year's pace of .71 goals per game, he'd need about 265 games to equal the Great One, or just over three full seasons at 82 games.
And, considering he's only been below 38 goals once since that shortened 2012-13 season, when he notched 33 in 2016-17, it's a good bet he's got a couple of shots to make serious inroads into that record as he tries to avoid Father Time.
Next Contract
With this in mind, a contract of three to five years seems likely, at roughly the same amount he made over his previous deal — around the $10 million mark. 
Washington is a team that is right at the $81.5 million salary cap, and with a number of long-range contracts on the books, it makes adding new contracts tough. While Ovechkin's next deal won't be a whole lot north of what his previous one, it certainly will be mindful of what he has done for the franchise, both on and off the ice.
A four-year deal seems to be a good length to make a run at Gretzky's record with five more NHL seasons (including the final year of the current deal), while also allowing him to go back and play in the KHL as a 40-year-old. Certainly, his game has not tailed off much with age, and it's reasonable to expect that he can contribute for at least the bulk of a five-year contract. And, if he's close to Gretzky after five more seasons, perhaps he delays his departure to make one last attempt at the record with a short-term deal before a farewell NHL tour.
By the start of the 2025-26 season, it's reasonable to expect the Capitals will look different. The only current Caps contract still on the books will be John Carlson, with Nicklas Backstrom, T.J. Oshie and Evgeny Kuznetsov due to expire the year before. At some point, the team will likely engage in at least a limited rebuild, as this five-year run is one of the longer stretches of success in team history, and with an aging core, it will need to be replenished with picks and young talent.
So, while Moscow Dynamo will be the eventual destination for the Capitals' captain, until the chase for the Stanley Cup and Wayne Gretzky is either dashed or achieved, it seems like Ovechkin will stick around North America for a few more seasons.
---
---
Author of a pair of Washington Capitals books, Transition Game and Red Rising, as well as a book on the American Hockey League, Chasing the Dream. Covered the Capitals and the NHL for the Washington Times, AOL Sports, Sporting News, SB Nation, Newsday, Tampa Tribune and Pittsburgh Tribune-Review.