For the Arizona Coyotes, this is a transition period and the start of an era many hope will usher in success.
The first glimpse of that optimism was felt Thursday during media day in the Gila River Arena. Players talked about positive changes, and general manager John Chayka told reporters pieces are now in place to help push the franchise forward.
Here at the advent of camp, the season was not broken in sections, such as play before Christmas and whether parts assembled will dictate a successful post-season run. Forward Max Domi went as far to say that the hour is much too early to formulate a personality or create an identity for this team, but added, "our identity changes frequently."
Still, there was an uncommon dose of enthusiasm.
Last season, the Coyotes gathered 78 points, and that was an increase of 22 points from the previous season. In the 2014-15 season, the Coyotes had 56 points in the Pacific Division (24-50-8), and these numbers represented the worst season in Dave Tippett's NHL coaching career.
Now, with improvement in the standings and the addition as many as five to seven potential new faces, there is a growing belief that the Coyotes could transition from simply a good hockey club to a highly competitive team.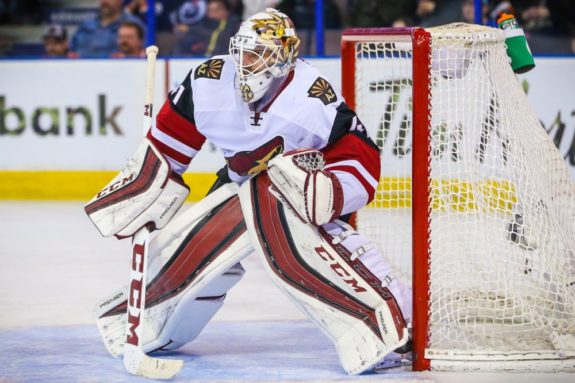 "The vibe around here is a really good one," said goalie Mike Smith. "You can feel more energy than in the past."
If the Coyotes are to rise in the highly competitive Pacific Division, there needs to be a resurgence from Smith. The veteran netminder went down mid-November 2015 with a core muscle injury which required surgery. Late in the season, Smith returned to shut out the Oilers in Edmonton on March 12. In his final games, Smith went 5-4-1 with two shutouts and a .944 save percentage.
"I'm back, physically," he said with confidence. "I also have a new outlook, as well. I realize I can't win games by myself. We need to have all parts working to be competitive."
Arizona Coyotes goalie Mike Smith enters the year with a fresh mindset #12Sports https://t.co/YIFlKnjLbj

— Robby Baker (@RobbyBaker12) September 23, 2016
That means crisp fore-checking and an increase in team speed. To help address the latter issue, the Coyotes signed veteran defenseman Alex Goligoski, whose game is puck movement.
With speed up front from forwards Anthony Duclair and Domi setting the example, the Coyotes are expected to move the puck with greater swiftness and quickness. While their game could be faster, it's the way the speed is used which will likely determine overall success.
"Speed is relative," said captain Shane Doan. "Take a guy like (Goligoski). The way he moves the puck will make everyone faster. Sheer speed is nice, but you have to know when to apply to your overall game."
Camp Notes
As players went through physicals Thursday, there were a few notable absences.
First, coach Dave Tippett is still assisting head coach Todd McLellan with Team North America in the World Cup of Hockey Tournament. At the same time, four players are still participating in the tourney. These include Oliver Ekman-Larsson with Team Sweden, Tobias Rieder with Team Europe, and Martin Hanzal and Zbynek Michalek with Team Czech Republic.
When these teams are eliminated, there is still travel time back to the Gila River Arena, site of the Coyotes' training camp.
"(Tippett) is not demanding to have these guys report on a special date," said John Chayka, the team's general manager. "This is a very competitive tournament, and players will need some time to regain their energy and competitive edge."
As camp opened, Rieder remained unsigned, but Chayka was hopeful to have the native of Landshut, Germany under contract in the foreseeable future.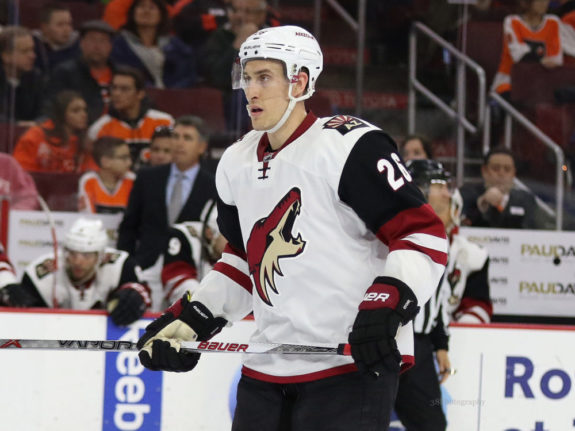 On the injury front, defenseman Michael Stone, who sustained a season-ending tear of his ACL last March, was scheduled to get an updated medical report Thursday. Skating informally before camp, Stone showed good agility, but his status for the opener Oct. 15 at home against the Flyers remains uncertain.
Defenseman Kevin Connauton, who sustained a knee injury skating informally before camp officially opened, will not skate in the first drills Friday. Chayka said the injury is not serious and remains hopeful Connauton's absence is short-term. During the recent off-season, the Coyotes signed Connauton to a two-year, $2 million deal.