Andrey Makarov THW Close-Up:
Date of Birth: April 20, 1993
Place of Birth: Kazan, Russia
Height: 6'1″    Weight: 178 lbs.
Shoots: Left
Position: G
NHL Draft Eligibility: 2012
For complete coverage and analysis of the 2012 NHL Entry Draft and its prospects, click here for Chris Ralph's 2012 NHL Entry Draft Guide.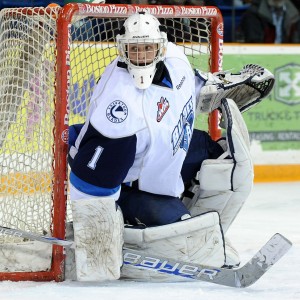 The 2012 NHL Entry Draft will probably be stacked with many young goaltenders looking to one day make their mark in the NHL. Goalies such as Andrei Vasilevski, Malcolm Subban, and Oscar Dansk are just a few of the names that immediately come to mind, but Russian netminder Andrey Makarov is not just another name to be glossed over at this year's draft.
Some may remember Makarov as the goalie that backed up Andrei Vasilevski at this year's World Junior Hockey Championship, but the netminder deserves a fair amount of credit for his performance at the tournament. Makarov was relegated to backup duties at the WJHC, but he made the most of his appearances. Coach Valeri Bragin inserted the young goalie into two pressure packed games against Team Canada and Team Sweden and Makarov impressed despite losing 1-0 to Team Sweden in the gold medal game. After relieving Andrei Vasilevski in a 6-5 victory against Team Canada, Makarov stood on his head for three-plus periods as he stopped 57 of 58 shots thrown his way.
Makarov and the rest of Team Russia wound up walking away with silver at this year's WJHC, but the 1-0 loss highlighted just how good Team Russia's goalies can possibly be. Tournaments such as the WJHC have the ability to increase a prospect's stock for the NHL Entry Draft, but Makarov's whole body of work can speak for itself.
Makarov spent a year with the Lewiston Maineaics of the QMJHL before going to the Saskatoon Blades of the WHL and he showed improvement despite having to transition between leagues. With the Saskatoon Blades, Makarov faced the fifth most shots out of all the goalies in the league and managed to keep his stats at a respectable level. Makarov compiled a 3.01 GAA and a .913% Save Percentage in 54 regular season games and helped the Blades get to the WHL playoffs. Even though the goalie struggled against the Winterhawks in the playoffs (4.01 GAA, .872 Save Percentage), Makarov's statistics in the 2011-2012 WHL regular season were better than his 2010-2011 QMJHL numbers (3.37 GAA, .890 Save Percentage). Some of the improvement in Makarov's numbers can be attributed to his jump from the offensively-dominated QMJHL to the WHL, but the goal still has tremendous upside.
Despite some inconsistencies with the Saskatoon Blades, other things must be taken into consideration when evaluating Andrey Makarov. Makarov played a total of 54 games for the Blades, but was also a key participant for Team Russia during the WJC's late-medal stages. Up until early December, Makarov had gone 16-8-0 for the Blades and had a very respectable 2.77 GAA and a .921 Save Percentage. Makarov managed to keep up that style of play for the WJC as he posted a 0.88 GAA and a .979 Save Percentage in 3 games played and was the biggest reason as to why Team Russia was hanging in against Team Sweden in the gold-medal game. After returning to the WHL, Makarov sustained a concussion and was not the same goalie that he was for the Blades during the first two months of the season. While the goalie might have shown some regression during the second half of the WHL season, he did face quite a workload between transitioning from the QMJHL, being thrust into the spotlight in the WJC, and sustaining a concussion upon his return to the Blades.
Like any young goalie, Makarov has areas that he can improve upon, but his athleticism still makes him an interesting prospect with a high upside. One of the knocks against Makarov is that he doesn't rely on his technique as much as he should, but the goalie has shown that he is capable of playing collected and smart hockey, especially in pressure packed situations. In the end, Makarov may not be drafted as highly as his fellow countryman Andrei Vasilevski, but he is a prospect that has the talent, athleticism, quickness, and drive to succeed in the NHL one day.
Scout's Honour:
"Makarov is another brilliant prospect, one that is ranked in the North American realm, but hails from Kazan, Russia. I would probably take him over Vasilevski in a dynasty or keeper league due to the fact he is already playing in North America and has the calmness and economical mindset of Evgeni Nabokov. Vasilevski is the younger, more aggressive and raw-skilled prospect, so I like Makarov better as a fantasy asset."
– The Goalie Guild's Justin Goldman
"Andrey is very athletic and plays an unorthodox style, but has good quickness in all areas. He's smart at reading situations and is confident. He's made a huge turnaround from last year, has good recovery and reactions, and he's always trying to get his body in front of shots. He never gives up on a play and is strong at holding his ground."
– Central Scouting's Al Jensen speaking to NHL.com
"It absolutely helps that (Makarov) played well at the World Juniors. It shows that he can play in big games. He's really improved since last year. I've been quite impressed. He's played most of his team's games and has played very well right from the beginning of the year. I like his chances of getting drafted this year."
– Central Scouting's Al Jensen speaking to NHL.com
Statistics:

Bio/Interview(s)/Link(s):
International Tournaments:
Makarov suited up for Team Russia in the World U-17 Hockey Challenge (2009-2010) and also put on a spectacular performance in Team Russia's last two games at the 2012 World Junior Hockey Championships.
Makarov played in 3 games for Team Russia during the 2012 WJC and posted a 0.88 GAA and a .979 Save Percentage, with his most sterling effort coming in the gold-medal game against Team Sweden when he saved 57 of 58 shots thrown his way.
Russian Roulette Factor:
"The Russian Factor" isn't as much of a concern with Makarov as it is with Andrei Vasilevski, as the former has been playing in North America for the last two seasons. Much like Vasilevski, Makarov is a fierce competitor who will most likely want to start climbing the ranks as soon as he is selected in the NHL Entry Draft this summer. Seeing as how he has played in the QMJHL and WHL the past two seasons, Makarov has much less of a "Russian Factor" than other Russian players.
ETA:
2-3 Years
Risk-Reward Analysis:
Risk = 3.5/5    Reward = 4.5/5
NHL Potential:
Number 1 Starting Goalie
Strengths:
* See "THW Close-Up" section above.
Good glove hand.
Composed under pressure.
Great athleticism.
Never gives up on a play.
Flaws/Aspects He Needs To Work On:
Must rely more on technique and strengthen his positioning.
Fantasy Hockey Potential:
Goaltending: 8-9/10
NHL Player(s) Comparison:
Upright stance and economical mindset has been compared to Evgeni Nabokov.
Unorthodox style of play (flip-flopping) can be compared to Dominik Hasek.
Video(s):
[youtube http://www.youtube.com/watch?v=NU4BollcCeU]
Off The Iron (Interesting Notes):
Shares a name with retired Russian race walker Andrey Makarov, but they are not related.
Ranked #1 WHL Goalie for this year's draft by Central Scouting.
THW's The Next Ones prospect profile template design architect: Chris Ralph