Despite his substantial success, New Jersey Devils President/General Manager Lou Lamoriello has taken his share of criticism since taking over the organization in 1987. Lamoriello, for better or worse (and there isn't really much a fan of the team can complain about regarding his tenure) has, as a famous New Jersey boy once said, did it his way. He's been called a bully. He's been called ruthless. He's been called a genius. He's been called everything in between. But whatever your opinion of Lamoriello and his management style is, you can't argue with success, and he has been the architect of multiple Stanley Cup-winning teams, turning a franchise that was once termed a "Mickey Mouse operation" by Wayne Gretzky into one of the most successful in sports.
Of course, Lamoriello has made mistakes. The John MacLean debacle, which was perhaps the lowest period in the organization's history, was something that he refused to blame on the rookie head coach.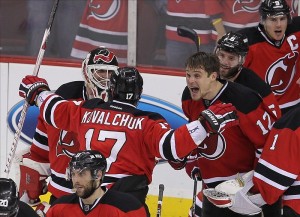 "Responsibility lies on the players and myself for what could or couldn't get done," Lamoriello said after dismissing MacLean.
He's also been brutally honest when it comes to his players. He famously told a young Ken Daneyko, who had approached him about changing his style of play to include more offense, that the Devils were an orchestra, and Daneyko, a tough defenseman, was a drummer.
"If you'd like to be a violinist, that's fine, but we don't need a violinist, so I'll have to find another team that does," Lamoriello said. Daneyko stayed a drummer and became one of the most beloved Devils to ever put on a red sweater.
The latest installment of the New Jersey Devils advanced to the Eastern Conference Finals by dispatching the Philadelphia Flyers with a combination of hustle, professionalism, and a team-first attitude, and Lamoriello's fingerprints were all over the victory. Naturally, he downplayed the significance while praising everyone but himself:
"The coaching staff, the support staff, the medical staff and the players should feel real good about themselves because they had a tremendous series in every way," Lamoriello said. "There was a total commitment to each other and you start right with the job Pete's done with his staff and the way the players have bought in and also the players' focus on what it was going to take – sacrificing bodies, discipline, no retaliation and not letting any adversity get in the way whether you're scored on once or you're scored on twice. You take all of those variables and then you finish the series the way you do winning four in a row that's quite an accomplishment and you should feel good about it."
The Devils return to the elite of the NHL started with the hiring of Pete DeBoer last July. There were certainly more attractive candidates, and DeBoer didn't have the most impressive resume. But Lamoriello didn't listen to conventional wisdom and went with the guy he felt was the correct hire.
"In my conversations with him, I felt very comfortable that he was the right person," he explained. "I was very comfortable."
Lamoriello's most controversial move in recent years, the signing of superstar Ilya Kovalchuk to a massive 15-year, $100 million contract, was heavily criticized at the time. Kovalchuk, who the Devils acquired in a trade with the Atlanta Thrashers, was known as a selfish player who cared about scoring goals and not much else. Somehow, that selfish player has come to Lamoriello's Devils and blossomed into a full-fledged leader on a team that's full of veterans and emerged as a contender for the Conn Smythe Trophy.
Finally, there are the maneuvers that Lamoriello made during this season to fine-tune the team that is now four wins away from playing for another Stanley Cup. He claimed center Ryan Carter off waivers and signed Stever Bernier in October, creating 2/3 of the fourth line that, along with minor-league call up Stephen Gionta, formed the "Albany Line" that played a huge part on the Round 1 victory over the Panthers. In December, he acquired Kurtis Foster, hoping he was the answer to New Jersey's woes moving the puck on the blue line. But after just 28 games, it was obvious Foster wasn't the solution, so Lamoriello engineered a trade that sent him to Minnesota for defenseman Marek Zidlicky. Zidlicky proved to be the puck moving defenseman the Devils were seeking, as he quarterbacked the power play and provided some offense from the point, including a goal and an assist in Game 4 vs. Philadelphia. Finally, Lamoriello acquired Alex Ponikarovsky, who scored an overtime game-winner in Game 3 vs. the Flyers, from the Carolina Hurricanes in January to provide some veteran size to the lineup.
Lamoriello's moves this season have been masterful, and although he never takes credit for himself, it's certainly deserved. If Pete DeBoer and his coaching staff is the tree that bears the fruits of victory, Lamoriello is the sun, water, and soil that allows that tree to grow. He is the one at the center of the Devils universe. He's a winner. Lou Lamoriello IS the New Jersey Devils.