Tuukka Rask probably wants to forget about what his stat line looked like at the start of the season. In his first five games, Rask was 1-3-1 with a .834 save percentage. He allowed 22 goals, too. Things look different now.
Rask's last regulation loss came on November 17—one month ago—against the San Jose Sharks. Since then, he's 7-0-2 with three shutouts and a .954 save percentage. Rask is reclaiming his status as an elite goaltender but more importantly, he's coming up big when the Bruins need him.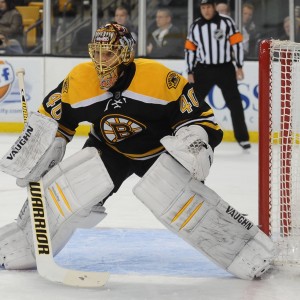 "He's a guy that when he's on his game, he's one of the best," said Bruins coach Claude Julien after Wednesday's 3-0 win against the Pittsburgh Penguins. "He's feeling it in the last little while or whatever, last month, maybe even more. But he's been the goalie that we all know he can be. And that's how we felt about him at the beginning even though he struggled, we knew he'd find his game and he has."
Rask stopped all 34 of the Penguins shots to earn his 30th career shutout, fourth all-time in the Bruins organization. His first shutout came on January 31, 2009 against the New York Rangers. Rask, of course, deflected praise to the team in front of him for getting this far.
"When we play our system, it's very helpful for goalies," said Rask. "They had a lot of shots again, but for the most part they kept them outside, so when we do that it's just nice to win and keep the goals against low."
Although they've greatly underachieved thus far, the Penguins are still stacked with a roster filled with goal scorers. Evgeni Malkin, the team's leading scorer, was limited to just one shot on net, while Phil Kessel's five and Sidney Crosby's three shots were turned aside by Rask.
Rask was particularly strong in the second period when the team in front of him wasn't. The Bruins netminder stopped 14 consecutive shots in the 15 minutes that the Bruins went without a shot on goal.
"Everybody's doing their job defensively, just being patient, protecting the house, and trying to keep them on the outside, letting me see the puck," said Rask. "I thought we just turned the puck over a little bit too much and kind of played in their hands a little bit in the second period, but we managed to come out from that period with a two nothing lead and that was huge and obviously the second periods have been challenging for us at times and I think today that was the case again."
Having another Rask shutout in a Bruins game is a huge for a team that has seen their fair share of defensive struggles earlier on in the season. As the Bruins start to build on momentum and pick up wins, having Rask steal games is a key strength that will play into the team's success while the defense continues to solidify.
Rask wasn't coming down to earth at the beginning of the season, but he's back to where he should be now.
Follow Mike on Twitter for more Bruins updates, news, and commentary.