Antti Raanta will need to be as sturdy as ever this year to give the New York Rangers a chance at a playoff spot. Last year the Finish netminder was reasonable, posting 11 wins in 25 games played, but the fact is that the Rangers only felt comfortable giving the 27-year-old 18 starts on the year. It isn't that he was bad he just never really seemed to have a stretch of play where he stood out, the way Cam Talbot did before him. With Henrik Lundqvist turning 34, it stands to reason that the veteran Swede' will need more time on the bench to be at his best throughout the season and with a very young core of goalies behind Raanta, the Rangers can't afford many slumps or injuries at the position.
Resting Lundqvist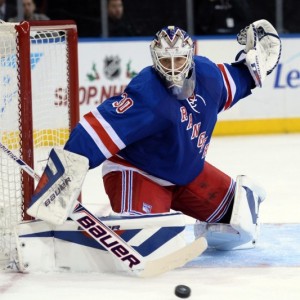 Lundqvist has been the face of the Rangers for the past ten seasons, he still looks to have plenty of hockey left in him, but he can't be getting pushed to the limit physically anymore. He played 65 games last regular season and had an awful playoff performance where he held a 4.39 goals against average and .867 save percentage in a five-game outing against the eventual Stanley Cup champions the Pittsburgh Penguins.
These struggles may not have been solely from being exhausted; Lundqvist just looked like he needed a bit more work with Rangers' goalie coach Benoit Allaire to clean up some of his issues in the crease. This is where Raanta comes in; if he could just have a few games where he looks lights out and can push to play in consecutive games at points, then he could allow Lundqvist a few extra days off to be crisp for the most important and stressful games.
Holding the Fort
The Rangers don't have goaltenders that are ready to step in and be the back-up. There's Mackenzie Skapski who's 22-years old with two games of NHL experience, but the Rangers want him playing on a nightly basis in the minors. Other than him there's Magnus Hellberg, who's probably the only real competition for Raanta in training camp, but after one appearance where he gave up two goals on six shots he doesn't appear to be ready to play at that level.
The Rangers lack of depth behind Raanta could be cause for concern. The team just gave him $2 million on a two-year contract and if he isn't great the club doesn't have many options, so they will need to rely on him to be the man behind the curtain for at least this season. The ability is there, but the team just needs a bit more consistency.
My Take
Raanta is terrific to watch; everyone seems to love him and he usually has a big smile and is a good player to boot. This season will be crucial for him because for the first time coming into a season, there are some questions around Lundqvist, which is something New York fans have never had to deal with in the past. A good year under increased pressure will likely allow Raanta to have a longer pro career, but if he struggles, well there's not much the Rangers can do.