He has never won the Norris Trophy as the NHL's top defenceman.  He isn't the most intimidating guy on the ice. And he certainly isn't the most sought after interview in the Canadiens dressing room. But all of that doesn't matter. Andrei Markov has been one of the most underrated defenceman since he has entered the league and many often take the talents of Markov for granted.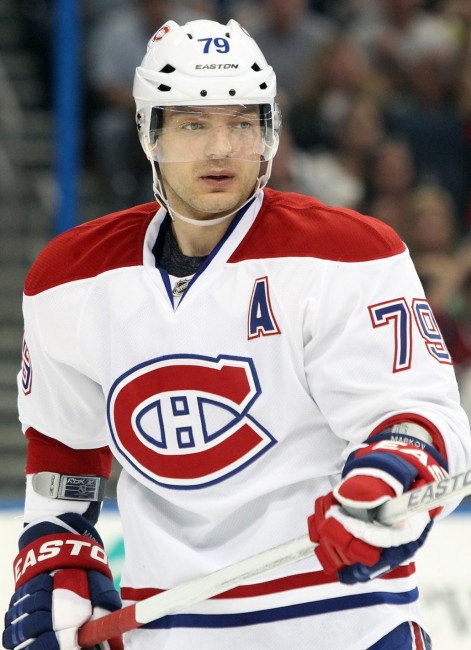 Just how good is Markov?
Andrei Markov was a sixth round pick back in 1998 but he doesn't play like one. His vision has allowed him to become an excellent power play quarterback and while his shot isn't as powerful as teammate PK Subban's, Markov has the ability to get shots through and score goals in addition to his already good playmaking skills. His career high in points came during the 2008-09 season where he put up 64 points in 78 games that includes a whopping 52 assists. One of Markov's biggest strengths is making the players around him better. Is it just coincidence that Mike Komisarek's NHL career went downhill after leaving the Habs (and Markov) to sign as a free agent in Toronto? Or that Sheldon Souray had 35+ points in his last three seasons in Montreal? Markov continues to be a minute muncher on the blueline for Montreal for good reason. He still possesses the ability to control the game, even if his body says otherwise on some nights.
The goal above is an excellent example of  Markov's poise and patience under pressure and his ability to get pucks to the net.
The Lost Years
One thing that gets Habs fans anxious is seeing Markov get hit and go down for a few seconds. Markov only played 20 games between the 2010-11 and 2011-12 seasons due to knee injuries. Seeing any player get hurt is hard to watch, but when your No.1 defenceman goes into corner and doesn't come out because he blew his knee out is frightening. His presence was sorely missed in the years he was hurt. Subban stepped up as a rookie and performed admirably but he was a young gun on an aging defence corps that just wasn't good enough. The Habs made the playoffs in 2011 but the following season was one of the worst in franchise history while Markov sat on the sidelines for the majority of the year. While Markov couldn't have singlehandedly saved the Habs from the Eastern Conference basement, his presence on and off the ice was missed.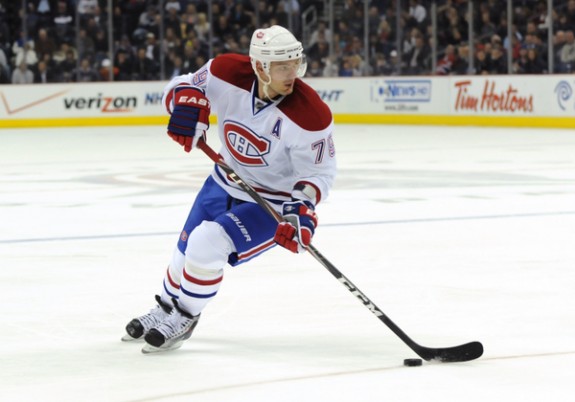 Off the ice
Off the ice, Markov is one of the quieter Habs. Post game, the media flocks to goalie Carey Price, Subban, Max Pacioretty or any Hab who had a good game. But for the most part, Markov avoidsthe intense media glare. Despite being offered the captaincy on several occasions, Markov has declined but has worn the A for several seasons. Not a vocal leader, his presence sets a good example for younger players as his poise and patience is a testament to both experience and smarts. As well, his Russian background has helped the likes of Alexei Emelin and Alex Galchenyuk.
His Legacy
In the end, Markov may not see his number lifted to the rafters unlike the Habs legends of years past, but his impact on the organization is significant. He has been a model citizen for the Habs, always representing the team well. He has seen good times and bad times during his NHL career (all with Montreal) and has never complained. He doesn't get the accolades and the knees aren't what they used to be. But at nearly 36 years of age, Markov still continues to play an integral role on the Habs, despite the shift towards the younger players. Much like Saku Koivu before him, Markov may not get the credit he deserves, but his presence will continue even after he hangs up his skates.
I have a Bachelor's Degree in Journalism from Ryerson University. I am a freelance journalist and a Montreal Canadiens writer for The Hockey Writers. I previously wrote for Simcoe.com and Last Word on Sports as well as interned at TSN.