---
[mc4wp_form id="230175″]
---
As the NHL heads into the annual All-Star break, the Edmonton Oilers are on a roll. So much so, it's hard not to ask the question: are the Oilers really this good?
It's difficult to stress how important it was for the Oilers to get two big wins in California on Wednesday and Thursday. Playing two of the top teams in the Pacific Division in the Anaheim Ducks and the San Jose Sharks meant a real test determining whether or not the Oilers were a legitimate threat or just occupying space until the tough part of the season began. The Connor McDavid-led Oilers passed the test with flying colours.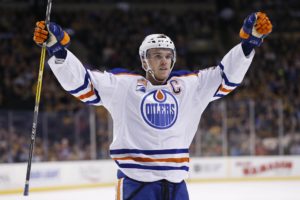 With an 8-1 goal differential, back-to-back victories and now tied for first place in the Pacific Division, Edmonton heads into the All-Star break like a new team, brimming with confidence and firing on all cylinders. They're winning games they deserve to win, fighting back in games they haven't played a full 60-minutes and earning points in contests they potentially didn't deserve points in. It's the type of hockey that will be increasingly important when the games mean even that much more.
What is making this team so good? How are they one of the hottest teams in the NHL with points in eight-straight games? In the first of a three-part series, we'll take a look first at the offense.
[irp]
Connor McDavid
For people who don't believe in the newfound hype that is surrounding the Oilers, the argument against their success tends to fall back to "Well you have McDavid. You should be this good." Yes, McDavid is an amazing hockey player and yes, the Oilers offense starts with him as he leads the NHL in points. He's tallied 59 points in 51 games and will captain the Pacific Division at the All-Star festivities.
But, McDavid's point totals are not the only reason the Oilers are thriving. One of the most intriguing things to watch on this current eight-game run is how different the Oilers are playing as a team. They've bought into a system, are playing for one another and all of that change stems from McDavid's leadership as their 19-year-old captain.
Despite being the most skilled player on the team, McDavid is one of the hardest workers. He back-checks regularly, puts 100 percent effort into every shift and that on-ice example of leadership has flowed downward onto the rest of the team.
"They've bought into a system, they've bought into each other." #Oilers grab share of 1st in Pacific: https://t.co/xpRCLfptUR pic.twitter.com/MWaH8Rticv

— Edmonton Oilers (@EdmontonOilers) January 27, 2017
Leon Draisaitl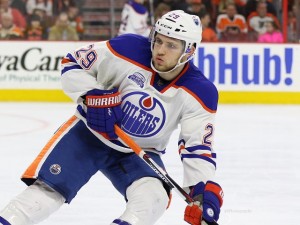 One of those players following the example is Leon Draisaitl, who has emerged as a bonafide superstar. Some will call it "pushing the river", some will call it "driving the offense", but Draisaitl has been only a slight step behind McDavid the entire season. In fact, where there was once concern the loss of Taylor Hall meant the Oilers now had only one offensive weapon that could lead a line, Draisaitl has erased that doubt.
That Draisaitl isn't an All-Star this weekend, is quite astonishing. He currently sits tied for 11th in the NHL in scoring with 46 points in 51 games. He also leads the Oilers in power play points, total goals and has the ability to play wing, center, power play or short-handed. He's big, fast and skilled and his confidence as a player is only growing.
Patrick Maroon
Maroon has turned himself into one of Edmonton's most notable success stories. A player cast away from the Anaheim Ducks at last season's trade deadline, he's found a home on the top line in Edmonton and cashed in on his opportunities. He's second on the team in goals with 18 and is offering the type of production the Oilers had hoped they'd be signing when they grabbed Milan Lucic in free agency for quadruple the price.
[irp]
Secondary Scoring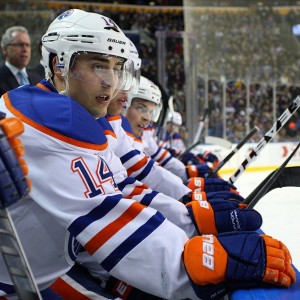 One of the areas of concern for the Oilers is their secondary scoring — or sometimes lack thereof. As of late, players like Jordan Eberle and Ryan Nugent-Hopkins have rebounded and that has helped in securing Oilers victories, but their contributions have been inconsistent.
In saying that, there is good news and bad news. The bad is that if Edmonton hopes to not only make the playoffs but advance in them, they need consistent contributions from multiple lines. The second line needs to be a threat and Eberle needs to find goal scoring production to go along with Nugent-Hopkins steady two-way play. Lucic needs to provide better bang for the Oilers buck and Benoit Pouliot needs to start producing anything that amounts to productive ice-time.
The good news is that Edmonton is winning despite not having all lines clicking. How dangerous they could become if everyone gets hot could be scary for the rest of the NHL.
Bottom-Six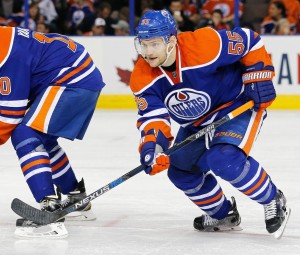 I'm not huge on labeling forwards into the bottom-six because specialty roles and line-juggling may change the dynamic from game to game. But, if you had to, players like Mark Letestu, Anton Slepyshev, Zack Kassian and Drake Caggiula have done their job and more.
Letestu, for example, has cemented himself as a depth weapon, providing penalty-killing, key faceoff wins and timely power play goals. He sits 7th on the team in scoring with 23 points in 48 games. He's the epitome of what the Oilers are going to need in terms of bottom-six production.
It isn't all rainbows and roses. Edmonton will need to shore up some areas of weakness in the form of upgrades to players like Matt Hendricks, to whom the speed of the NHL is starting to showcase his inefficiencies; but the Oilers should be able to easily do so at this year's trade deadline.
When looking exclusively at the Oilers' offense, there is a case to be made that Edmonton really is this good. Next up, we'll take a look at the defense where the answer isn't quite as clear.