Lou Lamoriello: a name synonymous with the New Jersey Devils. Lamoriello served as president of hockey operations and general manager of the team from 1987 to 2015. He was the architect of the Devils' first playoff appearance, he helped draft legendary goaltender Martin Brodeur, and he oversaw all three of the Devils' Stanley Cups. His tenure in the front office saw the Devils miss the playoffs only five times in 28 seasons. In short, Lamoriello gave the New Jersey Devils a new identity and earned them new respect.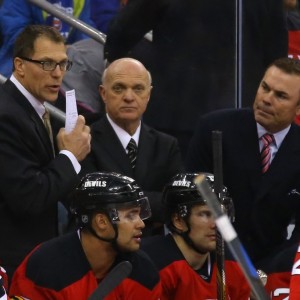 Now, the NHL's all-time winningest goaltender, Brodeur, has retired; the Devils have missed the playoffs for four consecutive seasons, something that hasn't happened since before Lamoriello reigned as GM; and the team has fallen from grace after thriving for three decades.
The long and short of it is that the era of Lou Lamoriello is over. He's moved on to Toronto, where he's rebuilding a floundering Leafs organization. Former Penguins GM Ray Shero is now in the front office in New Jersey as Lamoriello's replacement.
Their systems could not be more different. Lamoriello had a focus on letting prospects develop in the AHL while patching the holes in the NHL lineup with seasoned veterans. On the flipside, Shero sticks to what he knows, signing players like Beau Bennett and bringing in head coach John Hynes, both of whom were in the Penguins organization while Shero was GM.
"Certainly Ray and I have talked about philosophies. In order for people to work together, they have to share some philosophies," Lamoriello said to Yahoo! Sports shortly after naming Shero GM in 2015. "I would assume we would have some type of changes. Ray might do some things differently than I did. But so be it. That's progression."
Lamoriello also said everything remains "status quo" with the three unsigned forwards — Gomez, Tootoo, Carter.

— Tom Gulitti (@TomGulittiNHL) October 6, 2014
No More "Status Quo"
Oddly enough, the phrase "status quo" hasn't been uttered since Lamoriello's departure from New Jersey. Lamoriello was right in saying there would be some changes in store.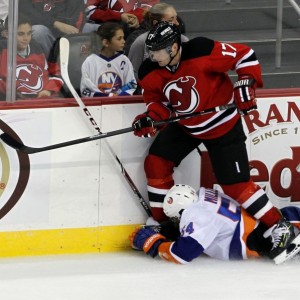 Anyway, one of the most notable differences is Shero's emphasis on allowing young players to get NHL experience.
Let's break down Lamoriello's philosophy. He is responsible for drafting players like Zach Parise and Travis Zajac, who played directly after finishing college and moved on to become concrete first-liners. On the other hand, Lamoriello is responsible for the signing Michael Ryder and Ryane Clowe during the 2013 offseason. The two veteran NHLers didn't have a significant impact on the team, and if they did, it was a negative one. This was outlined by Corey Spina of THW in a post just before the 2015 Trade Deadline.
"In his first season with New Jersey, Ryder was as streaky as he's ever been," he wrote in the post titled "Who Is On New Jersey's 'Nobody Wants Crew?'" "There were points during the season where he'd score four or five in the same number of games. The problem is he then wouldn't score for 10-15 games at a time, and sometimes even longer."
Ryder has been a free agent ever since his contract in New Jersey expired, which was in 2015. Lamoriello's thought process was to slap on a Band-Aid in the short-term to salvage any chance the Devils had at becoming a playoff contender. But allowing Ryder to play through scoring droughts as long as 24 games gave Albany's top players little to no shot at cracking the lineup.
Clowe Missed the Mark
Lou Lamoriello said Patrik Elias feels "good today" and will be back at practice Wednesday. "Status quo" for Ryane Clowe.

— Tom Gulitti (@TomGulittiNHL) October 22, 2013
Ah yes, music to our ears! Except for the fact that this time, "status quo" meant there was no update on Clowe's concussion recovery. Though this is not the straw that broke Clowe's proverbial back, injuries like this led to his downfall.
Clowe played in 56 games over two seasons for the Devils, going 8-22 for 30 points. Not a bad total, especially coupled with his strong physical presence. It seems decent until you remember that he missed a total of 108 games with one injury or another (or in one humorously unfortunate occasion, three at once). Partner this with his whopping five-year, $24.25 million contract and the addition seems like it did more harm than good.
Before the 2015-16 season, Clowe announced his unofficial retirement from playing hockey. It's considered "unofficial" because he is still collecting the remainder of his contract, which is set to expire in 2018.
"He'll be on IR," Shero told NJ.com in September 2015. "That will be just procedure with the league. He'll just stay on IR for the next three years."
Young Guns Getting a Shot
Lamoriello chose veteran leadership over younger, NHL/AHL bubble players when it came to lineup decisions. Players oftentimes got called up, only to sit in the press box for seven games before returning to Albany. In his last year as GM, the Devils' average age was a league-high 29.25 years.
Since Shero stepped in, the young players in the Devils organization have been able to flourish. The Devils' average age now is 27.12 years, according to EliteProspects.com. But more importantly, younger players are taking their newfound opportunities in stride.
Miles Wood – 100th overall, 2013 NHL Entry Draft
Wood's first NHL season didn't quite begin with a bang; in fact, quite the opposite. After appearing in only two games, Wood was sent down to the AHL affiliate Albany Devils.
"As much as I didn't want to go down there, to be honest, I had to," Wood said to NJ Advance Media. "I learned so much with the coaching staff down there, with [head coach Rick Kowalsky] and [assistant coach Sergei Brylin], and they were very supportive in my goals of trying to get back here."
His play without the puck was better, there was more poise when he did have the puck, and [he was] just a little more game savvy. That was something we felt he lacked, and he got some good quality minutes, some great coaching in Albany, and he looks a little bit more of a seasoned player.
Under the old regime, Wood would've been in limbo between the two leagues for a good stretch of the season. Instead, Wood was called back up after a month in Albany and his roster spot hasn't been questioned since. Wood's AHL stint paid off in a way that it might not have with Lamoriello as GM.
"Each game he got better, and you're seeing it translate into the NHL game," Kowalsky said to NJ Advance Media. "To his credit, he came down here with a good attitude. He was like a sponge with everything we taught him and talked to him about."
Since returning to New Jersey, Wood is 7-4 for 11 points in 31 games, including his first two-goal game against the Flyers on Jan. 21. By allowing him to make rookie mistakes, the coaching staff along with Shero accepted that Wood wasn't going to become a staple without being given a chance. The real-time experience is invaluable for young players, and Shero has a better understanding of that than Lamoriello did.
"He plays with so much speed, he gets on forechecks and sometimes gets in the situation where he takes a couple [penalties]. But the positives for him outweigh all the things he needs to overcome," said Devils center Travis Zajac to NJ.com. "Young guy in a physical game like that – some guys, they get lost. But he's the opposite. He thrives for it and brings a lot of good energy for us. Tonight, he brought the energy and he doesn't shy away from any physical part of the game."
Shero's Ultimate Goal
After being hired as GM, Shero described his goals for the organization: "New Jersey's foundation, for 30 years, was built on defensive hockey," Shero said to Yahoo! Sports. "Up front is certainly an area in terms of looking to score more goals, create more offense, without abandoning the defensive structure and accountability that's in place for years."