They were supposed to have one of the league's best scorers in 2013-14 – as they have since 2008-09 in Steven Stamkos. That was until he broke his right leg Nov. 11 against Boston. From there, general manager Steve Yzerman went to his young guys – bringing up Nikita Kucherov and Calder trophy candidates Tyler Johnson and Ondrej Palat.
The three dazzled for the Lightning until Stamkos was able to return. Yzerman made one more change by acquiring former Rangers' captain Ryan Callahan for Martin St. Louis in a lead up to the NHL trade deadline. The success of the team was not expected after the Stamkos injury, but the Lightning found a way of finishing second in the Atlantic Division and third in the Eastern Conference with 101 points (46-27-9).
2013-14 Wrap
In four meetings with the Toronto Maple Leafs last season, the Lightning came out on an even playing field. The teams battled to a 2-2 record with the Lightning only outscoring the Leafs 11-10 in their four games. While Phil Kessel led the way for the Leafs against their divisional counterparts with four points (1g-3a), it was young gun Palat who had the most points of anyone in the four-game season set with five (3g-2a).
While there was some intrigue to this series following Alex Killorn's controversial hit on Leafs defenceman Paul Ranger, the Leafs-Lightning rivalry is certainly in its early stages. However, it will have its chance to grow as the Leafs will take on their division foes four more times in the 2014-15 regular season.
http://youtu.be/uWDKWP2a-JA
Maple Leafs
What Changed?
Last season, Toronto did score 10 goals against the Lightning in just four games. The problem is that they seemed to lack the depth to push a strong Tampa Bay lineup. With Stamkos back for 2014-15, barring an injury, the Leafs are going to need more than just one or two lines to take the four-game series.
David Clarkson and former Leaf, Jay McClement, were the only two players that weren't full-time top six forwards in 2013-14 to record points against Tampa Bay last season. Now, while the Leafs didn't really alter their top six, they did revamp the bottom half of their lineup which should help them against the Lightning.
Strengthening the Lineup
One of the Leafs biggest problems over the past couple of seasons – aside from their defensive play – has been their lack of depth throughout the lineup. This offseason, they've attacked that downfall with low-risk fillers. The Leafs signed David Booth, Daniel Winnik, and Mike Santorelli – all to one-year contracts and all worth less than $1.5-million.
Winnik is likely a replacement for Jay McClement on the penalty kill – a strength of the Leafs against Tampa Bay in 2013-14. The 29-year-old Winnik joins the Leafs after posting a career high in points (30) with Anaheim last season. He offers Toronto a good penalty killing option with more offensive ability than what they previously had with McClement.
The Leafs also upgraded their bottom six significantly. While they did lose Nikolai Kulemin, along with McClement and Mason Raymond, they added low-risk contracts with Booth and Santorelli.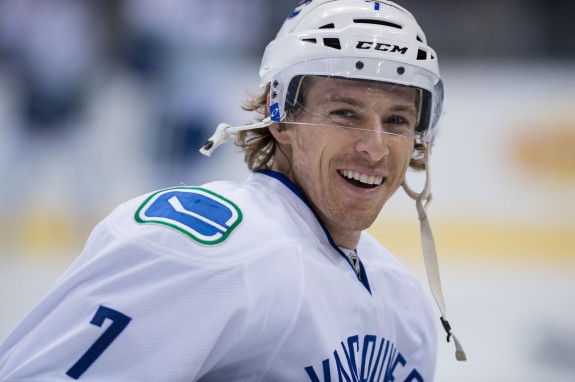 With both Booth and Santorelli coming of injuries last season, they will slide into the Leafs bottom six with far less expectation than what they had in Vancouver. And if the injury bug finds these two again, the Leafs will be able to promote some of their prospects – giving them the opportunity to gain some NHL experience.
Losing That Winning Experience
As mentioned, the Leafs will be without the services of Kulemin and McClement in 2014-15. But likely their biggest loss, Dave Bolland will fly south for the winter and play for the Panthers in Florida.
Bolland might not seem like a massive loss – having missed much of his only season in Toronto. But he is. Bolland changed the lineup when he was in it. He was a winner – had won multiple championships in his junior and NHL careers. His effort and devotion to winning was even more obvious when he came back from his achilles injury and played his heart out for the blue and white. But in 2014-15, the Leafs will have to find another way to fuel that winning attitude.
Tampa Bay Lightning
Stammer's Supporting Cast
With St. Louis gone, Tampa Bay is now in the hands of Steven Stamkos. Coming off a disappointing season in which he suffered a devastating leg injury, Stamkos will be the catalyst once again for the Lightning.
After Stamkos, Yzerman will look to 2013-14 Calder trophy candidates Tyler Johnson and Ondrej Palat to play supporting roles. Both players had breakout years with the Lightning in 2013-14.
Johnson recorded 50 points (24g-26a) playing in all 82 games, while Palat put up 59 points (23g-36a) in 81 games and posted a plus-32 rating. Following their success, Yzerman signed the pair to identical three-year deals worth just over $3.3-million per year.
The Lightning will also look to Ryan Callahan and newly added Brian Boyle to play some role in supporting their young forwards. They'll represent a veteran presence – alongside Brendan Morrow – on a very young, but talented franchise.
Brian Boyle passed up more money from the #leafs to sign with #TBLighning in free agency, per @TBTimes_JSmith: http://t.co/PinSmim58f

— Chris Johnston (@reporterchris) July 8, 2014
Stacked Up on 'D'
On defence, Victor Hedman is coming off a career year where he put up 55 points (13g-42a) in just 75 games. Hedman's previous high, in terms of points, was 26 in 2010-11.
The team also added Jason Garrison and Anton Stralman to an already impressive defensive core that includes Matt Carle and Radko Gudas. Stralman and Garrison will add even more experience to a veteran blue line who ranked sixth in goals against last season (215).
So can the Leafs weather this Lightning storm, or is Stamkos' team a sleeper in the Atlantic Division?
Weathering the Storm: Leafs-Lightning in 2014-15
While the Lightning enjoyed a playoff birth in 2013-14, that success came to an end quickly when they were swept in the first round by the Montreal Canadiens. But when it came to the Leafs – and the regular season – there was no clear winner in this head-to-head matchup.
This season, might bring different fortunes for the Maple Leafs. While they were able to somewhat weather the storm, the Leafs will have to change their approach if they are going to take their season series in 2014-15.
With questions surrounding the Leafs' defence and coaching system, along with the Lightning's much improved lineup, this series is currently in the hands of Tampa Bay. But don't count the Leafs out. With the additions of Booth and Santorelli, the Leafs could be far deeper than they were last season offensively.
Head-to-head, it won't be as feisty as a Leafs-Habs or Leafs-Bruins game, but look for this rivalry to grow with young players building a new era of Leafs-Lightning match-ups. While Paul Ranger won't be around to avenge the controversial hit from Alex Killorn, other Leafs like Leo Komarov could be just what Toronto needs to get under the skin of Tampa's overload of talent.
Other Atlantic Division Rivals
Atlantic Division Rivals: Part I (Boston Bruins)
Atlantic Division Rivals: Part III (Montreal Canadiens)
For more, follow Andrew on Twitter @AndrewGForbes or his Tape2Tape column @Tape2TapeTHW.