During his two seasons at the University of North Dakota, sophomore forward Austin Poganski (St. Louis Blues) has made an impact with the Fighting Hawks. The 6-foot-2 forward from St. Cloud, Minnesota is fifth on the team in points and has already surpassed last season's point total with four-eight games remaining in the season.
Since January 1, 2016, Poganski's offensive output has improved and he's second on the team in scoring with (3g-9a—12pts).  That's also good for 14th overall in the National Collegiate Hockey Conference.
On the ice, Poganski is a 200-foot player that plays the game the right way. Poganski takes no short cuts on or off the ice. Poganski does everything at a high rate of speed.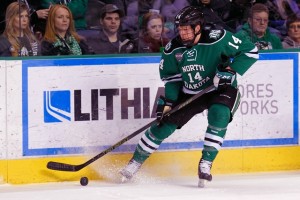 "First of all, he's a complete person," UND head coach Brad Berry said. "He's not only a good hockey player but he's a great person and he does the right things on and off the ice.  Part of that is in the classroom, too.  You see him here in the morning all of the time studying, being around the rink."
Berry continued, "And then when you talk about the hockey player. He's a guy that does great things all of the time. As far as baseline game, he's a north-south player. He's a guy that protects pucks well. He generates offense because he's a good skater.  He's a big body.  He's tough to defend. It's nice to see the offense side come from him now late in the year.  We'll need him down the stretch playing consistent hockey the way he's been doing it."
Poganski is an impact player that plays top-six minutes. Berry was asked if Poganski is the type of player you want on the ice when the game is on the line.
"Yeah, absolutely, we want him to be one of the top six forwards out there when you're pressing and trying to score," coach Berry said. "The bigger thing for us, we want to score goals, but not give anything up.  Again, he's one guy that you can count on. He's built trust within our group."
The Penalty Shot
On February 12, 2016, the Fighting Hawks and Minnesota-Duluth Bulldogs were tied 1-1 in overtime of an important conference match-up. Poganski stood at center ice with a chance to win the game with a penalty shot.
"Two minutes left in overtime," Poganski said. "The puck was shot out to their defenseman. He kind of mishandled it. I was able to poke it by him and get a step on him. It was a two-on-one, Joel (Janatuinen) and I. I had a step on the guy (Carson Soucy). He (Soucy) dove and took me down there. So, then I got the penalty. He (NCHC on-ice official Todd Anderson) gave the hands up in the air to signal a penalty shot.
"The crowd went crazy and I guess I didn't really know what to think. Their coach (Scott Sandelin) talked to the ref for a few minutes – kind of like icing the cake.  I was just standing there and the fans were going crazy. It was kind of hard to think about I was going to do. Then the shootout happened. I was able to get a move on. I was able to score. It's kind of what you live for.  It was kind of surreal."
In what could've been a scene taken straight out of the movie Youngbloods, I asked Poganski if his mind went blank as he took the penalty shot.
"No, it was really exciting but I wouldn't say that I drew a blank," Poganski said.  "Obviously, a little nerve-racking – a little exciting. It was a lot of fun.
It's that moment hockey players live to be in. It's the end of the game. The crowd is amped and going nuts. The outcome of the game is literally on Poganski's stick. How loud was it?
"The ref had to come over and tell me, wait until I blow the whistle," Poganski said.  "I had to tell the ref that I couldn't hear him. He was literally a few feet away from me. Then as I scored, I have never heard the Ralph that loud before."
"Me personally, that was probably one of my top memories.  Also, last year when we clinched the Penrose Cup for the conference championship that was pretty cool, too.  The crowd was really into that. That was pretty cool."
Poganski is from St. Cloud, Minnesota and the UND coaching staff recruited him out of St. Cloud State's back yard. Poganski had a chance to play with the hometown Huskies but picked UND instead.
"I am actually from St. Cloud," Poganski said. "I grew up there. I had season tickets for many years. It was one of the first teams that I talked to. I obviously toured there. As a kid, I wanted to play there. Then I played for the Junior Sioux when I was 10 years old. Ever since then I fell in love with this program and the tradition here.  It was a pretty easy choice from there."
There are a lot of bells and whistles when it comes to enticing recruits to commit to the UND hockey team. First, the program's storied history. Second, the coaching staff is a big seller. The facilities at UND are second to none. Some of UND's recruits upon seeing the Ralph have committed on the spot. Some have stood at center ice and committed.
"It was a combination of a lot of things," Poganski said. "The coaching here is top to none. Obviously, my goal is to play at the next level. I felt that the strength of the team – the tradition – the coaching staff and the facility was an asterisk that would help my end goal to play in the NHL. It wasn't a hard decision after visiting here."
Poganski is a selfless player that will play and strive in any role that's assigned to him. He also loves kill penalties.
"Everyone gets different roles," Poganski said. "The penalty kill, for me, I really enjoy it. You kind of sacrificing your body. Getting to block shots, I kind of enjoy it. It's a challenge."
If you spend any amount of time around the UND hockey team. You don't hear a lot of I, I, I or me, me, me.
"Our team is so strong," Poganski said. "It's so deep, that some guys are out of the lineup once in a while, but you wouldn't know by talking to them. It's a team effort. That's what you need. That's what championships are made of."