The Colorado Avalanche are one of the most exciting NHL teams to watch right now, and fans will get a look at some of their future talent before the 2020-21 NHL season gets underway.
The holiday season is upon us, which means that, more importantly, the 2021 World Juniors are right around the corner. This year, it looks like the Avalanche will only have one returning player in Bowen Byram. Among the other players representing the Avalanche at the World Juniors last year were goaltender Justus Annunen (Finland), forward Sampo Ranta (Finland), and defenseman Daniil Zhuravylov (Russia). The latter three are all too old to return to the tournament this year.
With that said, there are three other prospects, plus Byram, who will look to crack their respective country's roster. Let's take a look at those four and if they can make an impact for their teams.
Bowen Byram – Canada
Byram is the only Avs' prospect who will be returning this year. And I expect him to not only return but to step into a much bigger role and be one of Canada's most trusted defensemen. I see Byram filling the same role Calen Addison had last year, or the one Cale Makar had in 2018, or the one Thomas Chabot had in 2017. You get the point.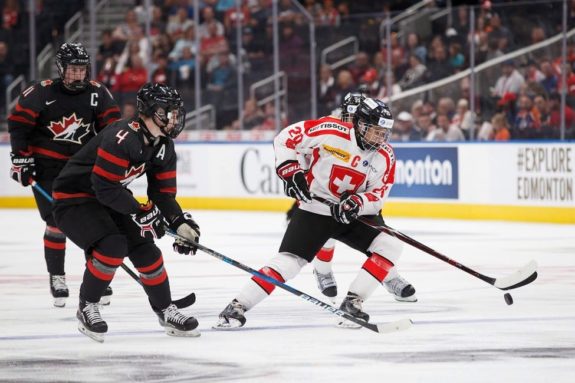 Byram's offensive production may have been quiet last year, finishing the tournament with two assists in seven games, but he averaged the most ice time per game of all his teammates, with just over 20 minutes per game. Canada primarily used him on the second power play unit, with Addison handling the bulk of power play time among defensemen. With Addison's departure from the team this year, Byram could be a top candidate to take over that role on the top power play unit. Canada also used him on their top penalty-killing unit along with Jacob Bernard-Docker, so expect him to slide into that role once again this year.
The beauty of this year's World Juniors is that it's happening before the start of the NHL season rather than during it. This means that teams with high-end prospects won't have to make that difficult decision on whether or not to loan them to the World Juniors at the expense of weakening the team. This applies to Byram as well. I personally think that the 2019 fourth overall pick has a legitimate chance to crack the Avs' opening night roster.
Granted, under normal circumstances, I don't think he would be crucial enough to the Avs for them to reject loaning him to Canada, but now they don't even have to make that decision. And a good tournament for Byram could play a part in helping him make the Avs' roster whenever the NHL season gets underway.
Alex Newhook – Canada
Canada released Newhook in the final round of cuts prior to the 2020 tournament, but this year he has a chance to be one of Canada's key offensive contributors. NCAA hockey won't get underway until Friday, but the 16th overall pick in 2019 led Boston College in scoring during the 2019-20 season, with 42 points in 37 games, and took home NCAA Rookie of the Year honours. (from 'Avalanche prospect Alex Newhook splitting time between Team Canada, Boston College,' Denver Post, 11/15/2020) He was one of their top power play contributors but wasn't used too much on the penalty kill. This is standard for a player like Newhook and will likely speak volumes about how Canada plans to use him this year.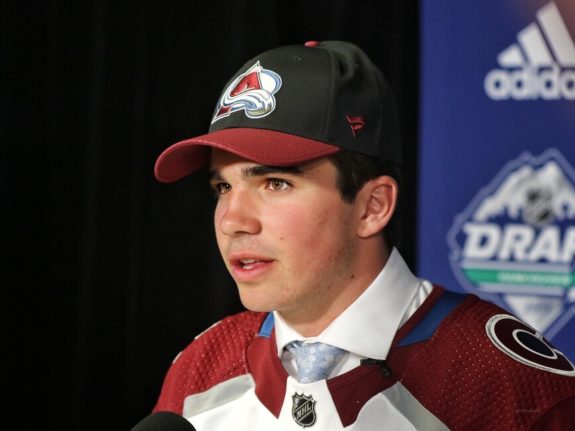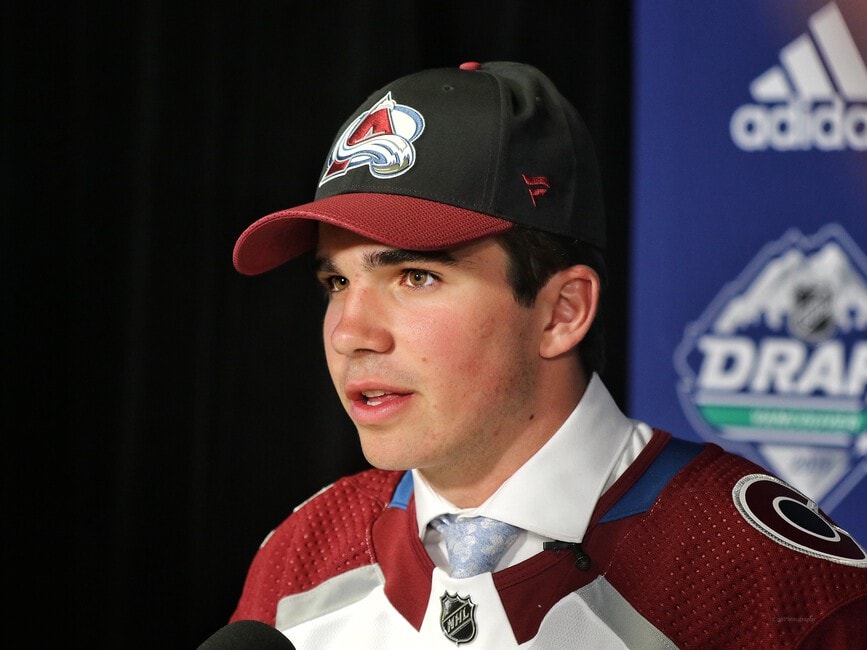 It's no secret that Team Canada is going to be deep this year. With the Chicago Blackhawks announcing recently that they would be loaning Kirby Dach to Team Canada for the World Juniors, that gives them a one-two punch of what will likely be Dach and 2020 second overall pick Quinton Byfield up the middle. I see Newhook slotting in seamlessly into the third-line centre role, and with the fact that he's already used to playing against grown men, he should make an instant impact for the team.
Justin Barron – Canada
Barron is an interesting candidate for Team Canada. He certainly isn't a shoo-in to make the team, but he's one of those players who could not only make the team but make a notable impact if he has a good selection camp. The 26th overall pick in 2020 came with some risk as a draft pick because he missed significant time due to a blood clot. But when he's healthy, he's been a force.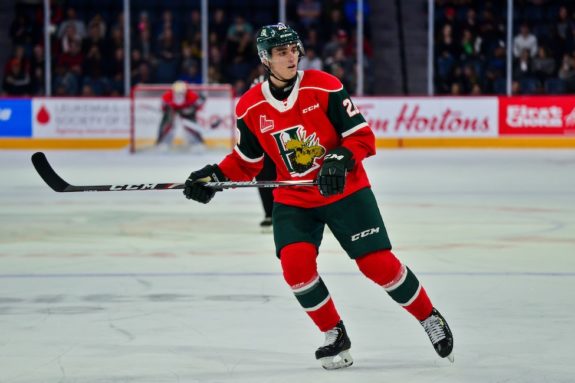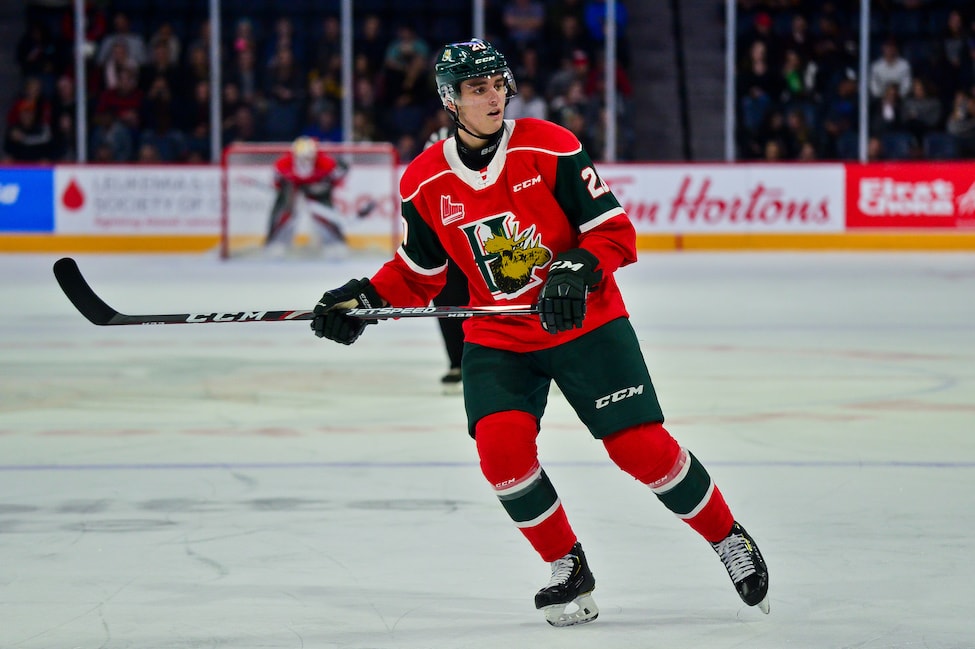 The Halifax Mooseheads love Barron, and for good reason. He missed the first few games of the season but has since put up seven points in eight games. He averages 26:51 of ice time, which leads his team and is nearly four minutes more than the next-highest player. They use him as their top power play quarterback, and he's also one of their top penalty killers with teammate Michael Sack.
If Canada opts to go with a traditional defensive core of three left-handers and three right-handers, then Barron will likely battle for the third pairing spot with Los Angeles Kings' prospect Jordan Spence. This is assuming that Jamie Drysdale and Braden Schneider will occupy the top two spots. As I said, it will all come down to selection camp performances, and I think Barron will have an edge since he's actually been able to play this season, unlike some of his OHL or WHL counterparts.
Drew Helleson – USA
Helleson is a little bit different than some of the other prospects I've talked about. While Byram and Newhook are more or less guarantees to make their team, Helleson is more of a fringe option for the United States at this point. (from 'Chambers: Hockey returns Dec. 25 and four Avalanche prospects could play big roles,' Denver Post, 11/14/2020) He's teammates with Alex Newhook at Boston College and finished last season with six points over 28 games.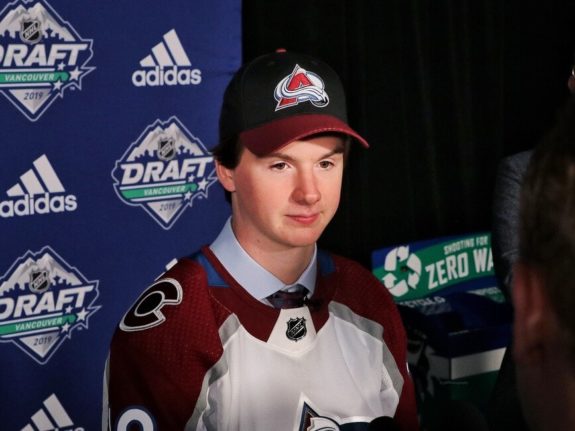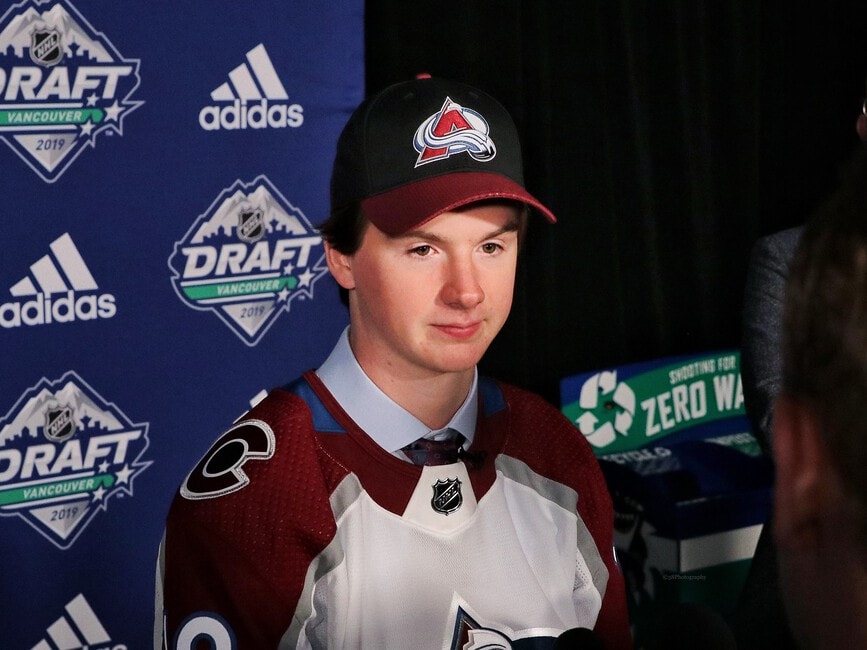 Helleson's best case to make the team is his penalty-killing ability. He was used on Boston College's second penalty kill unit and averaged seven takeaways a game. He also won 59% of the puck battles he was in, which is good for third on his team last year.
The highlights of Team USA's defensive core will likely be Philadelphia Flyers' prospect Cam York and 2020 fifth overall pick Jake Sanderson. If they want a natural right-handed defenseman to use in limited minutes and penalty-killing situations, I could see Helleson making the team. He's sort of like Barron in the sense that an impressive selection camp could be his saving grace.
If you didn't notice the obvious trend over the four prospects, it doesn't look like the Avalanche will have any European ones representing them this year. But with the potential for three players to not only make Team Canada but to make a legitimate impact for the team, they will certainly be the country to watch for Avs fans.
All stats provided by InStat Hockey
---
---