For the Stanley Cup-winning Colorado Avalanche, the cruelty of the NHL's salary cap is set to be on full display during the 2022 offseason. Almost immediately after the final horn sounded signaling the end of the 2021-22 season, eyes turned to how the Avalanche could manage their impending contract conundrums. It's unfair that the players' champagne-soaked clothes are still drying off while a flat cap ecosystem eagerly awaits its next victim. From playoff heroes looking for substantial raises in salary to addressing potential holes in critical spots in the lineup, navigating the 2022 offseason (and beyond) resembles a highwire tightrope act for general manager Joe Sakic and his staff. Let's dig in.
Prepare for MacKinnon's Massive Contract Extension
No discussions around the Avalanche offseason can take place without first discussing Nathan MacKinnon's contract renewal. Although he remains under contract through the end of the 2022-23 season, the superstar center becomes eligible for a contract extension as soon as July 13th, the opening of NHL free agency. The timing of his contract — signed after three solid but unspectacular seasons — allowed the Avalanche to lock him in at an enormous discount, only costing $6.3 million against the cap through to his age-27 season. The additional space gave the organization the leeway to add more impact contributors than would otherwise be possible if MacKinnon was tied to a more appropriate deal.
Now, it was considered fair value at the time, and it's only after erupting during the 2017-18 season that he began to deliver immense surplus value on his agreement. His career arc eerily resembles that of NBA superstar Stephen Curry, whose early-career injury problems meant that the Golden State Warriors signed him to an extraordinarily team-friendly deal just before he ascended to the league's elite. That discount permitted them to eventually add another superstar in Kevin Durant through free agency, directly leading to two consecutive NBA titles in 2017 and 2018.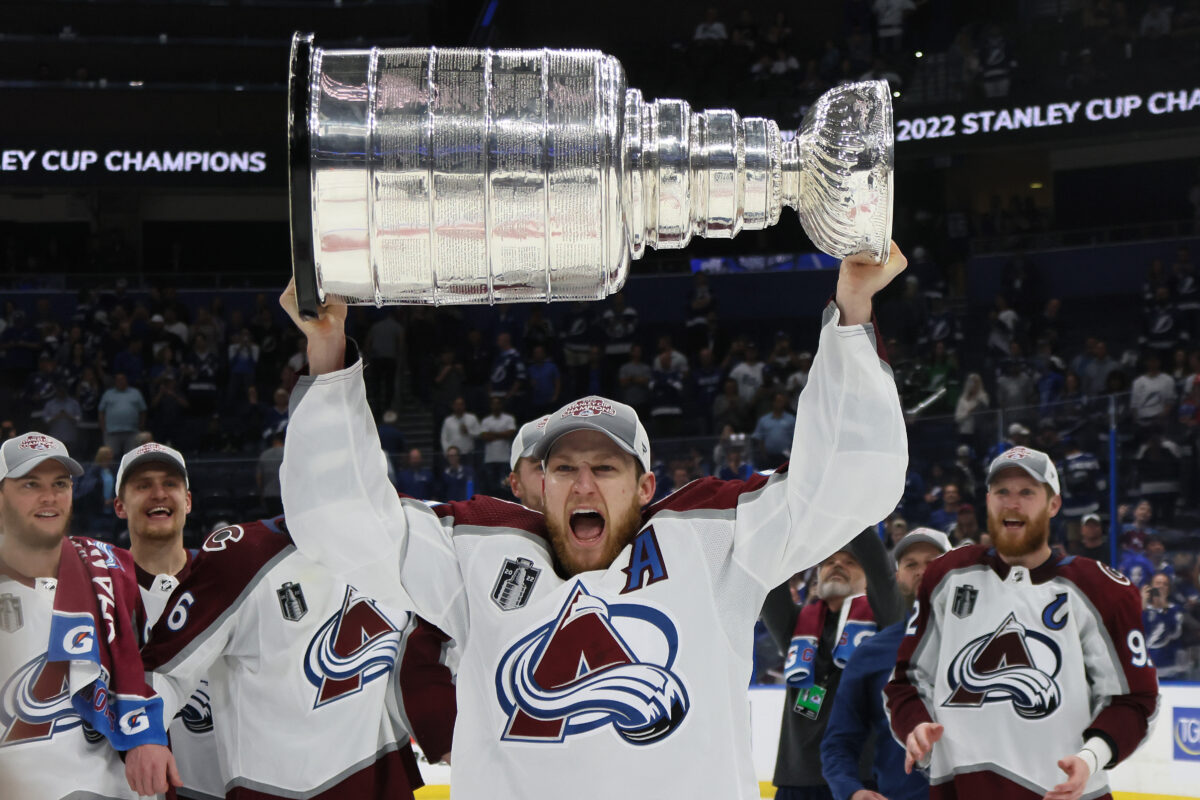 Before the start of the 2021-22 season, I took a stab at predicting the terms of MacKinnon's extension based on historical precedent and positional comparisons. Even after another 90-point regular season and adding a Stanley Cup to his résumé, I don't think my projection strays too far from reality. Given that veteran defenseman Erik Johnson and his sizeable $6 million cap hit come off the books in the 2023 offseason, that money could be directly allocated to MacKinnon's extension.
The invisible ceiling established by Connor McDavid's $12.5 million per year pact could depress the annual average value (AAV) on MacKinnon's next deal, likely ensuring the Avalanche star commits to something resembling fair value for both sides. Still, he ranks sixth in regular-season scoring and third in playoff scoring over the past three seasons, meaning he has the right to demand a monstrous payout.
The wild card in any negotiations is the fact that back in 2019, MacKinnon suggested he might be open to taking less on his next deal to ensure the Avalanche could remain competitive in the near future. With little on the line at the time, dropping such a quote only served to bolster his reputation around the league. Now that the time has come to pen an extension, it will become readily apparent if MacKinnon intends to stand by his word. With the NHL's stagnant salary cap putting cap space at a premium, it could mean the difference between letting other players walk to free agency or keeping a championship-calibre core intact and extending their Stanley Cup window.
Re-Sign Nichushkin to a Contract Extension
It's arguable that no player increased their market value over the past 12 months than two-way winger Valeri Nichushkin, conveniently in need of a new contract ahead of the 2022-23 campaign. He followed up a breakout regular season (52 points in 62 games) with a dominant postseason performance, tallying 15 points in 20 games while functioning as a forechecking demon within the Avalanche's star-studded top-six forward group.
According to Corey Sznajder's tracking data, the Russian forward is a menace in attack, generating a ton of chances off of the rush while winning a majority of puck battles in the corners that lead to opportunities off of the cycle. After being handcuffed in the Dallas Stars' system, Nichushkin's best attributes were supercharged in the Avalanche's high-octane setup.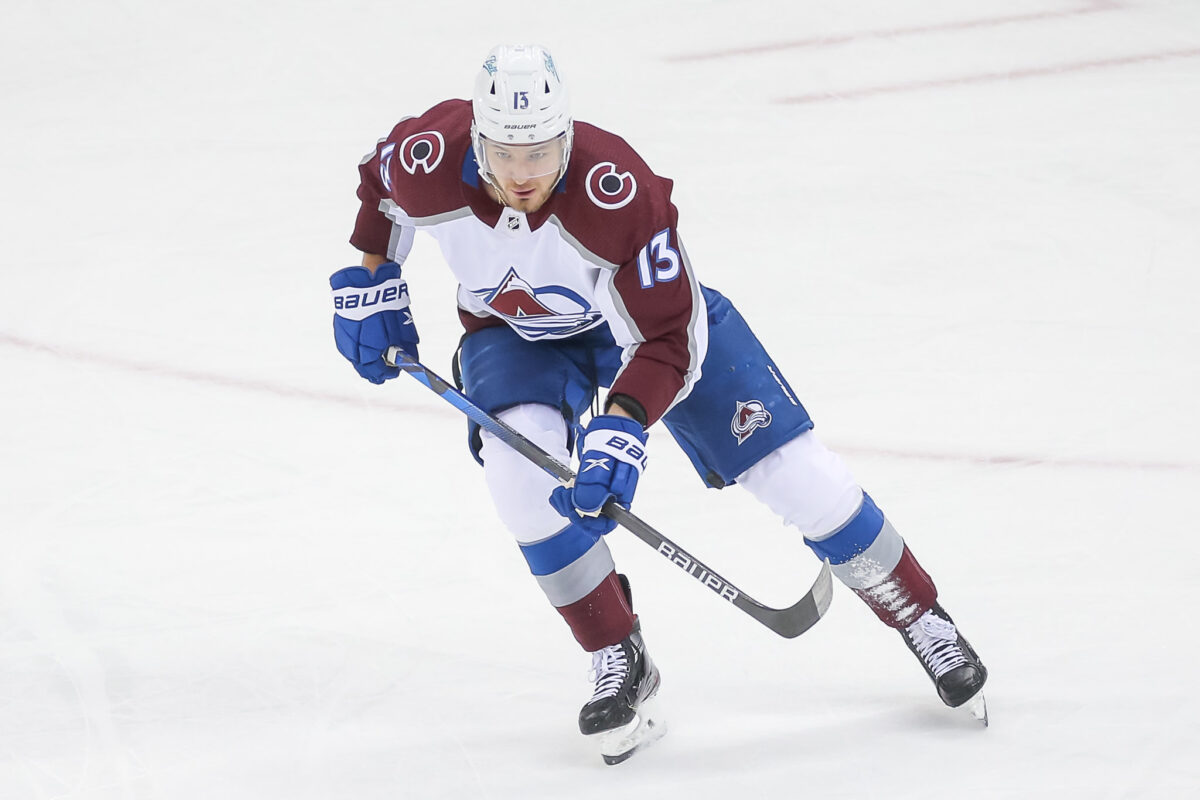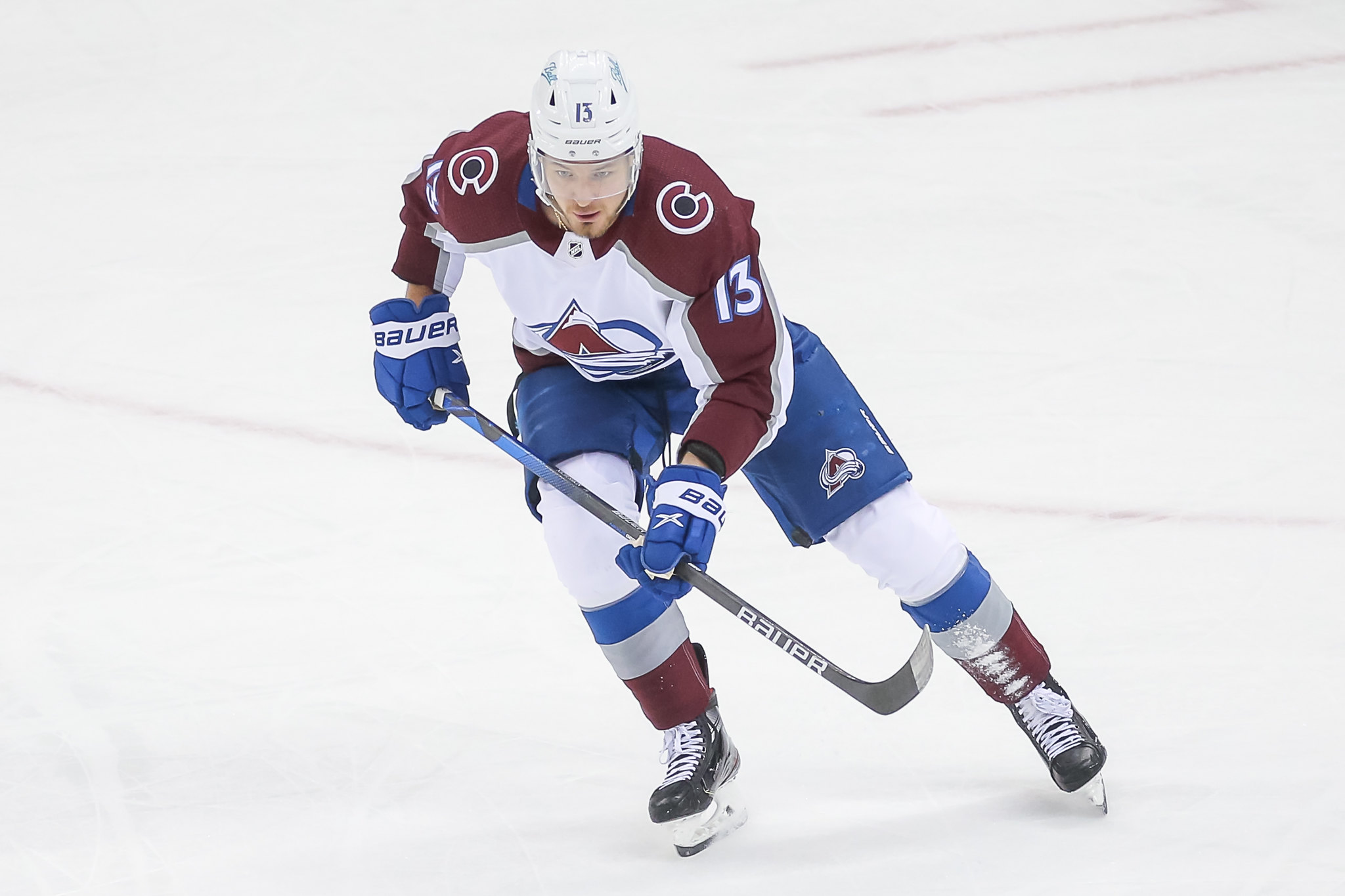 Beyond his offensive talents, Nichushkin is a reliable penalty-killer, averaging the fourth-highest rate of shorthanded ice-time among Avalanche forwards during the regular season and third-highest in the postseason. On top of that, Nichushkin was head coach Jared Bednar's second-most utilized forward at even-strength during the playoffs, demonstrating the staff's faith in him and the utility he provides in all situations.
Understandably, Nichushkin's breakout season should earn him a healthy raise on the $2.5 million he was owed over the past two seasons, meaning the Avalanche would have to dip into their $25 million budget to retain him. According to contract projections supplied by Evolving Hockey, the 27-year-old most likely commands a deal of five or six years worth around $6 million per season. It's a steep price to be sure, but such a contract only takes him to age 32 or 33, and it's apparent that he thrives within Colorado's system. The Avalanche should be wary of falling into the same trap as previous Cup winners, but this deal looks to be a no-brainer based on Nichushkin's age and sterling analytical profile.
Figure Out the Goaltending: Does Kuemper Return?
After allowing 2021 Vezina Trophy finalist Philipp Grubauer to depart sail for the Seattle Kraken, the organization swung a deal with the Arizona Coyotes to bring in his replacement in the now 32-year-old Darcy Kuemper. The thought was that the veteran goaltender could thrive under an easier workload and backstop a potential title contender as a result. He performed at a Vezina Trophy level during the regular season, finishing fifth in both save percentage (SV%) and goals saved above expected (GSAx) among goalies to have played in at least 10 games. For all intents and purposes, he delivered on his side of the bargain.
You may also like:
Still, the Avalanche showed that impenetrable goaltending is not a prerequisite for a championship, winning despite Kuemper's maddening inconsistency throughout their dominant Stanley Cup run. He looked visibly uncomfortable on several occasions after an eye injury sidelined him during the first round, with backup Pavel Francouz temporarily moonlighting as the team's starting goaltender. Kuemper concluded the postseason with a .902 SV% (15th among goalies with at least two games played) and a minus-7.36 GSAx (last).
Kuemper's age and spotty injury history mean committing to him long-term is a gamble underlined by uncertainty, and a fruitful, if somewhat uninspiring goalie market could see him be shown the door. Still, the Avalanche could decide a very short-term deal of one or two years is palatable given their familiarity, but their on-ice dominance gives them the freedom not afforded to many organizations when it comes to deciding upon their goaltending arrangements. Francouz is under contract for an affordable $2 million AAV through 2023-24, giving the Avalanche a solid foundation for a netminding tandem. Better the devil you know, right?
Replace Kadri in the Second-Line Center Spot
Among the many trades that were instrumental in delivering a third Stanley Cup to Denver, none were as impactful as the one bringing Nazem Kadri to the Avalanche in the summer of 2019. Shipped out by the Toronto Maple Leafs for his costly playoff suspensions, the perennially polarizing center represented a dependable two-way option behind MacKinnon on the depth chart. A third consecutive postseason suspension in 2021 ensured the jury was still out on the deal, but the 31-year-old forward changed the conversation with an unexpected offensive eruption this past season.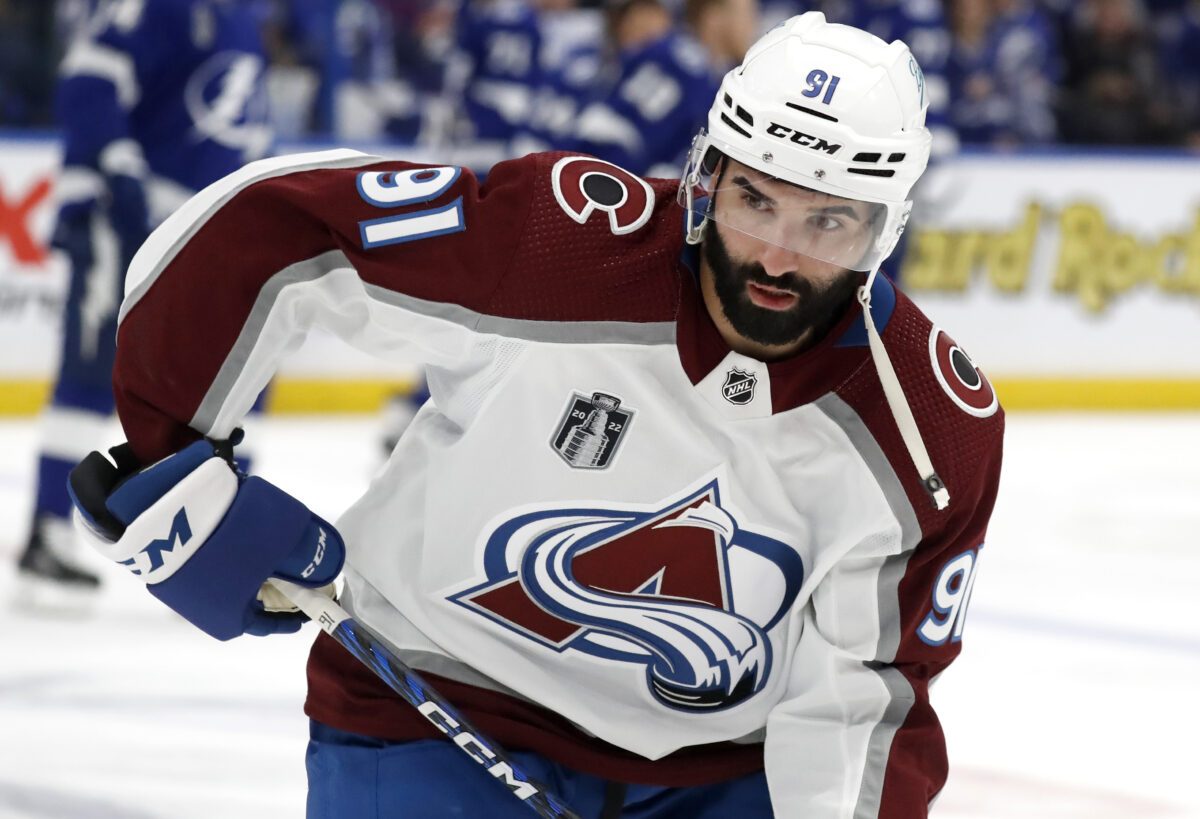 Kadri established career-highs in assists (59) and points (87) and was chosen to play in the 2022 NHL All-Star Game for his efforts. His play helped the Avalanche weather a number of injuries and illnesses at the beginning of the season in particular, and he hovered around the NHL's scoring leaderboard for the first half of the campaign. Although his postseason was interrupted by a thumb injury, he still produced 15 points in 16 games and scored a memorable Stanley Cup Final overtime-winner in his return. Once defined by his poor reputation, Kadri proved his doubters wrong in 2021-22.
As with Kuemper, the trade with the Maple Leafs was a worthwhile gamble that paid enormous dividends, but an unforgiving aging curve and lucrative free-agent market suggest it's wise for the Avalanche to move on from Kadri. The presence of blossoming forward Alex Newhook means the franchise has a more affordable albeit much less impactful replacement waiting in the wings. Even if the organization sees the 21-year-old as more of a winger at the NHL level, they could allocate most of Kadri's $4.5 million AAV to a younger center in free agency or through trade. Such emotional departures are a cruel reality of a salary cap world, but smart teams know when it's time to move forward.
Also, could Samuel Girard be dangled in front of NHL executives in exchange for a top-six pivot? It's worth asking the question, given the emergence of a certain blueliner who happens to be the focal point of the final priority on this list.
Lay Groundwork For Byram's Contract Extension
Like MacKinnon, burgeoning star Bowen Byram is eligible for an extension once the 2022 free agency window opens in mid-July. Unlike the discussion surrounding the superstar center's next contract, navigating Byram's upcoming deal is slightly more complicated due to the concussion issues that have defined the early parts of his young career.
After posting 17 points in 30 regular-season games in an injury-filled campaign, Byram took an immense leap forward during the Avalanche's Stanley Cup run, especially after Girard was knocked out for the entirety of the playoffs. He finished third among the team's defensemen in average ice-time (19:22) and played over 23 minutes a night in the Cup Final, fifth among all blueliners in the championship series. He also finished fourth among postseason defenders in individual expected goals (ixG), unluckily failing to pot a single goal but coming excruciatingly close on several occasions.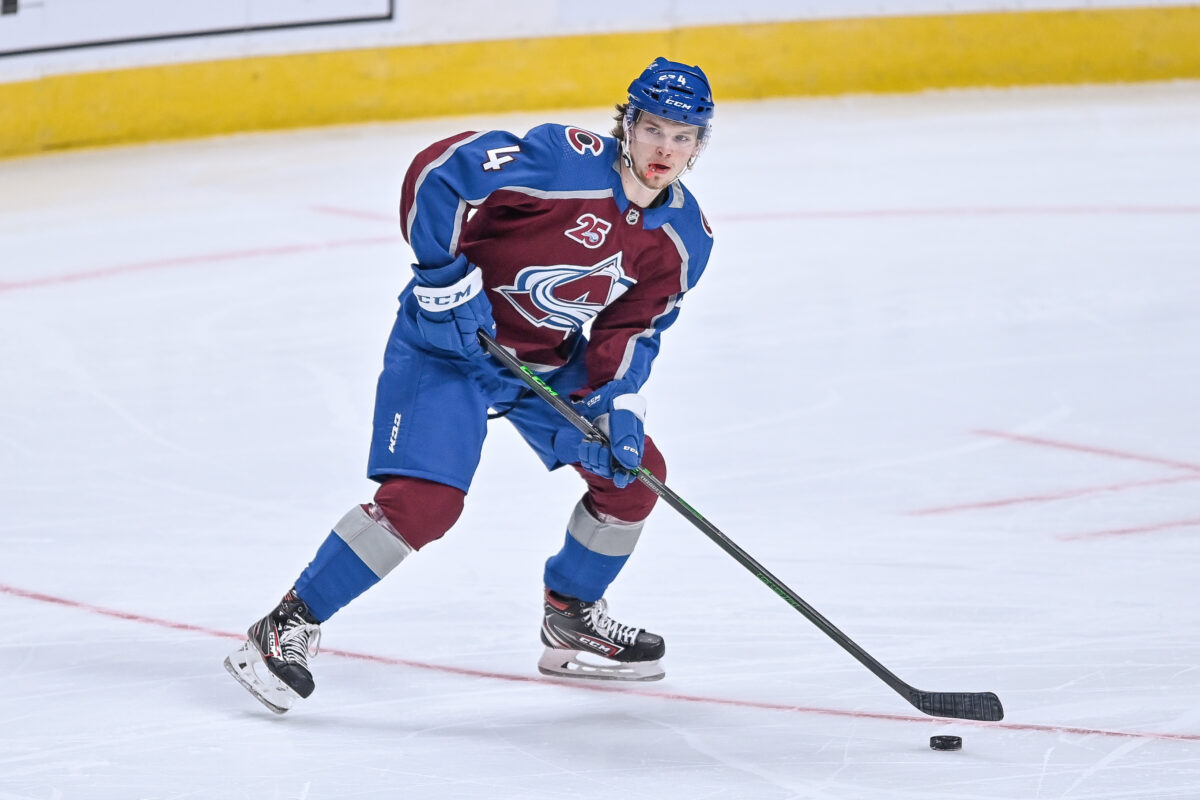 Byram repeatedly flashed his transition abilities, ranking fifth at his position in defensive zone puck retrievals leading to zone exits and third on the Avalanche in zone entries and entries leading to scoring chances (all per 60 minutes at 5-on-5). Given that the Avalanche place a heavy emphasis on their defensemen jumping up into the attack, the 21-year-old executed their gameplan to perfection, noticeably growing in confidence as the playoffs progressed.
With more rope on the offensive side of the puck, Byram could easily enjoy a breakout campaign in 2022-23, bolstered by a formidable playoff debut made all the more impressive by producing in Girard's absence. An early extension could help the Avalanche avoid a more expensive commitment and gives the promising rearguard financial certainty that nearly became unattainable due to crushing health concerns. For Byram and his entourage, the trade-off of a more lucrative contract with welcome stability must be considered, and the Avalanche would be wise to capitalize on that reality.
Avalanche In Strong Position To Repeat As Stanley Cup Champion
As has always been the case in the salary cap era, uncomfortable roster decisions must be made every summer with an eye toward the future. The finite supply of cap space requires that teams operate with care and consideration, often leading to the departures of beloved figures and key contributors on and off the ice. The Avalanche cannot avoid those painful discussions, but clever maneuvering can guarantee they enter next season as Stanley Cup favourites. Back to back, anyone?
Data courtesy of AllThreeZones, Evolving Hockey, Hockey Reference, and Natural Stat Trick.
---
---
---
Latest News & Highlights
---