For those needing an injection of quick energy after being in the summer season, look no further than the prospect depth unveiled in the Colorado Avalanche's summer development camp.
Avalanche Camp Showcased Deep Prospect Pool
Despite the sweltering Colorado weather, the Avalanche brought their own kind of heat to the hockey rink with both new and old talent competing throughout their training. While the rink sent a chill through one's bones, the on-ice activities raised expectations of the smattering of fans moving between the two practice rinks to watch all the players.
The Avalanche hosted 29 players at this year's development camp, 10 of whom were invitees with the rest being draft prospects or signed players already in Colorado's system. Three years of draft classes represented themselves well, including six college players and five players already under contract. Six of Colorado's eight 2018 draft picks attended camp.
Puck battles.#GoAvsGo pic.twitter.com/sfnkL1bGCn

— Colorado Avalanche (@Avalanche) July 1, 2018
The prospects reported on Thursday, June 29, for physicals with open ice sessions on Friday and Saturday at the Avalanche practice facility and a 3-on-3 scrimmage on Sunday in Ft. Collins, near the home of their new AHL affiliate the Colorado Eagles. Summer camp generally consists of a lot of drills, skating refinement, and team building, so it's hard to translate how those skills will develop and evolve into NHL success. However, Avalanche fans have a lot to be excited about as the prospect camp showcased a quality and depth missing from previous years.
Keep in mind, all observations are based solely on the players' performance at camp and may not equate to the second coming of Wayne Gretzky. That being said, there was a lot to like.
Forwards From 2018 Draft Class Stirred Interest
If the summer camp roster is any indication, the Avalanche won't have to worry about forward depth for very long.  Eighteen players vied to impress the coaching staff, including first round 2018 pick Martin Kaut.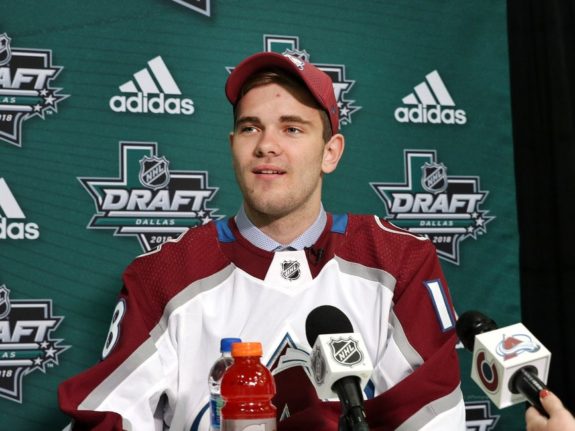 While Kaut missed the first session of camp, he improved with each successive session. Anxious to participate, he watched from the sidelines even when he couldn't skate in the first session and played with the puck along the boards from the box. He played a surprisingly physical and aggressive game, checking guys into boards and putting pressure on the net. He's likely to start the season with the Colorado Eagles in the AHL.
For those who missed it, Kaut underwent a procedure to address a heart issue discovered in the physicals prior to the draft. It's amazing he was able to participate as rigorously as he did in camp. But heart isn't Kaut's problem. Besides being a talented hockey player, he also seemed a generally nice guy, and all heart. He should be an asset in the locker room.
The other forwards selected in the 2018 draft each had their quality moments as well. Third-round pick Sampo Ranta looked to be on a mission, playing with intensity in every drill, aggressive on every shift and with a focus on shooting the puck. Fourth-rounder Tyler Weiss appeared to be a smooth skater with good edge work who is good at defending the puck. Brandon Saigeon, the fifth-round selection and Nikolai Kovalenko, a sixth-round selection, each had their strengths. Saigeon fought hard for pucks while Kovalenko played bigger than his size. Both players could be sleeper picks for how late they were selected in the draft.
Returning Forwards Showed Growth
As for previous forward draft picks, there were some standouts.
Shane Bowers, the Ottawa Senators' 2017 first-round selection acquired in the Matt Duchene trade, made everything look easy. He was a smooth, effortless skater with a clean shot who positioned himself well. He also proved solid at maintaining puck possession despite getting constantly checked, positioning himself well to guard the puck regardless of pressure. While he will be returning to Boston University for his sophomore year, he has expressed a desire to join the club after his college season ends.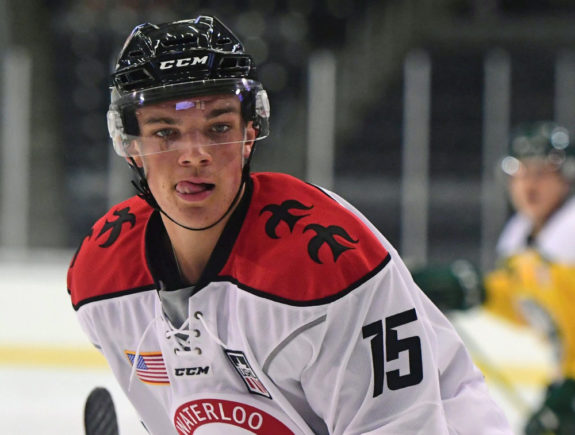 Cam Morrison generated good speed in the skating drills but used a lot of extra back and forth motion to get momentum. He shot with power while he could work on accuracy. He played a solid two-way game, though, that indicates he might be better in real game situations. He will be returning to play at Notre Dame this coming year.
Both Bowers and Morrison appeared to develop a friendly rivalry during some of the drills, competing with each other while striving to improve. The compete level in both players could propel both athletes forward to greater things.
Nick Henry exhibited a ton of shooting ability as well as the capacity to generate forward pressure on the net, whether through passing or by throwing pucks on goal. Since he missed last year's camp with an injury, it's tough to gauge his improvement. But if he continues to develop, he could be the little engine that could.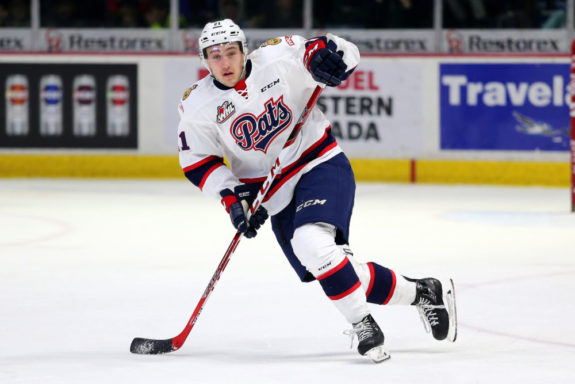 Igor Shvyrev missed the first day of practice because his equipment was getting shipped from Russia and didn't arrive in time. He appeared to be in great condition, quick on the ice and willing to challenge for position while maintaining speed. He's definitely a player to follow at training camp.
Contracted and Camp Invite Forwards Proved Value
A trio of forwards under contract proved their value over the weekend as well. Ty Lewis, who signed an entry-level contract last fall while playing for the Brandon Wheat Kings, looked to be a good puck handler at full speed with an accurate shot and effective passing ability, although his stick skills could stand refinement.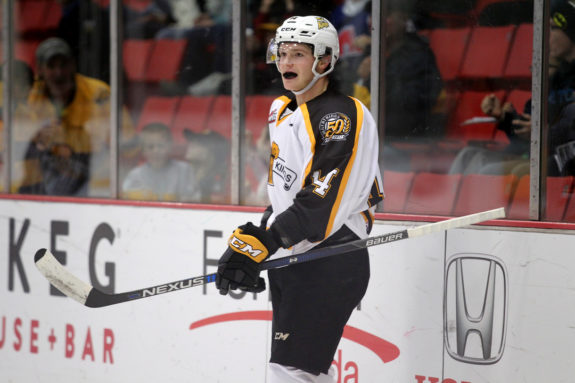 Travis Barron put on a solid all-around showing and improved as camp wore on. His experience playing for the Kelly Cup with the former ECHL Colorado Eagles showed in his upgraded performance from last year's camp. The spring contract signing, Josh Dickinson, showed flashes of skill and a nose for the net but still needs work.
Three of the invited players gained some notice. Cole Reinhardt showed grit, grinding through pressure to get shots on the net. Matthew Boucher displayed an ability to be a good complimentary piece to a couple of the more talented forwards.
But by far, the biggest standout among the invitees was Vladislav Kotkov. While he could stand to work on his skating, his skill set showed forth in pretty much every other area. He was quick, aggressive, exhibited good puck skills and a nose for the net, highly competitive and demonstrated good positional awareness. The Avalanche should seriously consider giving this kid a contract. Unfortunately, he was also invited to the San Jose Sharks development camp so waiting to sign him is a gamble.
For a team that has struggled with icing a quality third and fourth line, having a plethora of promising forwards presents a pleasant change from past years. An embarrassment of riches is a refreshing transformation.
Defensemen Revealed a Larger Gap
The Avalanche only had three defensive draft prospects at camp out of seven attendees, and they were not as evenly matched.
Cale Makar, the first-round pick from last year, proved to be the total package as he lived up to the hype. A solid skater with good offensive ability, he managed to skate rings around a number of players, stealing the puck and seeming to move the biscuit at will. While he is returning to UMass for his sophomore year, one can hope he moves to the Avalanche sooner rather than later because he shows the potential to be something special.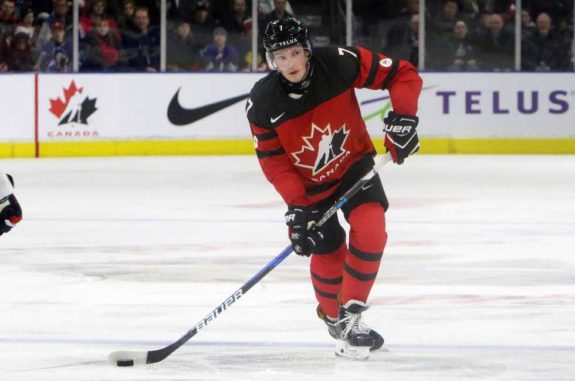 Conor Timmins, the second-round selection from last year, attended but could not participate in any of the on-ice drills. He is still recovering from a concussion he sustained in April during the OHL playoffs. And yes, that is a tad concerning considering this franchise's history with concussion recovery. It's nice to see the Avalanche guarding Timmins' recovery instead of rushing to show off his talent.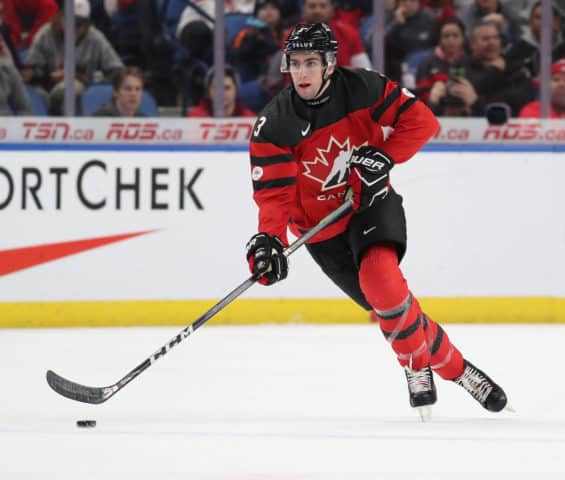 Josh Anderson, a third-round pick from 2016, signed a contract with the Avalanche this past spring. While not as flashy as Makar, he played a positionally sound defensive game while being a solid skater. He was good with the puck but not excellent. He has all the skills to be a solid stay-at-home defenseman. Two years ago he attended camp with a cracked vertebra in his back which forced him to miss a lot of the drills. His transformation from then to now is remarkable and inspiring.
The four remaining defensemen were all invites to camp. Only Tanner Ottenbreit offered any real spark, although it paled in comparison to Makar.
The Goaltenders Flashed Slick Skills
In a far cry from past seasons, all the goaltenders at summer development camp showed promise.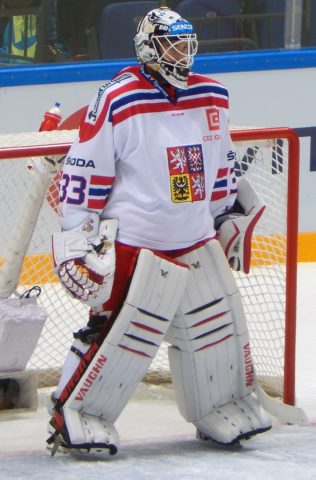 Without a doubt, Pavel Francouz, the Czech Republic goaltender who garnered attention with an outstanding performance at the World Championships, played like a man among boys. At 28 years old and recently named KHL goaltender of the year, he should stand out. Signed to a one-year entry-level contract in May, he performed like a pro. Francouz displayed calm amongst a flurry of volleys, maintained good positioning despite pressure on the net, and solid rebound control. The Colorado Eagles celebrated his performance throughout the weekend, as well they should. The Eagles should be well stocked in goal.
Fellow Czech Petr Kvaca performed well himself. He definitely improved from last year's camp and offered some flashy saves when getting hounded by shots. For a 20-year-old playing opposite Francouz for a large portion of camp, he held his own, which is a substantial leap forward. In the realm of team bonding, Francouz fist bumped Kvaca after playing opposite each other in the scoring drills.
The two giant goaltenders – Adam Werner (fifth-round draft pick in 2016) and Justus Annunen (second-round pick in 2018) – filled the net by sheer size alone. Werner stands at 6-foot-5 while Annunen reaches 6-foot-4. Werner seemed a little more polished while Annunen looked a little flustered when getting pelted during shot drills. However, Annunen seemed to fare better under more realistic game conditions and showed some good hockey sense. Annunen is also three years younger than Werner, so there's plenty of room for development.
Camp Also Worked on Building Connections
One of the goals for camp went beyond just drills and skills. They did many team bonding exercises as well. For example, during the second day of camp, there was a two-hour delay between groups in the morning session so they prospects could participate in a Lego competition. Even the workouts became opportunities for bonding as they were put through their paces working on interval training
The Avalanche finished their five-day camp spending a day with the Poudre Fire Department. The players tried on all the fire gear, learned how to aim a fire hose, 'rescued' a person and climbed stairs with all the gear on. If pictures are any indication, the firehouse provided an excellent adventure for team bonding.
Nothing like a little firefighter training to cap off Development Camp!#GoAvsGo https://t.co/O9DtnDTk08

— Colorado Avalanche (@Avalanche) July 3, 2018
David Oliver, the Avalanche's director of player development, in his post camp interview on NHL.com described the purpose of camp as trying "to create that roadmap for these guys to get to the NHL." In his eyes, that means "Ya' gotta' be a good person, ya' gotta' be an elite athlete and ya' gotta' be a great hockey player." Based on his qualifications, camp addressed all three key aspects of assessing and advancing player growth.
It has been awhile since the Avalanche showcased as many talented players at a summer development camp. While not all the players will make the NHL club, the value of having quality depth in both the AHL (Colorado Eagles) and ECHL (Utah Grizzlies) cannot be overestimated. Cultivating a successful organization that can withstand injuries, expansion drafts, and playoff runs requires maximum effort at all levels. Based on this year's glimpse into the future and the sticky sweet talent exhibited, Avalanche fans have a reason to hope for sustained success, not just a flash in the pan moment. It's been a long time coming.