Babcock Not a Miracle Man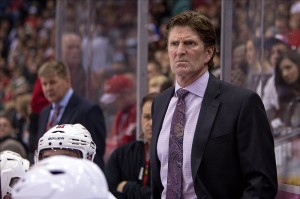 Fans of every NHL team with a head coaching vacancy want long time Detroit Red Wings head coach Mike Babcock to coach their team. In the case of the Sharks though, the most sought after free agent coach seemingly ever, wouldn't be an ideal fit. First and foremost, San Jose just this offseason decided to part ways with Babcock's former protege Todd McLellan after seven years. While they aren't the exact same guy, they share quite a bit in common. McLellan won a Stanley Cup in 2008 under Babcock as an assistant and he brought with him to San Jose a lot of coaching tactics. I mean of course he would, you take away as much as you can from a coach like Babcock.
But for as highly regarded as Babcock is, the Sharks' problems cannot be fixed by any head coach. While yours truly believes Ken Hitchcock would be an ideal fit stylistically for a Sharks team needing a refocus on defensive play, no coach is going to be a significant reason the Sharks turn things around. Darryl Sutter, Ron Wilson, and McLellan, the Sharks have had some well known coaches over the years. Coaches who have led Olympic teams and won Stanley Cups. The bottom line is the Sharks haven't had enough talented players to get the job done. While I was frequently critical of McLellan for various lineup calls, the fact of the matter is even if McLellan had made the lineup the way I preferred, the Sharks would still probably have come up short. A coach can only do what he can with the players he has provided. When your GM signs fourth line players who aren't very good, you can't scratch them all the time or the boss won't be happy. Granted neither Wilson nor McLellan seemed to like Tyler Kennedy even though he is a far superior player to Mike Brown.
Plenty of Coaches, Not Enough Players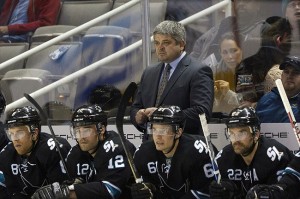 Regardless of differences of opinion on lines and defense pairs, McLellan arguably had the amount of success you would expect he would while with San Jose. The Sharks had some really good teams over his seven seasons. But never as good as Babcock and McLellan's 2008 Red Wings, nor the 2009 Cup winning Penguins, nor the 2010 Cup winning Blackhawks, nor the 2011 Bruins, 2012 Kings, etc., etc. The first year McLellan took over the Sharks, Evgeni Nabokov had a bad series and Jonas Hiller played out of his mind for Anaheim. Over the next two seasons the Sharks lost to better teams in the Conference finals. In 2012 they simply weren't very good and lost to the better team in St. Louis. In 2014 the Sharks again lost to the better team when they lost to Los Angeles. The only time in McLellan's tenure where the Sharks had a true Cup contending team with real depth was 2013. They were rolling three studly lines, three solid defense pairs and had Vezina Caliber goaltending from Antti Niemi that season. Yes the 2009 Sharks were better than the Ducks but they didn't have the depth to get through four rounds. That team wasn't winning the Cup. And the only other year where you could argue San Jose was the better team than the team that knocked them out, was 2013.
Babcock is a terrific coach, but he is not a miracle worker. He is also not coming to San Jose after the awkward drama between his good friend in McLellan and the Sharks. San Jose clearly doesn't want to pay him what he would cost anyway. It is a pipe dream for some Sharks fans to think Babcock would join the Sharks and they would be sorely disappointed by the outcome the next few years even if he did move to the Bay Area.
Andrew has been credentialed to cover the Sharks since 2010 and the 49ers since 2012. He graduated with his BA in Broadcast Electronic Communication Arts in 2013 from San Francisco State University.