Mike Babcock. By now you've read, heard, or seen that the Toronto Maple Leafs have bagged the hottest coaching commodity to come on the market in years. After ten season with the Detroit Red Wings, Babcock said, "I'm out," and is headed north of the border.
Babcock is the man. Detroit wanted him – although apparently not badly enough. The Buffalo Sabres, Edmonton Oilers, and the Leafs all coveted his coaching prowess. Rumors earlier in the week were that it was down to the Sabres and a $50 million dollar package. In the end, Babcock liked Toronto's $50 million more.
The Toronto Maple #Leafs have named Mike Babcock the 30th head coach in club history. #TMLtalk pic.twitter.com/oEAqTs0VEI

— Toronto Maple Leafs (@MapleLeafs) May 20, 2015
Babcock on paper
The highly coveted coach does have an impressive coaching resume. He's guided Team Canada to Olympic Gold, twice, as well as an IIHF World Championship. He guided the Wings to the Western Conference Finals in 2007, led them to a Stanley Cup Finals win in 2008, and another Stanley Cup Finals appearance in 2009. Since that time, however, Detroit has not gone further than the second round in the playoffs.
Some fans would love for their teams to simply make it into the playoffs. Toronto, one of the "Original Six" falls into that category. While they did make it to the conference quarterfinals in the 2012-13 season, losing to the Boston Bruins, they have also had quite a run of seasons where they did not make the playoffs. This after quite a run of making the playoffs year after year.
Leafs fans are not like Carolina Hurricanes fans. I typically cover the 'Canes for The Hockey Writers. While their playoff drought is in its sixth year, the dismay in Carolina is nothing compared to that of Toronto and their two-year playoff drought. More importantly, the last Stanley Cup that the Leafs won was in 1967, nearly 50 years ago.
Toronto is a hockey city in a hockey nation. Maple Leafs fans have come to expect success, and the hiring of Mike Babcock virtually assures them of a return to the playoffs sooner rather than later.
Or does it?
The challenges that Toronto is facing certainly started behind the bench. Hiring the hot coach, Mike Babcock, goes a long way to righting the good ship Maple Leaf. Former Leafs coach Randy Carlisle was a bust and my colleague James Tanner will tell you why. In March he wrote, The Leafs Were Right to Fire Carlisle. In short, since winning his own Stanley Cup in 2007 with the Anaheim Ducks, he has failed to consistently impress.
But is coaching the only thing that needs fixing on a Toronto team that finished poorly this season, and is picking fourth in the upcoming NHL Draft as a result? Actually picking early will be a good thing for new coach Babcock, giving him the opportunity to start the "rebuild" or the "tweak" or whatever it will be that gets the Leafs back on track.
Leafs President, Brendan Shanahan should be commended for grabbing Babcock when he had the chance. But, Babcock is not walking into a situation that will be an easy fix. Derek Van Diest of the Edmonton Sun summed it up:
#Leafs showed Babcock the money. They had to in order to drag him into that quagmire. Good luck to him.

— Derek Van Diest (@DerekVanDiest) May 20, 2015
The Leafs do have a lot of capable players. Phil Kessel, while often a target of fans, is a very good player. Nazem Kadri is okay, but not lighting up the world in most people's minds. They have some keepers and some definite trade-bait, so the spotlight will be on Babcock as he jumps into the "quagmire" and puts together his team for next season and beyond. Elliotte Friedman says that Babcock will have some power in personnel decisions to go along with his coaching duties:
https://twitter.com/FriedgeHNIC/status/601087222356549633
The immediate task facing Babcock will be temper expectations. Yes the team has some good working parts, Joffrey Lupul, Tyler Bozak, and James Van Riemsdyk for example. But, the fans are going to want progress sooner rather than later. Babcock is no softie, but don't count on Leafs fans letting him enjoy a honeymoon for very long.
Babcock reality check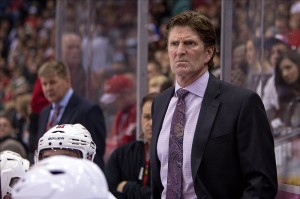 For fans seeking an instant fix, Ken Campbell of The Hockey News brings great perspective. He says, "Good luck Mike Babcock, you're going to need it." Campbell makes several interesting points, such as,
"The Leafs were the fourth worst team in the NHL last season. It would not be a stretch to suggest that with some creative "roster management," they could have fallen further down the standings in 2015-16. Now, under Babcock, they'll probably be better. Not much…"
Campbell is fairly direct in his assertion that the process of making the Leafs a playoff team will take a while. Campbell said,
"Actually, the Babcock hiring works only if one thing has been made crystal clear to him. And that is that for at least the first three years of his eight-year deal, he can probably forget about making the playoffs, that coaching this team will be painful at times and will require all the patience he can muster, and that his legacy as a coaching magician might get tarnished a little."
Wow, that is not going to sit well with hungry Toronto fans, if it turns out to be true. But, it may very well be an accurate assessment of the "quagmire" that is the current version of the Toronto Maple Leafs.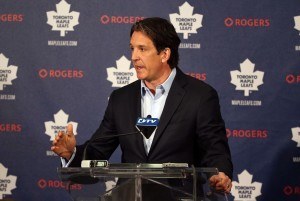 Babcock and Shanahan
President Brendan Shanahan has immersed himself in things that one might see reserved for a general manager. Of course he fired the Leafs' GM, head coach, and interim head coach. He's got his hands all over this team. Is that a good thing?
Will Mike Babcock be able to coexist with the oft-meddling Shanahan? $50 million will certainly go a long way in helping Babcock put up with Shanahan's involvement, but in a perfect world Shanahan would hire a GM and get out of the way. We will see how the relationship between these two plays out, and if the realities of what it takes to rebuild – particularly patience – will sit well with Shanahan.
All in all this was a great hire. It was the obvious hire for a team that desperately wants to return to glory. Shanahan knew this and did what it takes to bring Babcock into the fold. For that he is to be applauded. Whether or not Leafs fans will be applauding this time year is still up for grabs.
Babcock is a tough-minded coach with a system that has proven successful over a long time. Will the Leafs buy into his system? Will Shanahan and he dump a lot of guys who are considered to be trade candidates, and go all-out rebuilding from the ground up? One thing is certain, hockey in Toronto became extremely relevant again, and all eyes will be on their new coach. Hopes and expectations will run high, and Babcock's biggest challenge may be in managing those expectations.
"I have a burning desire to win. I want to win in the end. I don't want to just get in the playoffs." – Babcock #TMLtalk

— Toronto Maple Leafs (@MapleLeafs) May 21, 2015
So do your fans, coach…so do your fans.
Mark Shiver is a staff writer for The Hockey Writers  credentialed with the Carolina Hurricanes. You can follow him on Twitter @markshiver