Last season 31% (305) of all the players in the NHL played at least one year of college hockey, the highest number ever. That number will continue to grow as the NCAA continues to be a solid route for players hoping to realize their dream of playing in the National Hockey League. Whether or not they play all four years in college or only one like defenseman Nick Leddy (2009-10) of the New York Islanders did, the experience is always special to the player, and often they make friends for life and learn life lessons there also.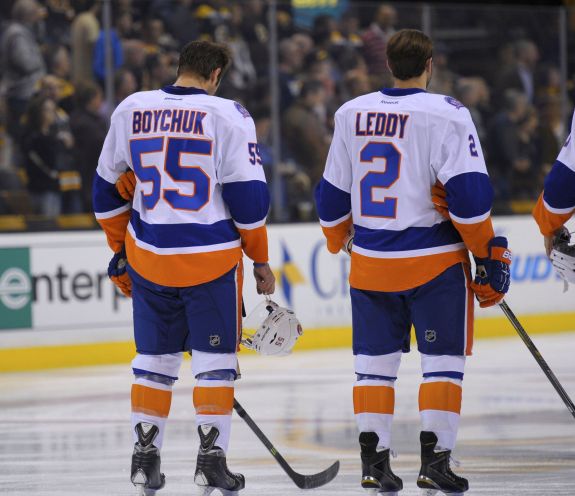 Recently The Hockey Writers caught up with 23-year-old Nick Leddy who is now in his fifth NHL season (first with the New York Islanders) to take a trip down memory lane about his college days with the Minnesota Golden Gophers. Born in Eden Prarie, Minnesota and then drafted in the first round by the Minnesota Wild (2009 NHL Draft), Leddy never got to suit up for a game with his hometown team as they traded him to Chicago Blackhawks midway through his freshman season. Coach Don Lucia expected Leddy to play at least two seasons at the U of M but the in the summer of 2010 he signed a three-year deal with the defending Cup champs.
@TheChiTownKid @NHLBlackhawks @MadhouseWeTrust @lynetteupmi @ledpipe08 pic.twitter.com/PV8ncC0yuh

— Tanya (@PlayDagger4Me) September 24, 2013
The Hockey Writers: You only played one season at the University of Minnesota, but what do you remember about your time there? Nick Leddy: It was awesome. Obviously growing up in Minnesota, it's a team that you watch a lot; and a team that you want to play for. THW: The summer after winning the 2013 Stanley Cup you brought it back to the school, how much fun was that? NL: It was great; to be able to bring it back there for the coaches, the team, my buddies…they all helped to get me where I am today. It was huge for them, and for myself.
Got to touch the Cup and meet #Gophers alum @ledpipe08 #DayMade #Hawks #BecauseItsTheCup pic.twitter.com/a6Y8PHvAQu — Sean Bigness (@whitesoxman77) July 12, 2013
THW: We've talked to other former Gophers like Blake Wheeler and Alex Goligoski and they told us how a lot of you guys get together in the summer and train alongside one another. How much do you think that helps as you all go forward as pros in different stages of your careers?
NL: We all know each other and play against each other; it's nice to get to know other former Gopher players. It's basically like a small community, everybody comes back right before we break off in different directions for the season.
The first NHL goal is always memorable; and sometimes weird like for Nick Leddy:
THW: Is there a former teammate from college or a guy you grew up with in the NHL that you're good friends with?
NL: (Seth) Helgeson who plays here (in New Jersey) is a good buddy of mine. We were freshmen together; most of my buddies play there now — my best buddies. I keep in contact with them all the time; and I obviously see them when I go back home.
THW: Have you got to hang out with Seth since he's been called up to the Devils?
NL: I'd like to; we've had different schedules so far, but hopefully we can sometime soon.
Cue the Dagger! Nick Leddy beats the Wings in OT:
THW: It must be special when you get to go back to Minnesota and play games there, to be around so many family and friends, right? We're sure you have to but a lot of tickets too right?
NL: Oh yeah; getting to see family and friends, getting to play in front of them (again) is awesome. Buying tickets (laughs) is the most important part.
Dan Rice can be reached via Twitter: @DRdiabloTHW or via Email: drdiablo321@yahoo.com