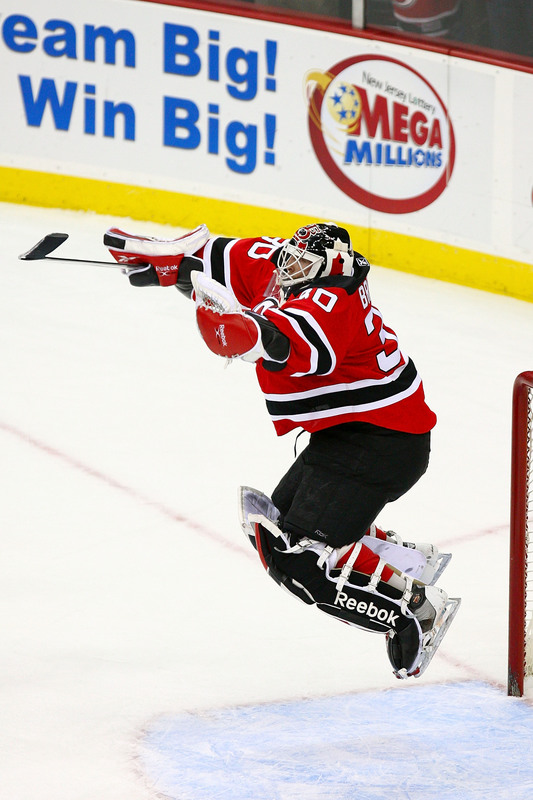 Coming out of the lockout, New Jersey Devils goaltender Martin Brodeur is one of three players (Jaromir Jagr, Teemu Selanne) to have experienced the last shortened season in 1995. That was a season he will never forget as he helped lead the Devils to their first Stanley Cup championship, and he became a household name amongst NHL fans.
Fast forward 18 years and Brodeur is still here in New Jersey, still playing at an elite level (see: 2012 NHL playoffs) at the age of 40. "That's a good way to put it," Devils coach Peter DeBoer said with a laugh when I asked if Brodeur was a freak of nature. "He's amazing, I don't know what else to say. He plays the game like he's 20-years-old and the energy he has is fantastic."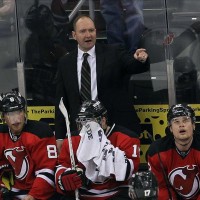 It seems strange that with all of the records, medals, championships, trophies and accomplishments Brodeur has amassed over his career that none of the 'new-wave' of NHL 'tenders has copied or even tried to adopt his hybrid style. Is it because he grew up in a different era, is he really just a freak of nature? Is it both? Defenseman Bryce Salvador, a teammate of Brodeur's for five seasons and the Devils new captain believes it may be a little of both.
"Nowadays, they train goalies to play the percentages," said Salvador. "I think you are as old as you tell yourself you are right? So I think that's part of the reason he has every record in the book and he's just a phenomenal goalie. He makes big saves, he's just a reaction goalie; maybe that's why he's still able to play (at a high level)." The tenth Devils captain paused for a bit before adding, "Marty's not a 'move here, move there and hope the puck hits me kind of goalie.' He's sharp because he actually makes the save and he's still able to still do it after all these years."
Brodeur still plays the game for the right reasons, and if you don't believe me watch some of his post-game interviews. Most players give the answers they think the media wants to hear, but Brodeur loves telling stories, giving his unique perspective on topics and moments during the game; he also has been known to be witty and laugh at himself or situations during games — another rarity in post-game interviews usually. He plays because he still loves the game, loves being part of a team; he loves showing young players (such as Stefan Matteau) the NHL way. Being the larger than life star that he is in the hockey world, he embraces his responsibility to speak to the media and most nights will answer every question from every reporter in the locker room, sometimes the same ones two or three times.
Brodeur talks to the media after his 120th shutout: courtesy of NJ Devils PR:
He even admitted that he wasn't necessarily upset all summer and through the lockout over the 2012 Stanley Cup Finals loss to the Los Angeles Kings because he didn't win his fourth Cup; he was more bothered that his teammates who had never won had come so close and didn't win. "I don't know what it is, it's not that I don't care; I really appreciated the opportunity & what I did, what I (and we) were able to accomplish," Brodeur said to reporters after the Devils 2013 home opener in which the Eastern Conference championship banner was never mentioned or celebrated other than a spotlight on it during pre-game player introductions.
"For me, it was disappointing but I was more disappointed to see the other guys on my team not winning (the Cup). That hurt me the most, more than myself because I've got them and I've been fortunate to be successful. But I was really happy where my game was at, it's not like I expected to win heading into that season or playoffs."
The future Hall-of-Famer went on to talk about how when he was younger losses ate at him more inside because so much was expected of him by others, and himself. "Maybe in 2001, that was a harder loss for me when I let it go — we had two games to win it," said Brodeur. "Last year we had nothing to lose, we were down 3 games to none and we made this thing a series. Maybe that's one of the reasons why it wasn't as hard for me to get over it."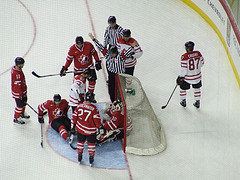 One reporter asked after his 120th shutout/658th win, given the success that he is still having at 40-years-old if he has given any thought about the 2014 Winter Olympics and if he'd be interested in representing Canada one last time. Brodeur's response: his eyes lit up and he smiled at the five reporters still left around him.
"I think there's way too many good goalies out there. I mean I'd love to, if they ask me I won't say no; for me playing in the Olympics was the greatest thing in my life, it was a lot of fun. I gained a lot of experience from it. If I'm asked to go regardless of the spot I would be in," Brodeur explained, "(starter, backup or third string), I'll take the invitation."
He conceded that it would be very unlikely to happen before adding, "I think it's important for Canada to have some younger goalies and I think they will — with guys like Carey Price, Cam Ward, Roberto Luongo. Roberto will be just fine, he's a great goalie and he'll be a fine choice."
'But you are playing so well right now!' said the reporter, still trying to convince Brodeur that it could happen. "We'll see what happens. For me, I'm not thinking about that, that's for sure (laughs), that's not one of my goals," said Brodeur with his usual smile. "But again, I'll do anything for my country; if they ask me to go, I'll take the invitation."
Anything can happen in 48-game season, as Brodeur and the Devils franchise/fan base surely knows this from past experience. Even though he is 40 and playing like he's 20, this very well could be his last, best chance at winning another Stanley Cup.
Dan Rice can be reached via Twitter: @DRdiabloTHW and via Email: drdiablo321@yahoo.com