According to numbers obtained from Hockey Reference, there have been 641 players (including goalies) to pull on a Calgary Flames uniform. Additionally, the club has selected 475 players through the NHL Entry Draft since its inception in 1972.
Even though the team has had their fair share of Hall of Famers walking through the halls of the Scotiabank Saddledome, the organization had never had one of their developed prospects skate in 900 games until Mikael Backlund achieved the feat recently.
Although Jarome Iginla spent most of his career in red and still holds most of the team records, he came to the club through a trade with the Dallas Stars, who selected him in the first round of the 1995 NHL Entry Draft. So, when it comes to discussing records held by Flames who were drafted and developed by the team, Backlund is on his way to becoming one of the Flames' most underrated players ever.
Backlund Continues to Ascend Flames' All-Time Lists
Backlund was a first-round pick (24th overall) in the 2007 NHL Entry Draft, selected after Jonathon Blum (Nashville), who played in 110 games, and before Patrick White (Vancouver), who never made it to the NHL. Currently, he has skated in the 10th most games (902) from his draft class, which is a testament to his ability to be a role player and not the superstar on the team.
When the Flames need someone to kill penalties and score a shorthanded goal now and then, Backlund is one of the first players tapped on the shoulder and sent over the boards. Additionally, he is the skater coaches can rely upon to win a key faceoff and play solid defense, earning him votes for the Selke Trophy in five of the last seven seasons.
Related: Flames' Backlund Has Defined Career Through Two-Way Play
---
Latest News & Highlights
---
Although it took Backlund a few seasons to find his offensive game in the league, he finally reached the 20-goal plateau in his eighth season. Therefore, he's on the cusp of sliding into the 10th spot on the Flames' all-time scoring list, needing only 17 points.
Eventually, when he scores his 506th career point, he'll share a space occupied with former greats like Theoren Fleury, Al MacInnis, Joe Nieuwendyk, Johnny Gaudreau, Gary Suter, Kent Nilsson, and Guy Chouinard, players who had successful careers in a Flames' uniform after being drafted by the team.
Interestingly, every leading scorer in franchise history has gone on to skate with another NHL team, leaving Backlund in a class of his own. Furthermore, the veteran of 15 seasons has only one year left on his current contract, which has many insiders wondering if he'll finish his career in red or find a new home before the end of the 2023-24 season.
Backlund's Legacy Based on Longevity
When examining Backlund's place in Flames' history, there is an interesting comparison with the New York Yankees of Major League Baseball (MLB). Recently, outfielder Brett Gardner walked away from the team after 14 seasons, which included a World Series win in 2009. Although he was a long-tenured veteran in an era of endless player transactions, Gardner was never the greatest player in the everyday lineup. Even though there is a great divide amongst the fan base on how to honor his career, the team will most likely not retire his number or honor him in Monument Park.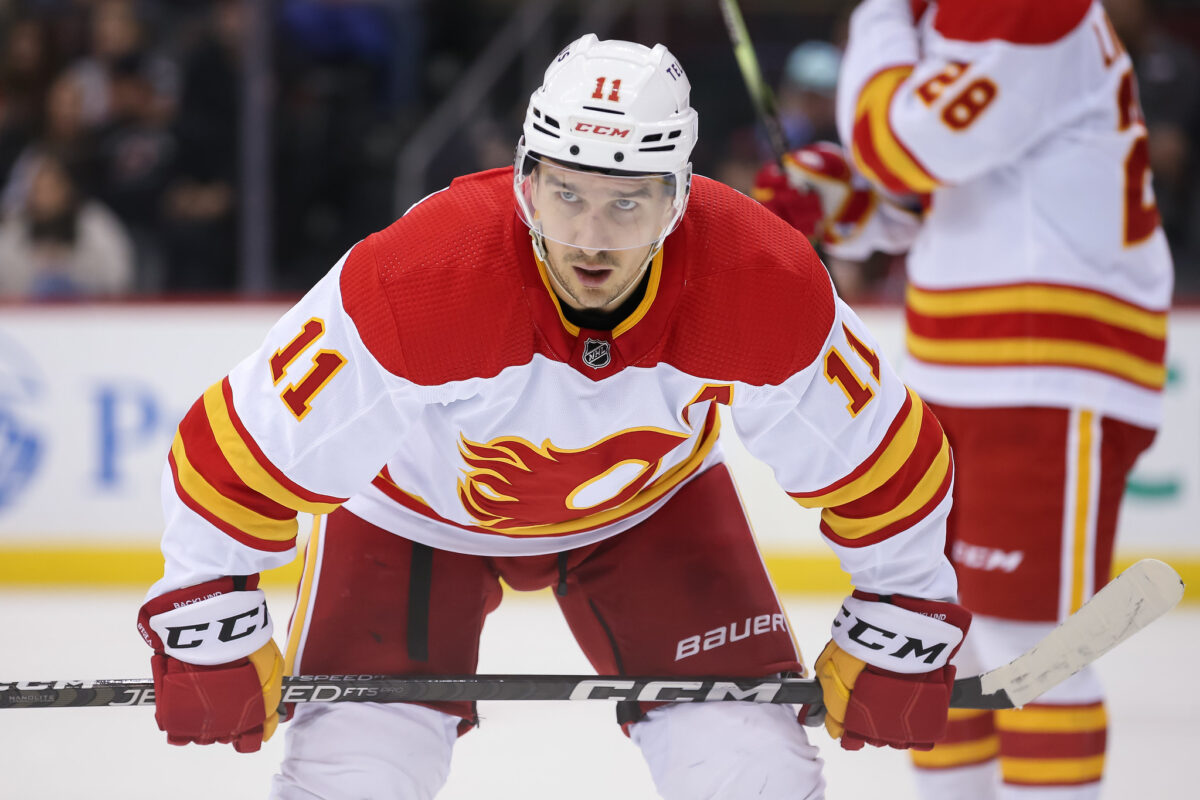 Interestingly, Backlund has a similar resume, minus a championship. Although there are more offensively gifted players in the lineup, which include Tyler Toffoli, Jonathan Huberdeau, and Nazem Kadri, he is one season away from breaking Iginla's record for most seasons (16) in Calgary. Moreover, his legacy has been built upon longevity and his ability to be a role player instead of a star.
Related: Calgary Flames Need to Honour Former Greats the Right Way
If Backlund signs another extension and finishes his career in red, he has a chance to achieve something no player in team history has ever done, be a Flame for life. Furthermore, the more points he collects and the longer he stays in the lineup, those accolades will only assist his case to be the first non-Stanley Cup winner inducted into the Flames' Ring of Honor.
---
---