Todd Bertuzzi can't seem to find a job these days, and it isn't just because he is coming off the worst full season of his career at age 39. Late this past summer, a dark cloud which had been hanging over the entire NHL for years was lifted when the Bertuzzi-Steve Moore incident was finally put to rest. With the confidential settlement of a CAD$68 million lawsuit spawned by Bertuzzi's sucker punch in Vancouver over ten years ago, all parties – Bertuzzi, Moore, and members of the Vancouver Canucks organization, past and present – seemed poised to finally move on.

Finding a Home in Detroit
In the years following the incident, Bertuzzi bounced around the league, playing for five teams before finally finding a long-term home with the Detroit Red Wings in 2009. He had previously been brought to the Red Wings at the trade deadline in 2007, and Ken Holland had no reservations about signing him as a free agent three seasons later.
Jimmy Howard on Todd Bertuzzi skating again: "It was great seeing him back out there. He's just a big teddy bear. We definitely miss him."

— Helene St. James (@HeleneStJames) March 22, 2013
Bertuzzi was adored in Detroit, both by fans and the organization alike. The fans loved both his production and his penchant for dropping the gloves for his teammates, something not often seen in Detroit in recent years. The players loved his kind, soft demeanor, despite his ever-present (and ultimately misleading) reputation as a dirty player. Jimmy Howard even once referred to Bertuzzi as a "big teddy bear." And nobody will ever forget his heroic ping-pong antics after Shea Weber played Whack-A-Mole with Henrik Zetterberg's head (starting at 0:15 below) in the 2012 playoffs. But none of that has ever mattered to anyone other than Red Wings fans. If you want proof, just find an internet news publication featuring Todd Bertuzzi, and no matter the subject, you will find the words "Steve Moore" in the comments. This fear of bad PR, combined with the ugly incident being recently dragged back into the spotlight, is ultimately the reason Bertuzzi remains without a team.
Lack of Interest in Free Agency
Following last season, the Red Wings made it abundantly clear to Bertuzzi that he would not be re-signed. Between his age, decline in production, and the team's wealth of prospects at forward, this was of little surprise to anyone. What is surprising, however, is the complete lack of interest he has received on the market. Bertuzzi can't even get a PTO when forwards like Jared Boll, Colton Orr, and, most egregiously, Shawn Thornton remain on NHL rosters. These are players – forwards, mind you – who don't score goals or offer anything defensively, despite playing against the worst possible quality of competition while receiving mostly offensive zone draws. These guys are literally making millions of dollars to punch faces and be bad at hockey. But Todd Bertuzzi, former 46 goal, 97 point scorer, can't even get an invitation to a training camp.
I single out Thornton because he is the player most comparable to Bertuzzi in terms of age (37), and because he committed an act as equally heinous as Bertuzzi just last December when he sucker punched Brooks Orpik. Fortunately for all involved, Orpik "only" received a concussion when he was knocked unconscious, as opposed to a prematurely ended career and a lifetime of physical and emotional distress. But the fact remains: Thornton committed the same crime Bertuzzi did, albeit with differing consequences.  What's more, Thornton has never approached Bertuzzi's offensive contributions.  And yet, Bertuzzi is the one who can't get an invitation to any training camp.
If it wasn't for these (objectively) bad hockey players still being employed, it would be understandable that Bertuzzi couldn't find a job. He's a 39 year-old winger coming off the worst full season of his career. In that career-worst year Bertuzzi scored a paltry .27 points per game. Meanwhile Thornton, whose career-best is mark is an even more anemic .25 PPG, was signed to a two year $2.4 million contract by the Florida Panthers to provide them with "veteran leadership." Never mind that this is the same organization that just gave Dave Bolland $27.5 million over five years; the important point is that Shawn Thornton gets to continue punching faces for a $1.2 million AAV over the next two years.  And Bertuzzi still can't get an invitation to any training camp.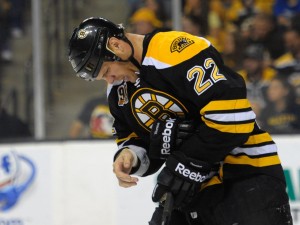 NHL's Culture Change Not Enough
There was no shortage of coverage following the Bertuzzi-Moore settlement, but my favorite take on the issue came from Yahoo's Greg Wyshynski. Wyshynski, who had previously dropped the hammer on the "idiocy" of Thornton and of his defenders, noted that the NHL has come a long way since that night in Vancouver ten years ago:
The aftermath of the Bertuzzi incident featured some trying to rationalize why it happened within the context of the game. Not many endorsed it – the vast majority condemned it as something borderline criminal. But the catalysts for it, including the marching orders he answered from teammates and (again, allegedly) team executives, were acknowledged as threads in the fabric of the game for a century.

The aftermath of the Thornton incident, outside of the Bostonian apologists rallying for one of their favorite quotes, featured vast denunciation of the act and the role Thornton was playing.The notion of an "enforcer" was all but ridiculed, especially when combined with John Scott chasing around Phil Kessel earlier in the season like someone trying to corral a free-range chicken.

Watching Thornton's attack was like hearing your grandfather telling a racist joke: What played 30 years ago doesn't play anymore.

We're smarter, shrewder and more sympathetic. We know it doesn't have to be that way.

Bertuzzi/Moore made us consider a violent act's place in hockey.

Thornton/Orpik was a violent act that we immediately knew had no place in hockey.

My, how far we've come…
And he's right. The overwhelming public response to that embarrassing episode was immediate condemnation and calls for a hefty suspension. But that's not enough. Because as long as there are general managers willing to waste a roster spot on guys like Sean Thornton, this issue will continue to rear its ugly head. And as long as there are ownership groups more concerned about the comments on their team's Facebook page than employing players with actual, discernible hockey skills, we will end up back here the next time one of these antediluvian trolls invokes "The Code" on another unwilling participant. And that's a shame. Because while players like Thornton litter rosters across the league, Todd Bertuzzi – superior forward, veteran leader, and, yes, "teddy bear" – can't even get an invitation to a training camp.
Matthew Schultz is a journeyman maintenance mechanic/millwright who lives in the Milwaukee area. He has been a Red Wings fan since the team first acquired his childhood idol, Dominik Hašek, in 2001. Outside of the Red Wings, most of his sports allegiances lie in Wisconsin.